Six from Sunday: Firing season for coaches; Lions up, Ravens' Rice down
Coaches on the hot seat should be wary. No worries for Jim Schwartz, whose Lions are in first place. Should the Ravens be concerned about Ray Rice?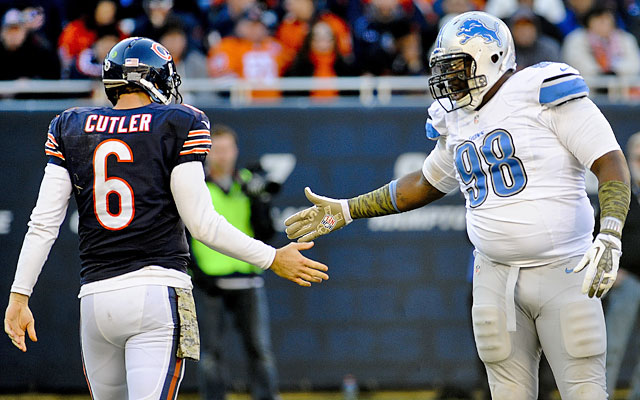 Coaches will tell you we are deep into the third quarter of the NFL season. That means it's getting harder to recover from a bad record. It's not time yet for changes at the head coach position but I can tell you from the first- hand experience of working with four different head coaches that the fate of a few is being cast as we speak. I did talk to people at the Falcons and they confirmed there will not be a change with Mike Smith. As for the Dolphins, only time will tell.
Here's a look at the things that jumped out at me.
Who hit the offensive trifecta?
Every week I look for teams that do three things: 1. Win; 2. Rush for 100 yards or more; 3. Do not give up a sack. It wasn't hard this week because only one team fit the bill. They beat a division opponent, rushed for 145 yards and didn't give up a sack in 35 pass plays on their way to a 21-19 road victory. The Detroit Lions, now in first place in the NFC North, are the only team to hit the offensive trifecta this week.
Another bad day for a very good back
From 2009 to '12, this back rushed 1,109 times for 5,066 yards at 4.6 yards per carry with 29 touchdowns. He caught 278 passes for another 2,440 yards and six TDs. That's 1,387 touches for 7,506 yards and 35 touchdowns for a guy who was 26 years old at the start of the season.
The sky looked like the limit but this season and especially this weekend's game is a symbol of things gone wrong. Blame it on bad blocking or the lack of a great passing attack. The truth is Ray Rice is having issues. The Ravens were home this week and the Bengals defense was missing at least three starters. Rice rushed 18 times for 30 yards caught six passes for 26 yards and no scores. This season the maligned Rice has 97 rushes for 259 yards (2.7 per carry), 27 receptions for 135 yards and three touchdowns overall. Rice is on pace for under 600 yards rushing and 275 yards receiving. It may be time to study Rice very closely and try and figure out the issues that have made 2013 a disaster.
Impressive company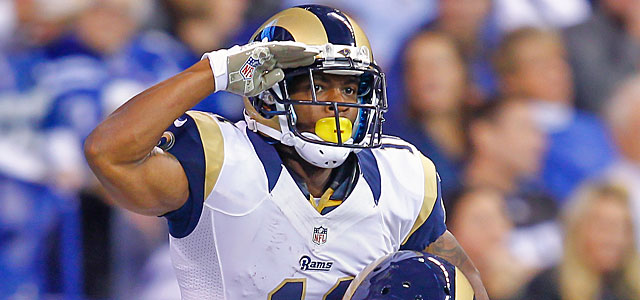 When the Rams drafted 5-foot-8 receiver/returner Tavon Austin eighth overall last spring a lot of people criticized the selection. After nine games he had 31 receptions and two touchdowns and people were convinced he was a bust. Then on Sunday, he thrilled Rams fans with eight touches, 314 all-purpose yards and three touchdowns. His three scores were all over 40 yards, putting the 22-year-old in the company of Gale Sayers and Randy Moss as the only three rookies to accomplish such a feat.
The race for the sixth spot
There is still some juggling for division titles -- the AFC East, North and South and NFC East, North and South are open -- but the race for a wild-card spot started to take center stage during Week 10 action.
The loser of next week's Chiefs-Broncos matchup will likely wind up with the No. 5 spot in the AFC. The No. 6 seed will have a tough road to travel. A few teams made a statement that they could be ready -- the Jets, Chargers and even the Dolphins (playing Monday at Tampa).
In the NFC, the Panthers made a quantum leap by beating the 49ers. The tiebreaker could haunt the 49ers if Carolina extends its five-game winning streak.
That leaves five teams trying to scratch and claw their way into the postseason. Philadelphia and Arizona really helped themselves this weekend. The Packers and Bears are still in the thick of it despite losses this weekend.
Right now I like Seattle, New Orleans, Detroit and Dallas to win the divisions with Carolina and San Francisco as the wild cards. My two dark-horses in the race are Arizona and Philadelphia. Arizona already beat Carolina and lost to San Francisco but plays Philadelphia on Dec. 1.  
The bye is starting to look like a good thing
I have been tracking how teams do coming off the bye. Early, it was no surprise that the first 10 teams were 4-6 after the week off. Things have changed radically. This weekend returning teams went 5-1 and are now 13-9 overall. As one coach said, early byes are usually not as effective for teams that don't have enough game information to analyze their own trends and get players time off to heal up. Now clubs can get a lot done and the bye is much more welcome. Keep in mind the Jets, Patriots, Browns and Chiefs come off their bye next week with road trips.
Going for it on fourth down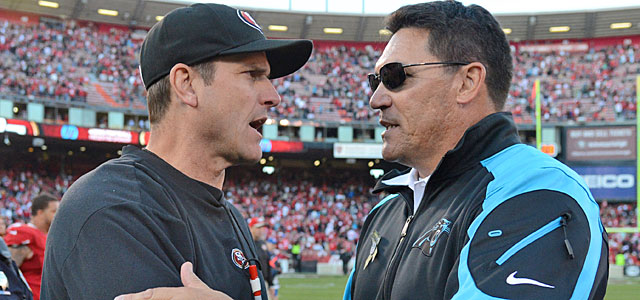 The Panthers have won five straight. It all started when coach Ron Rivera decided he was going for it on fourth downs. He told me, "I think about when it's the right thing to go for it, our players are inspired by it and feed off the idea we are trying to win." The Panthers have converted 5 of 7 fourth downs but decided it wasn't the thing to do in Sunday's 10-9 victory at San Francisco. I wouldn't be surprised to see them back at it in the coming weeks.
During Week 10 action teams went for it on fourth down 18 times and converted nine, a 50 percent success rate. The most aggressive club this week was Cincinnati. The Bengals converted 3 of 5 fourth downs in a losing effort. Over the past two seasons they have converted 15 of 24 (62 percent) on fourth down.
The top three teams at moving the chains on their final down to keep drives alive are the Panthers, Broncos and 49ers. They have combined to convert 15 of 19 attempts (79 percent). The Dallas Cowboys are the only team in the NFL not to attempt a fourth-down conversion this year. I wonder why they haven't given the offense the green light -- Dallas converted 26 of 43 attempts between 2010 and 2012.
Over the past five seasons, entering 2013, NFL teams converted 237 of 482 fourth downs or 49 percent of the plays. 
Warren Sapp was one of several players named in a lawsuit against NFL Network

Check out the uniforms that Denver and Indianapolis will be wearing on Thursday

The Cowboys are going to need a few things to go their way to get into the postseason
Rudolph will be put under the microscope in Mobile by clubs looking for a quarterback early...

This fan is taking the Saints to court for using 'football games as a platform for protest...

Can Aaron Rodgers get the Packers to the postseason? Even if they win out, they'll need he...