Six From Sunday: Looks like the Bucs found themselves a QB after all
Week 11 had marquee games, backups who delivered, debatable coaching calls -- and perhaps a QB from the rubble of the Bucs' season.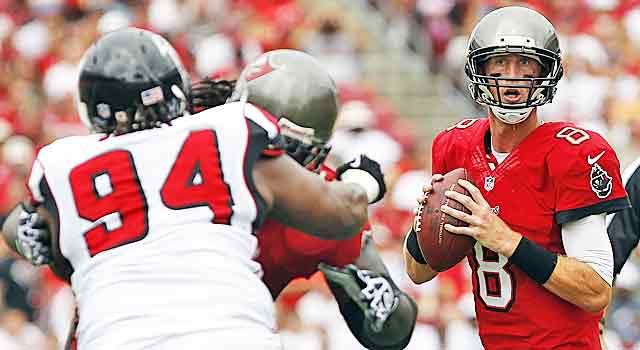 Week 11 had marquee games, backups who delivered, debatable coaching calls -- and perhaps a QB from the rubble of the Bucs' season. Let's get into Seven From Sunday.
1. Good call by the Bucs
The Tampa Bay Bucs were criticized for releasing QB Josh Freeman . A young QB with size, a strong arm and who threw 27 touchdown passes in 2012 and 80 scoring passes over 60 games doesn't get cut in a league starving for quarterbacks.
But the Bucs saw something in Mike Glennon , and the 6-foot-6, 24-year-old is getting better every week. Sunday's win over Atlanta was his second straight; neither Geno Smith nor EJ Manuel has managed to string together consecutive wins.
Glennon has thrown 248 passes with 11 touchdowns and only four interceptions. Watching Glennon go 20 for 23 with two TDs and no picks vs. Atlanta was impressive.
Don't be surprised if Glennon winds up leading rookie QBs in TD passes and finishing with at least 20.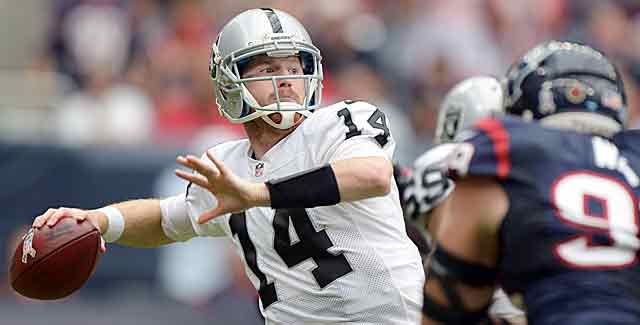 2. Backup QB update
Three teams entered Week 11 using their third starter at QB and there were 46 quarterbacks who had started at least one game, creating a crisis at the position.
With 14 backups starting at least one game, results generally have not been pretty. While I no longer consider Nick Foles , Mike Glennon or Chad Henne backups, some backups have shown promise, particularly this week.
Matt McGloin, the undrafted Penn State rookie, deserves consideration as the starter after throwing three TD passes in a win at Houston. The man he replaced, Terrelle Pryor , hadn't thrown a touchdown pass in his three previous starts covering 86 throws. Pryor also was 0-4 on the road with only three TD passes away from Oakland.
Josh McCown , the 34-year-old veteran subbing for Chicago Bears QB Jay Cutler , won his second game in as many starts. He has yet to throw an interception in 101 passes and there is an undercurrent of support for him to stay on the field even when Cutler is healthy.
3. Special teams front and center
Every season about this time, injuries force young players who are core special teams performers and backups into starting roles. With those players concentrating on new roles, the performance of special teams suffers.
Last week, one prominent special teams coach said, "We are on the verge of some big plays on special teams and it may be a bigger problem in the coming weeks."
No truer words ever have been spoken. Some Week 11 plays from bear that out:
• Tampa Bay recovered an onside kick and blocked a punt.
• Houston's Keyshawn Martin returned a punt 87 yards for a touchdown.
• The Detroit Lions  attempted a fake field goal but holder and punter Sam Martin fumbled.
• The Cincinnati Bengals Tony Dye returned a blocked punt 24 yards for a touchdown.
• There were three more big kickoff returns (82 yards, 59 yards and 58 yards).
Be ready for special teams to decide more games in coming weeks.
4. Early leads meant nothing
Coaches love when their teams looks sharp out of the blocks. A double-digit lead at the end of the first quarter is a dream come true, though it backfired for three teams this week.
Tennessee was up 14-0 at the end of the first quarter and lost. Cleveland was up 13-0 and lost. And Baltimore went up 10-0 before losing in overtime.
Few things frustrate coaches more than to watch those leads slip away on game tapes.
5. Next time, take the wind
When the Baltimore Ravens and Bears went to OT in Sunday's weather-ravaged game at Chicago, the Ravens elected to receive rather than take the wind considering the field conditions.
It was debated among my NFL Today colleagues, and CBS game analyst Phil Simms thought it might be a good spot to kick off and keep the wind advantage. It's unorthodox, but this game -- punctuated by a two-hour weather delay -- was different anyway. The Ravens took the ball and punted 6 plays later. Seven plays later the Bears won.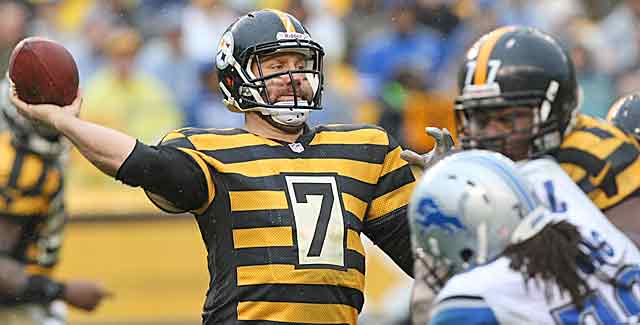 6. Big Ben's big move
Did Ben Roethlisberger make his case for a new contract with 367 passing yards and four TD passes in a win over Detroit? I never thought Big Ben was going anywhere, with rumors about a potential trade sounding like a ploy to get back to the negotiating table. The Pittsburgh Steelers ripped up his rookie contract with two years left on it back in 2008 and he has two years left on the second deal.
The Steelers have some history of doing a QB or head-coaching deal with two years remaining on the present deal. Roethlisberger is 31 and likely doesn't want to be stuck in his present deal until after he's 33, especially the way the season has gone for the Steelers and more importantly at the relatively cheap salaries of $12.1 million and $11.6 million.
Of course denying he had anything to do with the trade rumors may be the truth but it sure did draw attention to his situation. I'm sure he wants something that averages more than $20 million.
On Sunday, players across the entire league are responding to Donald Trump's comments

The Jaguars are doing their best to embarrass the Ravens

Trump's remarks from Friday night are the top storyline in the NFL on Sunday
The Steelers say they won't be affected by 'divisive times'

Both Rodgers and Brady posted messages on social media calling for 'unity' and 'brotherhood'...

The Ravens and Jaguars head across to pond to play an early-morning game in Wembley Stadiu...