Six from Sunday: Playoffs tempting, but Pack should wait on Rodgers
Week 14 has been unusual because of the weather and exceptional scoring. Other takeaways: The Pack should be patient with Aaron Rodgers and the struggling Colts may have found help in a loss.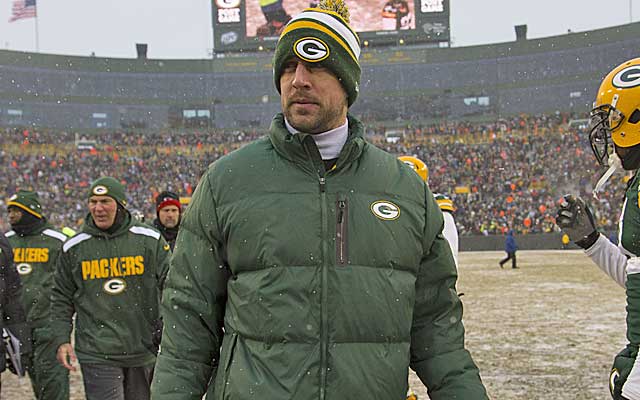 Week 14 has been unusual because of the weather and exceptional scoring. Other takeaways: The Pack should be patient with Aaron Rodgers and the struggling Indianapolis Colts may have found help in a loss. Let's get to Six from Sunday.
Pack should take time with Rodgers
With a victory over the Atlanta Falcons , the Green Bay Packers (6-6-1) moved their conference record to 4-5-1, so there may be some momentum to get Aaron Rodgers (collarbone) back on the field and make a run for the playoffs.
But the Packers' notable losses -- to San Francisco 49ers , Philadelphia Eagles , Chicago and a split with Detroit -- put them in a tough spot to reach the postseason, even if Rodgers returns. The Packers have games at Dallas, at home vs. Pittsburgh and at Chicago to close the season.
At 9-4 and holding a 7-3 conference record, the Carolina Panthers hold the No. 5 spot in the NFC and are out of reach for the Packers.
That leaves the Niners, who are in the No. 6 spot, and the Detroit Lions for the NFC North division title as Green Bay's two possible entry playoff points.
The loss to the San Francisco 49ers (9-4) hurts. Say the 49ers lost their three remaining games and the Packers won all three; it's true Green Bay's 9-6-1 record would trump the Niners' 9-7 mark. However, I wouldn't count on that because the Bucs and Falcons are San Francisco's next two oppoinents.
The one remaining shot is catching the Lions (7-6), but they have two straight home games coming up vs. Baltimore (7-6) and the New York Giants (5-8) before finishing at Minnesota (3-9-1).
Getting Rodgers back on the field sounds like a great idea, but I think the risk outweighs the possible reward.
Did struggling Colts find a WR?
Cincinnati beat the Colts 42-28, dropping Indy to 3-3 since Reggie Wayne 's season-ending torn ACL.
Predictably, Wayne's loss has altered offensive productivity, though the defense -- yielding an average of 36 points in the six games since Wayne went down -- may be a bigger issue. Why? Because as great as Andrew Luck is, he can't produce points at that pace -- especially without Wayne.
However, Indy may have found help in undrafted rookie receiver Da'Rick Rogers . I pointed out a few times in the fall that Colts fans would like him once he got some playing time (Rogers impressed me on my camp tour when he was with the Buffalo Bills ), and he delivered this week with six receptions for 107 yards and two scores.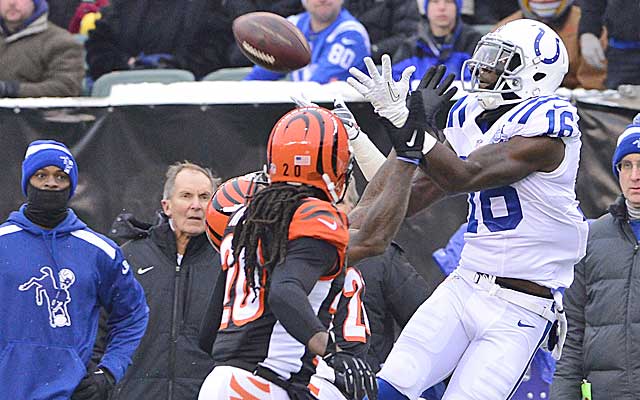 That helps the Colts' offense. Now it's time to get the defense fixed in time for the playoffs.
RG3 making a mess in Washington
I was excited when the Washington Redskins traded with the St. Louis Rams for the right to draft Robert Griffin III , and last year his skills intrigued me as he led the Redskins to the playoffs.
However, his recent comments and second-year frustrations are signs of a guy not yet ready to take on the burden star quarterbacks shoulder as the leader of a team.
There's no doubt Griffin wants to succeed, but his surfacing frustration is like blood in the water for the sharks circling the Redskins. A month ago, linebacker London Fletcher said that RG3 is the QB and that he was the leader.
Griffin used some restraint in his postgame news conference but the media kept probing his relationship with coach Mike Shanahan and owner Daniel Snyder, and there's no chance it is going away anytime soon. RG3 may back off some of his statements that appear to be blaming Shanahan, or anyone else he could point to, for the club's five-game skid.
But what he needs to do is work with Shanahan and realize he just isn't ready to be the face of the organization. I spend a lot of time with former Pittsburgh Steelers coach Bill Cowher, and I never saw him more disappointed in a player's comments than he was when RG3 stepped down from the podium Sunday, saying RG3 is "part of the problem and not part of the solution."
I wouldn't be surprised to see Shanahan and his two Super Bowl rings leave Washington sooner rather than later. At that point, RG3 is going to have to look in the mirror and wonder what he did to make it happen. Time is running out to get things right.
A scoring blizzard in the snow
It's reasonable to think frozen ground and snow would slow scoring, but the opposite was true.
Look at the five games most affected by wintry conditions:
• Minnesota Vikings - Baltimore Ravens : Predicted to generate a combined 43 points, finished at 55.
• Indianapolis Colts - Cincinnati Bengals : Predicted to generate 44 points, finished at 70.
• Kansas City Chiefs - Washington Redskins : Predicted to generate 44 points, finished at 55.
• Detroit Lions - Philadelphia Eagles : Predicted to generate 51 points, finished at 54.
• Miami Dolphins - Pittsburgh Steelers : Predicted to generate 41 points, finished at 62.
Don't take kickoffs away
There seems to be interest in removing kickoffs and kickoff returns from the NFL in the name of player safety. But all of Sunday's snow made it difficult to force touchbacks by driving the ball into the end zone, creating more return opportunities. And to my knowledge there were no serious injuries on the 117 kickoffs (including the onside kick recovered by the New England Patriots to set up their winning TD).
Those returns produced 2,558 yards with the potential for a score every time, and that's without the Monday night game.
Included in those returns:
• A 77-yard TD return by the Ravens' Jacoby Jones for a go-ahead score in the fourth quarter.
• A 95-yard TD return by the Chiefs' Quintin Demps (teammate Dexter McCluster added a 74-yard punt return for a score).
• A 98-yard TD return by the Eagles' Jeremy Ross , who added a 58-yard punt return for a score.
With fewer touchbacks, it made Sunday's games more exciting.
A cold-weather Super Bowl preview
I was never a proponent for the New York area Super Bowl because extreme weather could make for a very low-scoring game. However, Week 14 changed that after watching big-time scoring in the snow games, lots of big plays and Eagles running back LeSean McCoy going for 217 yards and two TDs on 29 carries.
I also found it interesting that warm weather and/or indoor teams like Detroit, Miami, Minnesota, Indianapolis and Atlanta handled the weather. We'll see as December rolls on, but it was the first time I actually thought the game has a chance this year.
The NFL could be in for a historic day on Sunday in the wake of Trump's remarks

Robert Kraft was 'deeply disappointed' in comments made by Donald Trump

Everything you need to know heading into Week 1 is right here
The Raiders are preparing in case their Vegas stadium is not ready by the 2020 season

'You really can't blame him,' one team source said. 'He hasn't really had any holes to run...

Evans has two years left on his deal and is a franchise tag candidate after that if no deal...