Six from Sunday: Romo, Pats blast storylines; 3 QBs about to get paid
Among storylines shot down: Ravens were a bad matchup for the Pats and Romo can't win in December. Also simmering: Dalton, Kaep and Cam are about to make big money.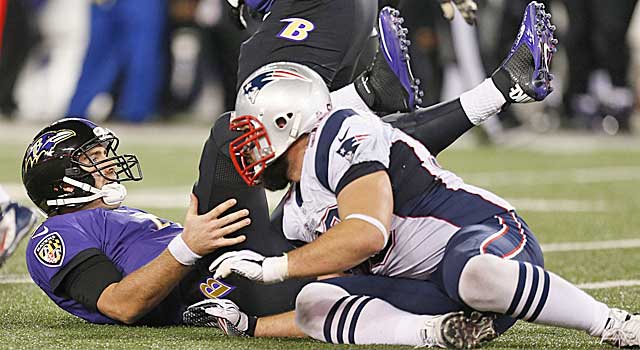 Back in August, we were warned there would be five of six new playoff teams this season. And after all the craziness of Week 16, this league once again has us shaking our heads -- we still don't know all the new teams reaching postseason play.
One thing I would like to see: All the Week 17 games with zero playoff implications (Houston at Tennessee, Detroit at Minnesota and Washington at the NY Giants) at 1 p.m., and all the other games at 4 p.m., so no one is eliminated until after the late games. Of course, that would never happen, but it would be very exciting if all the playoff-determining games were played at the same time.
For now, let's get to Six from Sunday:
1: Shooting down storylines
Every week, we hear storylines heading into each game. Two of the more popular narratives before Week 16 started -- the Ravens were a bad matchup for the Patriots and Tony Romo's 12-22 December record -- were blown apart.
New England put the "bad matchup" idea to rest by dealing Baltimore its most lopsided loss in the John Harbaugh era.
As for the constant broadcasting of Romo's December record, the Cowboys QB threw two TD passes, including the winner with 1:16 left, to beat Washington and put Dallas in position to win the NFC East in the regular season's final game.
Bonus storyline: Another emerged when Rex Ryan reportedly told his team he would be fired after the season. The Jets beat Cleveland, giving Ryan a 41-38 record as Jets coach. He also has a 4-7 record against the Patriots (and a postseason win at Foxborough). The Jets better think twice about letting him go.
Looking ahead to Week 17 storylines, they're already dominated by Romo in a game with everything on the line and Aaron Rodgers' possible return for the Packers.
I have a feeling neither Cowboys nor Packers fans will be happy when Sunday rolls around.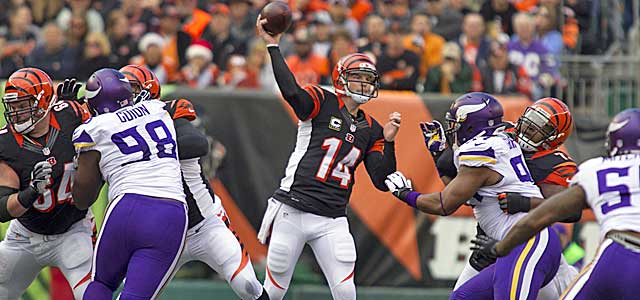 2: Three QBs who took the next big step
With restrictions on the rookie salary cap, young QBs don't make the money they did before the most recent CBA, but money comes when a starter has success early in his career.
So it's about time to back up the Brinks truck for three guys: Andy Dalton, Cam Newton and Colin Kaepernick. Each has led his club to the playoffs while finishing up his third season, and soon will be eligible for a new contract.
Dalton now has thrown nine TD passes in his past three games and has the Bengals headed to the playoffs for the third straight year.
Kaepernick already has led the Niners to a Super Bowl and has double-digit wins again this season.
Newton is a late arrival to this party, leading the 11-4 Panthers to the postseason for the first time in his career.
Don't be surprised by these guys are all making more than $10 million a season soon, and if any of the three win a Super Bowl this year he could find himself in the same spot Joe Flacco did after last season.
I hope the Bengals, Panthers and 49ers have their solid starters at other positions under contract for 2014, or they could find themselves dumping a solid veteran or two to make these QB deals work.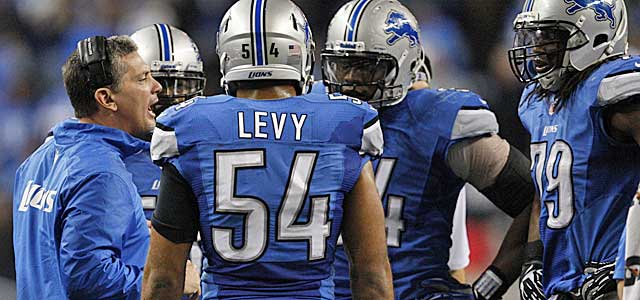 3: Coaches feeling pressure
I worked with four different head coaches in my career, and when the reality of termination was real, finishing strong became a critical factor to the final decision.
My owner wanted to see a team playing hard right to the end, which usually meant winning the final two games, in order to consider keeping a coach that was on the hot seat.
Lions coach Jim Schwartz, interim Texans coach Wade Phillips, Raiders coach Dennis Allen, Redskins coach Mike Shanahan, Vikings coach Leslie Frazier and Buccaneers coach Greg Schiano failed to get that first win in the final two. That puts their futures with current clubs on football life support.
I don't believe all of them will be fired a week from now, but in this league some things are inevitable.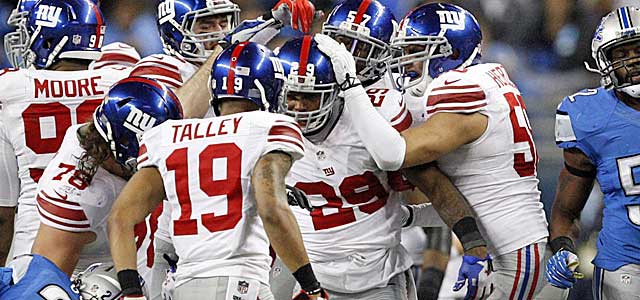 4: Week 16 spoilers
Players and coaches constantly remind me that there really isn't any quit in these professionals, which is true. I've been in a number of locker rooms in my career where things weren't going well, but the players adoped this motto: "If we can't go to the playoffs, neither can our opponent."
The New York Giants and Buffalo Bills should be complimented for their spoiler attitude, as the Giants knocked the Lions out of postseason contention and the Bills made Miami's road to the playoffs more difficult.
In Week 17, the Jets, Rams, Browns, Bills, Bucs and Falcons are leading candidates to play spoiler, and more than one will deliver.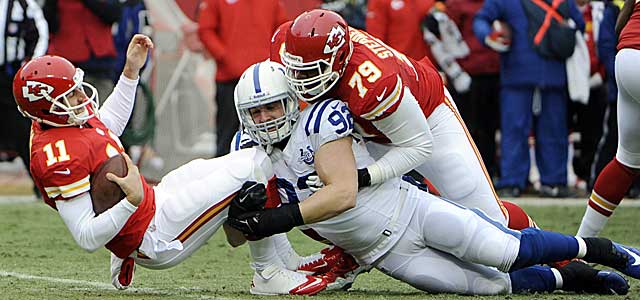 5: How bout them defenses?
There is little doubt that the best defenses among contenders -- the Seahawks (No. 1), Panthers (No. 2), 49ers (No. 3), Saints (No. 5) and Cardinals (No. 7) -- reside in the NFC.
But on Sunday, I was very impressed with three AFC defenses as the Bills, Colts and Bengals won because of their defenses. Maybe there's some hope for AFC defenses in the playoffs.
The Bills recorded the NFL's third shutout this season, yielded only 1.2 yards per rush and limited Dolphins QB Ryan Tannehill to 82 yards passing. Their seven sacks were a team record and added to their NFL lead in that department.
The Colts surprised a lot of us at CBS, limiting the Chiefs to 7 points while registering four sacks, two INTs and holding KC to 1 for 8 on third down. Not bad for a defense ranked 19th in the NFL.
The Bengals have the AFC's best defense and it showed vs. the Vikings, producing four turnovers and four sacks.
Just when I was beginning to think the AFC wasn't interested in great defense.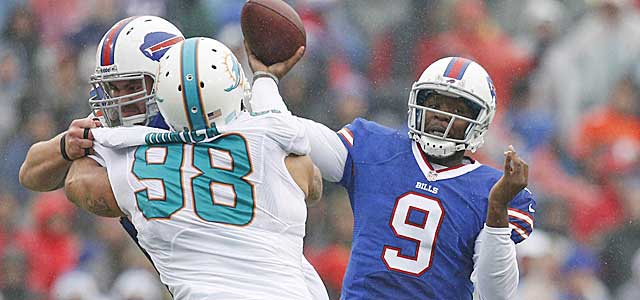 6: Thad Lewis -- THAD LEWIS! -- sweeps Dolphins
Ask the average football fan who Thad Lewis is -- something I did this weekend -- and answers like this come back:
"A wide receiver in college"
"I think he's a QB coach somewhere."
Well, by Sunday night I was adding this hint: He's an NFL quarterback who swept the Miami Dolphins without throwing a touchdown pass. Some folks still didn't get it, but Lewis is a backup QB for the Bills who calmly started his second game this season vs. Miami and dealt the Dolphins' playoff hopes a blow with his second win.
Former NFL QB and CBS analyst Steve Beuerlein, who worked the Dolphins-Bills game, also worked with Lewis coming out of college (he played at Duke, by the way). Going into the game, Beuerlein said he thought Lewis had enough skill to beat the Dolphins again, so thanks for the tip, Steve.
Peterman threw five interceptions in the first half before getting yanked

The Vikings' coach addresses the team's cloudy quarterback situation after their eighth win...

Here are the Week 11 grades for every team that played Sunday
Green Bay could have brought in a veteran quarterback but decided to stick with Hundley

All of the best highlights from Week 11 are right here

The Saints have now won eight straight games after an incredible comeback