Six names to keep an eye on in the next wave of NFL free agency
From Jermichael Finley to Owen Daniels to Brett Keisel, there are unemployed players available who could still fill starting jobs.
• 7 min read
More NFL offseason: Mock Drafts | Prospect Rankings | Pro days | Top free agents
The second wave of NFL free agency passed in an instant. Did you miss it?
It's that group of visits veteran free agents take right after the league meetings -- which were last week in Orlando -- and include some bigger names getting lesser deals. In some cases there is still $2 million or so on the line, and not just all veteran-minimum contracts being offered around.
Well, that's mostly wrapped up by now as well, a week after the meetings broke.
It's real bargain shopping time in the NFL, with teams approaching it like they don't want to be caught peering into the window at the dollar store and unwilling to pull any big bills out of their wallet.
We are only three weeks into free agency, but, unlike baseball, where well-known free agents are often still signing significant contracts with new teams deep into free agency, the quality in the NFL tends to get hopped on right away, budgets get set and locked in rather quickly and times can quickly become tough for free agents.
Teams' focus has shifted deep into draft mode, and overall depth of this draft is doing no favors for older free agents. Thus free-agency turns into a slow bog now, and with the mini-run on running backs coming last week, there are few remaining headlines to be made in free agency, other than DeSean Jackson's sweepstakes after his release, the possibility of a Jimmy Graham grievance case this month and the possibility that perhaps someone still signs Browns center Alex Mack, sitting on the transition tag, to an offer sheet.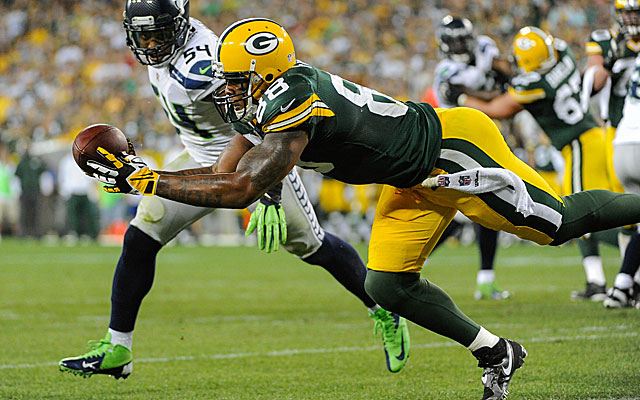 But there is still plenty of starting talent out there on the street, waiting for a suitor, and a handful of guys who will still get more than veteran minimum contracts as they play the waiting game.
In many cases those players are often still working to come back from late-season or after-the-season procedures, that by their very nature cause a delay about when they will be able to pass a physical and actually put pen to paper on a new contract. Many of them are still rehabbing and awaiting final clearance, and while they may be overlooked right now, they won't be forgotten by the teams still monitoring their progress.
TE Jermichael Finley: He has game-changing ability, a unique skill set and he did some pretty special stuff at times for the Packers, though he also undermined himself at times by things he said and with some of the inconsistencies in his game. But on his day he helps make an offense go and helps you win football games, and I still believe as I have all along that a short-term deal with the Seahawks makes all the sense in the world. He fits that offense, can give the Seahawks some dynamism at a position where they have lacked it and Seahawks GM John Schneider knows all about Finley from his time in the Green Bay organization.
Finley visited Seattle early in free agency and teams knew all along they would have to wait a little bit with Finley coming off serious neck surgery. Schneider is plenty patient and still has a budget to play around with and this is a need he could fill with a value signing and perhaps take away the need to draft a tight end high. I like the fit here, but as I noted there is no rush by either party given the health situation at play.
WR Danario Alexander: We've all seen the flashes. We've seen those plays where he pulls away from everyone and looks like the biggest guy on the field, using that 6-foot-5 frame to get open. And, well, we've all seen the litany of injuries that continues to dog him. There are no shortage of personnel guys who, the moment Alexander's name is brought up, start bemoaning the condition of his knees and wondering whether he could ever pass a physical. Alexander is doing what he has to do so often -- rehab from another major injury, this an ACL tear he suffered in August that negated his entire 2013 season. He went undrafted in 2010 primarily because he was trying to work back from knee surgery at that time.
Still, he is just 25 years old, he had seven touchdowns and 658 yards receiving in 10 games in 2012. I can't help but wonder whether a team like the Ravens, Panthers or Giants don't load up with pass catchers in the draft and take a flier on Alexander, which would hardly be the worst gamble in the world. Could be you only get half a season out of him and injuries occur again, but if he can provide a few explosive plays and help balance out an offense while he is healthy, I say give it a shot.
DT Johnny Jolly: Few players have as much off the field baggage, with his arrests and time away from football due to drug suspensions and the like. And he's no longer a spring chicken at age 31 and he plays such a physically demanding spot in the trenches and -- did I mention his indefinite suspension at one point and his six-year criminal sentence (and his eventual early release in May 2012 that came with a 10-year probation)? -- so, yeah, there is a lot to digest there.
Jolly also had neck surgery in January that still has Jolly getting close to being able to sign with a team, but that has naturally caused some delays in the process as well. Bottom line is few thought he might be able to play as well, again, as he did for the Packers in 2013, and given all he went through in Green Bay and the odds he overcame even to get back in the game, I still feel like there is enough sentimentality in Green Bay to get him back (especially given the lack of financial commitment it required to retain defensive lineman BJ Raji). But once fully healthy, I expect other teams to be sniffing around more heavily as well.
TE Owen Daniels: A year ago guys like Dallas Clark were still getting a shot late in the free-agent process and into training camp, and there are definitely options for Clark. Yes, Daniels is 31 and yes he played in only five games last season due to a broken leg, which is obviously a significant injury. So at this point, however, waiting until deep into camp and seeing if injuries or lack of development from youngsters results in an acute need for a potential playoff team. That might make plenty of sense. Daniels has strong ties to the Ravens' offensive coaching staff through their time together in Houston, but Baltimore isn't desperate at tight end with Dennis Pitta back in the fold. Might he help a team like the Giants? He visited Green Bay and could replace Jermichael Finley there. He caught 62 balls for over 700 yards and six touchdowns in 2012, and no doubt he could be an asset to a ballclub when the time is right.
C Brian de la Puente: A self-made player, de la Puente willed himself into a solid starter at center after having been undrafted and bouncing around the practice squad and waivers circuit. He has done multiple stints with the 49ers and Seahawks and reached a point, with the Saints, where he became a regular contributor. He's 28, so not over the hill yet, and since getting the opportunity to really play in 2011 when Olin Kreutz suddenly retired, he started all 16 games each of the past two seasons.
I can understand if the Saints want to upgrade or go in a different direction, but there is definitely a chance to start looming somewhere. The Colts, for one, have a need, and de la Puente visited the Redskins earlier in free agency. Maybe a return to the Saints, in the end, makes some sense as well. But he is certainly someone who I expect to have a team as soon as all sides can agree to the right fit.
DL Brett Keisel: The man still wants to play football, he is dedicated to playing and is in great shape. He has been through the wars in the AFC North playing some very physical football over the years and becoming the kind of teammate and leader everyone wants in their locker room. While many assumed he'd never leave the Steelers, he has, at least for now, and he brings so much with him beyond just an ability to all the dirty work and ugly things and help set the edge in a 3-4 scheme.
I'd take him on my team on a one-year deal for sure, and I can't help but wonder if a return to Pittsburgh is in the cards. Either way, he'd be welcome in any defensive line room and I'd be intrigued to see him in a rotation with Rex Ryan's young bucks with the Jets.
Here are the Week 7 grades for every team that played on Sunday

It was the Falcons' first score against the Patriots in over 90 minutes of game time

Hooker, the 15th pick in the draft, was in the middle of a stellar rookie year
Plus Jordy Nelson's lonely pre-game, Jamal Adams' Milly Rock, Le'Veon Bell's stiff arm and...

Justin Timberlake is headed back to perform at the Super Bowl for the first time in 14 yea...