Small earthquake hits near Oakland, doesn't affect Raiders-Chargers
A small earthquake struck the Bay Area on Sunday during the Raiders-Chargers game. The quake, which measured 3.1, had an epicenter about 17 miles from O.co Coliseum.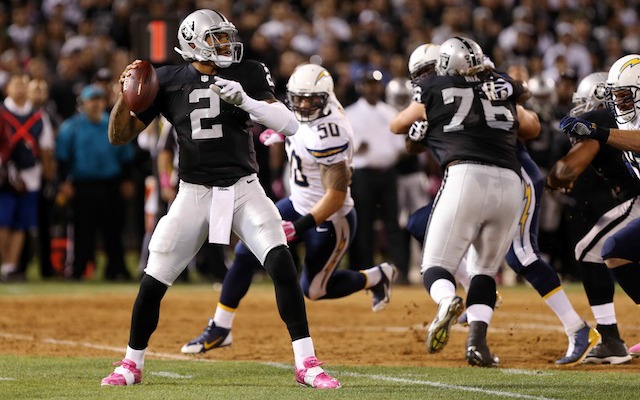 If you thought a football game kicking off at 11:35 p.m. ET was crazy, lets make it a little crazier and add an EARTHQUAKE. An earthquake hit near Oakland on Sunday night during the second quarter of the Chargers-Raiders game. 
The 3.1 earthquake had an epicenter about 17 miles from O.co Coliseum in Oakland, according to the United State Geological Survey. The game didn't stop because of the earthquake, but it was felt at the stadium, as you can see in this tweet from the San Francisco Chronicle's Ann Killion. 
We had an earthquake about 10 minutes ago. After spending time in Seattle and Denver, I thot it was just fans making the pressbox shake.

— Ann Killion (@annkillion) October 7, 2013
The earthquake hasn't slowed down Terrelle Pryor or the Raiders though. Oakland had a 14-0 lead when the earthquake hit and stretched that to 17-0 before halftime. Pryor seems to be powered by earthquakes -- or late kickoff times -- because he's had his best first half of the year. Through the first two quarters, Pryor was 13 of 18 for 141 yards and two touchdowns. 
San Diego doesn't seem to be enjoying the late kickoff and the earthquakes as much as the Raiders. For the first time this season, the Chargers failed to score a point in the first half. 
Of course, you can't bring up an earthquake in the Bay Area without at least mentioning the Loma Prieta earthquake of 1989. While the A's and San Francisco Giants were preparing for Game 3 of  the World Series, a 6.9 earthquake hit the Bay Area. The earthquake delayed the World Series for 10 days. 
The Seahawks apparently didn't enjoy getting shellacked by the Rams on Sunday

Week 15 provided a lot of clarity to the NFL postseason

The ending to New England-Pittsburgh was wild, and one play appeared to change the game at...
The Steelers' best player is expected back but not until the postseason

The Panthers owner announced he would sell the team after the year concludes

All of the best highlights from Week 15 are right here