So did Justin Tucker's epic field goal really matter for his fantasy owners?
The legend of Justin Tucker was born Monday night vs. the Lions. But did it spawn a fantasy legend as well?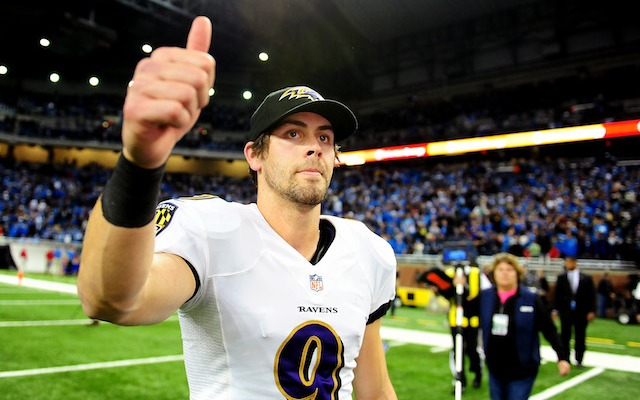 I've always had a thing for starting a kicker who plays on Monday night. It affords, typically, a false sense of a safety net in the twisted world of fantasy football. That if things get hairy, well, there's always the chance your kicker can bail you out with some fireworks. 
Last Monday was one of those instances.
That's why I bring you this trivial piece of information mined from my inbox late on a Saturday night: 27 percent of teams that won with <player idref=er on CBSSports.com won because of Justin Tucker.
Let's quickly unpack that.
So for teams still alive in fantasy football, and with Justin Tucker, there was better than a one-in-four chance his 61-yard field goal Monday night didn't just give the Ravens a huge win over the Lions, it gave you, fantasy savant, a playoff-advancing win as well.
Personally speaking, one of my leagues was part of the 27 percent. The Tucker owner squeeked by with a .7 win because of the kicker's heroics. 
So with fantasy titles on the line this week it may behoove you to take a chance on Matt Bryant or Phil Dawson this week. Just saying. 
The Steelers beat the Falcons while the Saints topped the Chargers

Boldin, 36, who ranks ninth in career receptions, is calling it quits after 14 NFL seasons

Reed's toe is healed but can the oft-injured tight end stay healthy?
The Cardinals rookie safety might have a career in break dancing when he's done with the N...

All signs point to Lynch, the former first-round pick, not beating out Siemian in Denver

The NFLPA executive director comes out out firing in a 'Real Sports' segment