So what if Johnny hits Vegas or Marshawn skips the White House?
How do you know it's the NFL dead season? The football world is obsessing over Johnny Football's Vegas trip and Marshawn Lynch skipping a trip to the White House.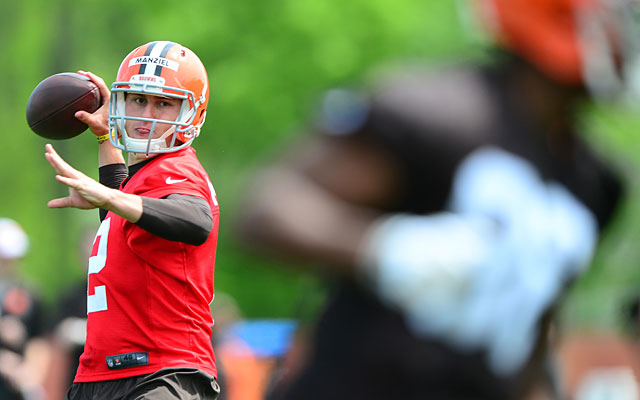 More NFL offseason: League minicamp dates | Latest news, notes
I realize the draft is over and June is the quietest month in the NFL but that's not a reason to try and create stories and stir up stuff that just isn't a factor. It's time for a little segment we like to call "What's the Big Deal?"
• What's the Big Deal about Johnny Manziel spending a weekend in Las Vegas? Seriously, was he supposed to be back at Texas A&M studying for finals? Roosevelt Colvin, a former NFL player, told me, "Lots of guys head to Vegas and veterans don't care what a guy like Manziel is doing as long as he can play when asked to."
• What's the Big Deal about Christian Ponder getting first-team reps? It's just not a big deal. When July comes and Vikings camp begins, Ponder will not be part of the first-team reps but right now he takes some in the name of fairness.
• What's the Big Deal about Jimmy Garoppolo? The Patriots drafting the Eastern Illinois QB has caused some to wonder about Tom Brady. Brady says the right things to defuse the nonstory, but does anyone really think Brady is going anywhere or that Garoppolo is a threat now or in the next four years?
• What's the Big Deal about Marshawn Lynch not showing up at the White House? No one should be surprised by Lynch and his decision. He's just a football player and has really trimmed away everything surrounding the game and keeps his focus on pounding the rock. Some say he will live to regret not attending the White House event, but I'm not so sure nor do I think he would go if the team were to return next year.
The Bucs are making some noise
I spent some time with former Bucanneer and Tampa radio voice Anthony Becht on Memorial Day discussing the Bucs for 2014. He really likes second-round tight end Austin Seferian-Jenkins because of his size, talent and "big paws." Becht watched all of Seferian-Jenkins' game tapes and said, "When Austin wants to block he is very good." That also means he is inconsistent, but Becht believes the Tampa Bay coaches will get him to be more consistent. Becht also cites third-round RB Charles Sims as a guy to keep an eye on because of his receiving skills. He started to make me feel like the Bucs, with all of their offseason moves, were ready for the playoffs but when I pressed him on the issue he thought the 2014 Bucs were an 8-8 team. I think with Lovie Smith running the operation they will be slightly better than that this year.
Three teams ready to get to playoffs
With the draft and free agency over, as well as coaching staffs solidified, I am intrigued by a few teams that appear ready to get into the 2014 playoffs that weren't postseason teams a year ago. Last year six teams finished 8-8 and a 10-6 team didn't make the playoffs. After my camp tour I will predict the 12 teams to get in, but for now I'm leaning toward Pittsburgh, Baltimore and Arizona making the postseason tournament. Of course, if three new teams make the playoffs, three teams have to be eliminated. I'm never convinced about teams falling out of the postseason, but for now I'll say San Diego, Kansas City and Carolina are on the outside looking in.
Are they available?
There are teams that drafted potential 2014 starters, and that will push veterans off the roster. There are teams that have salary cap issues, and that will push veterans off the roster. There are older players that could appear as injury risks -- and that will push veterans off the roster, too.
This time of year pro personnel people will look at rosters with the above realities as factors and decide where there are vulnerabilities -- whether it's a call to a club to see if there would be trade possibilities later in the summer or which players might be on the block to get cut. General managers that have good relations with other GMs can have those kind of private conversations and it helps set up where pro personnel people should go during preseason games to monitor other teams' rosters.
Here's a quick look at a few players I would be interested in finding out what their present club thinks of their chances of making the team or being involved in potential trade scenarios.
•Andre Johnson: My first stop would be the Houston Texans about Johnson. He's a game-changer and a team like New England would be an awesome fit.
•Da'Quan Bowers and Adrian Clayborn: A call to the Bucs about Bowers and/or Clayborn would be high on my list.
After that and in no particular order I would keep a close eye on developments surrounding: Santana Moss, Terrence Cody, Michael Oher, Terrence Newman, Jonathan Baldwin, LaMichael James, Joe McKnight, Daniel Thomas, Robert Meacham, Peyton Hillis, Ashlee Palmer, Brad Smith, Tandon Doss Tom Compton, Mike McGlynn and maybe Sidney Rice.
There will be others as the preseason unfolds but I would definitely break out last year's game tapes of the above players and have the most recent possible reports ready to go if and when these men become available.
Bennett also dedicated it to 'all of the other athletes using their platform to promote ch...

The Patriots quarterback shows commitment from Day One

Cardinals' running back says he's feeling more energized
The Vikings' receiver is wearing his heart on his foot

The Ravens need help on the offensive line after dealing with injuries and a surprise reti...

The new Dolphins quarterback offered high praise for his receiver after his first preseason...