Sorting the Combine Pile: The Jadeveon Clowney show
A look back at the 2014 NFL Combine and all that we learned from the action in Indianapolis.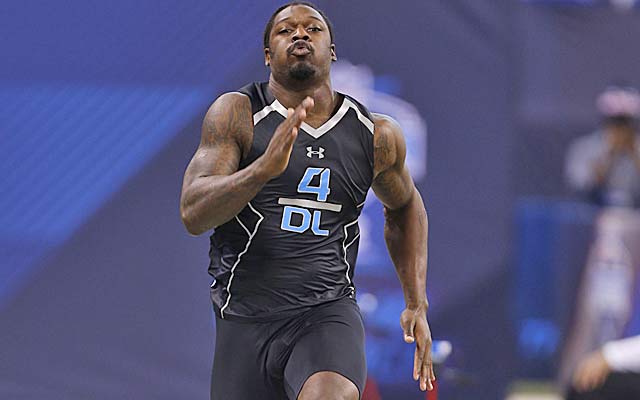 More Draft: NFL Mock Drafts | Prospect Rankings | NFL combine workout results
Seventy two days. That's how long we've got until the 2014 NFL Draft kicks off and we get our next slate of "meaningful" "football" "action" we'll see for months.
I threw air quotes on "meaningful" because the combine doesn't have the same impact as a normal weekend of NFL action. Coming off the playoffs and then the Super Bowl and rolling right into the combine can diminish its importance for some. Every year people talk about draft boards being set and point out that combine performances don't matter.
Those are lies. 
Ask Mike Zimmer, first year Vikings head coach, if the combine matters in terms of his ability to check out prospects.
"To be honest with you, I've been so involved in looking at our players, the free agency and just starting to get going on the draft," Zimmer said. "Really we'll start evaluating the quarterbacks once we get back and after the Combine. 
"I haven't look at any college football players yet."
Zimmer, obviously, got to peak at plenty of guys this weekend, sitting in the stands with Rick Spielman and eying the workouts.
His approach to this offseason isn't some rookie head coach thing either. Marvin Lewis of the Bengals -- who is somehow the second-longest-tenured coach in the entire NFL -- hasn't been watching prospects until last weekend either. 
"I'm sorry but I've only watched three college players," Lewis said. "This was my time to evaluate my own players. My draft evaluation process will start after we leave here. I know there are some guys who people is excited about."
Notably, Lewis is Zimmer's old boss. But the fact remains that at least a reasonable percentage of the NFL coaches don't begin any sort of thorough examination of these prospects until the combine begins.
Blowing up the combine with a strong performance can go a whole long way for those players, too. Dontari Poe of the Chiefs threw up a scintillating performance at 2012's combine and it propelled him into the top end of the first round. 
The combine matters. A lot.
The Clowney Show
To no one's surprise, the biggest story at the combine was Jadeveon Clowney. Now, plenty of players exceeded lesser expectations to a greater degree. But Clowney, with his freak-nasty combination of size and speed, wowed the world, particularly with his smoking fast 40-yard dash. 
Clowney was given an official time of 4.53 after an initial unofficial time of 4.47 (and a ridiculous 1.56 10-yard split). Watching Clowney run wasn't life altering or anything but it was the moment everyone waited for at this combine and the South Carolina defensive end didn't disappoint. For his size that speed is ridiculous. 
Warren Sapp, or once, accurately sums up everyone's thoughts.
To put what Clowney did in perspective, his job is to chase down quarterbacks. Johnny Manziel was the second-fastest quarterback at the combine. Guess who's faster:
Clowney might not go No. 1 to the Texans. He might not go No. 2 to the Rams (or whoever they trade with). He could fall all the way to No. 6 to the Falcons. There are work ethic concerns. 
But if we're just looking at simply acquiring the best football player available in the draft regardless of position, Clowney is the guy. He showed as much this past weekend.
The Safest Pick?
Clowney wasn't the only defensive player to blow up at the combine. Aaron Donald of Pitt, who is considered dimunitive for the defensive tackle position, justified his stock and drew plenty of comparisons to Hall of Famer John Randle in the process.
Donald, at 6'1" and 285 pounds, has been knocked for his size and upside despite an incredibly productive career at Pittsburgh. But he ran a 4.68 second 40, put up 35 bench press reps and did the 3-cone drill in 7.11 seconds. All of those merited "star" performances at the combine.
Three of our current 2014 NFL Mock Drafts have Donald going to the Cowboys at No. 16. I bet he ends up going higher than that eventually; and in looking at defensive tackles taken in the first round over the past five years, I couldn't help but notice a startling "safe" factor in the guys who were taken.
Not every one of those guys worked out or are even "safe" per se. Ndamukong Suh and Nick Fairley don't fit the "safe" mold but they've been very good at the pro level so far. Marcell Dareus looks like a good pick despite being picked immediately before superstars A.J. Green, Patrick Peterson and Julio Jones. 
Peria Jerry was a massive bust for the Falcons. The jury's still out on other guys. But first-round defensive tackles, by and large, have been successful for teams the last half decade. 
It simply doesn't make sense to ignore Donald's pedigree because he's too small. Ask Cyril Richardson, who got thrown into a phone booth by Donald at the Senior Bowl, how that works out:
What's a Coach Worth?
It depends on what coach we're talking about obviously, but Jim Harbaugh -- one of the top two or three coaches in the NFL right now -- has to be worth a lot. He's a genius. And he's insane ...
Which is both a good thing and a bad thing. Those traits make him an incredibly sought-after commodity. Harbaugh had multiple teams chase him out of Stanford with the 49ers ultimately landing him. And the combine was rocked by rumors about Harbaugh possibly being traded on Friday afternoon when Pro Football Talk reported that the Browns had a deal in place to land Harbaugh.
Regardless of what actually happened, this was by far the biggest news of the combine weekend, with the following exchange checking in as the second-biggest news:
There's like nine different BOOM, ROASTED! moments in that little Twitter exchange. 
The real shame in all the Harbaugh drama is that it wasn't leaked/reported before Harbaugh, Trent Baalke and Ray Farmer talked to the media. Only poor Mike Pettine was left to break down the details of a trade that nearly cost him a chance at a head-coaching job. 
Michael Sam's Big Moment
Without a doubt, Sam, who announced to the world he was gay recently, had the biggest press conference in combine history. Part of that is the major cultural issues at play and part of that is the continued growth of the combine (Johnny Manziel previously held the unofficial record and he spoke the day before). 
Sam was perfect on the podium, not that we should've expected anything different. He's a smart young man with an undeterred sense of self confidence.
Unfortunately for Sam it looks like he was worn out by either the media appearances or simply showed why he had a "3rd to 5th round" grade attached to his name before coming out. Note here that being given that designation doesn't make anything concrete. Plenty of third-round prospects have leapt into the early part of the second draft day and plenty have gone undrafted.
Sam disappointed with his 40 time (4.91 seconds), his bench press (17 reps), his vertical jump (25.5) and his three-cone drill (7.80 seconds). It's OK because, again, he dealt with an overwhelmingly large amount of attention before working out.
But it really might tell us the truth about the kind of athlete he is. 
And if it leads to Sam going undrafted, the league will have quite the mess on its hands. Regardless of how poorly he performed at the combine, it was understood by the general public that the reigning SEC Defensive Player of the Year would end up landing on a roster. 
It's not a guarantee by any means at this point (Sam can change that with his pro day of course) and even if he does get drafted, Sam's probably slotting in as a situational pass rusher. 
The public perception will be that Sam fell out of the draft because of his sexual preference. And that won't be a good look at all for the NFL. 
Getcha Popcorn
I'm speaking specifically to you, Mike Lombardi, former Browns GM and new Patriots personnel guy, who happens to be hanging in the box with Bill Belichick and Matt Millen.
Strong Class
The wide receiver crop gets a lot of love -- and they should -- but the defensive back class is pretty impressive as well. We had four guys go sub-4.4 40 times on Tuesday, with Justin Gilbert of Oklahoma State, Philip Gaines of Rice, Jason Verrett of TCU and Bradley Roby of OSU all creeping under the milestone.
One of those was not Baylor safety Ahmad Dixon, who ran a 4.64. But Dixon made up for any lack of speed by dropping the mic with a Deion Sanders/Darqueze Dennard videobomb.
The Boi Nervous
And speaking of 40s, Dri Archer of Kent State nearly blew Twitter up when he flirted with the modern-day NFL combine record. Chris Johnson of the Titans holds it at 4.24 but you could probably make an argument that whatever Bo Jackson ran, before it was officially timed, was faster.
Archer put up an insane 4.26 official time after going 4.29 and 4.28 unofficially. 
It was one of the rare unofficial times that actually got faster when it became official. (Charley Casserly's hand is usually a little bit quicker than it should be.) And the man who holds the record was sweating a little bit.
Can't lie archer had the boi nervous

— Chris Johnson (@ChrisJohnson28) February 23, 2014
Look Out Below
One of the key things is being able to laugh off whatever might go wrong at the combine though. For instance, Louis Nix, the gigantic Notre Dame defensive tackle, apparently has that skill. Or hopefully does: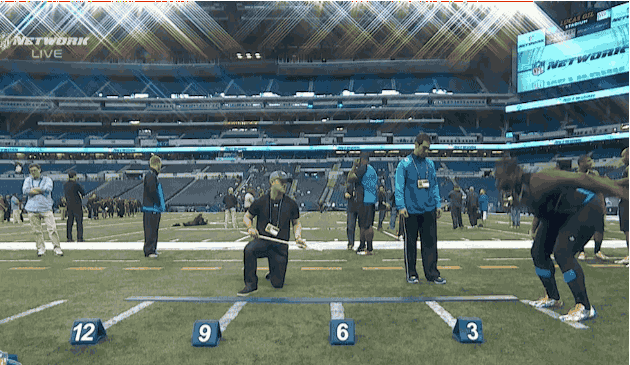 Potent Quotable
It flew under the radar, but Thomas Dimitroff talking about trading in the draft wasn't just the best sentence of the week. It was also a 10,000-point Scrabble collection.
Thomas Dimitroff with sentence of week award "Sometimes we precipitate thoughts about moving up in unprecedented ways for wide receivers."

— Will Brinson (@WillBrinson) February 21, 2014
Like everything with Luck, there's some good news and some bad news with his latest health...

The top would-be free agent wide receiver is officially off the market

A billionaire owner of the Pittsburgh Steelers is hoping to buy the Carolina Panthers
The crop of free agent offensive linemen just got better

Laurent Duvernay-Tardif might have just made one of the most unique jersey requests in NFL...

The new Raiders coach offered some details on what he wants from Marshawn Lynch