Sorting the Preseason Pile: Manziel Mania storms Cleveland
Sorting the Sunday Pile (preseason edition!) looks at the biggest story lines from the week that was in the NFL.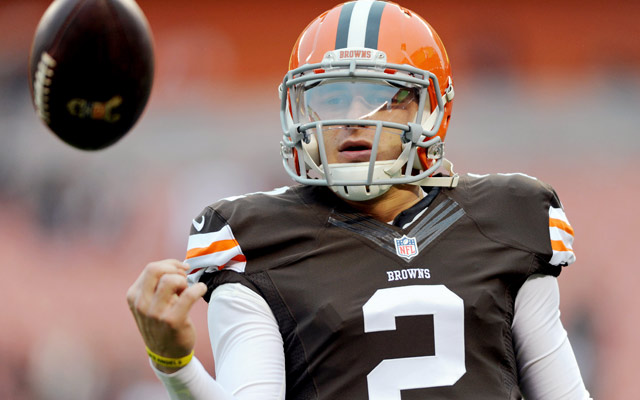 More NFL: Photos | Videos & GIFs |  Stories | Training Camps |  Manziel watch 
Saturday night was something else, wasn't it? The breathless, borderline pants-free manner in which Johnny Manziel's debut got covered was so rapid it bordered on Tebowian. 
We weren't (and aren't!) absolved. Plenty's been written on this site on Manziel battling Brian Hoyer battling Johnny Manziel -- Pete Prisco here and Ryan Wilson here -- and it's far from the last vat of virtual ink spilled on Johnny Football.
A combination of Cleveland's struggles at quarterback over the years, Manziel's offseason full of partying and nothing else to talk about before football begins means an intense amount of media coverage surrounding the Cleveland Browns quarterback battle. 
Oh, and actual FOOTBALL. With Mike Pettine wanting to name his regular-season starter by Week 3 of the preseason (whoops?) suddenly there's a one-week sprint between these guys to win the gig. Hoyer was way ahead before the preseason started but things change, Mox.
Mainly because Manziel played well enough to warrant the rumors of a "50-50" locker room split between he and Hoyer.
The Browns incumbent sailed a few passes -- early to Josh Gordon on the first drive and again to Andrew Hawkins on third down of the second drive -- resulting in a stall out and a Billy Cundiff field goal. But he was also plagued by drops from his receivers. Early in the second quarter, Hoyer sent a rope 25 yards down the field -- throwing on the move to his left no less -- to Miles Austin , who promptly let the ball bounce off his hands.
More important than the actual drop by Austin (a bad one) was Hoyer's ability to make the throw on the move there, coming a surgically repaired knee. For as much as Manziel looked surprisingly accurate and aware Saturday night, Hoyer looked surprisingly mobile and athletic.
Hoyer also suffered a tough drop on a would-be touchdown to Gordon as well. The throw was technically "high" but it hit Gordon in the hands and needed to be elevated in order to beat good coverage.
All in all a mixed bag but a not-wholly unimpressive effort from Hoyer.
His biggest problem is his ceiling. We know what Hoyer is and he's not a flashy first-round rookie who projects as the future of the franchise (he didn't sell 1,500 tickets).
So, yeah, clearly there was more excitement for Manziel, even if his first series -- a three-and-out in the middle of the second quarter -- was a dud.
The final play featured a poor read from Manziel on a read-option call from the Pistol with JFF exacerbating the problem by diving head first into three Detroit Lions defenders. Valiant, but entirely unnecessary during Week 1 of the preseason.  
It wasn't the only poor "give yourself up" decision of the night for Manziel either:
STOP THAT, JOHNNY.
Hopefully someone gave Johnny a firm (read: loud, full of anger) talking to (perhaps during an injury timeout for Tahir Whitehead ?), reminding him to either slide or get out of bounds so his career doesn't end before it starts. The SEC is full of talented defensive players but diving head first into three NFL defenders too many times will get make you dead.
Whatever the case, Manziel got the point and started to work his way out of bounds and slide feet first instead.
Largely, Manziel was good. He wasn't asked to do a ton but his throws popped, he didn't seem horribly over his head and there was certainly a Johnny Football moment or two.
Manziel pulled off another one of these moments too: using his athleticism and improvisational skills to rush for a first on fourth down and short. That he missed a couple of open receivers is kind of the point I guess? It was a quintessential Johnny Football moment.
He missed throws too, of course. Particularly late in the third quarter, on what would be his final drive, it felt like Manziel's accuracy dipped. And he wasn't exactly taking shots down the field, averaging less than 6 yards per attempt. But it was a good performance overall and one he should be excited about.
Add in Hoyer's above referenced completion to Austin and It's a very limited number of plays to judge these guys. Manziel will reportedly start Week 2 of the preseason, which means Hoyer gets to play easier defensive players (while being blocked for by lesser offensive players). There's plenty more to sort out the next two weeks before Mike Pettine names his starter.
Right now it's just hard not to see the winds of change blowing towards the young upside of Manziel.
Impact of Ryan Clady's return: How much of a difference does the return of Ryan Clady make for Peyton? The answer is obvious: his All-Pro left tackle helps.
But you have to look past just Clady improving the position and what it does for the Denver Broncos in terms of a trickle-down effect: every single player on the line has an easier job. Chris Clark moves to right tackle, Orlando Franklin moves to guard and Louis Vasquez ' job gets easier.
It's a big deal. Look at the botched fumble from the Super Bowl:
And the fumbled snap from preseason Week 1:
Two totally different situations (preseason versus championship, different defensive and offensive playcalls, etc) but what was particularly apparent to me was how many Seattle Seahawks were in the backfield during the Super Bowl play. By the time Manning is turned around and trying to find the ball, there are three Seahawks pursuing.
In the preseason, Manning picked up the ball -- and ultimately made a play to keep the drive alive -- before a Seahawk defender even sniffed the backfield. Clady plays a big part there because of just how much he improves the protection, both on Manning's blindside AND in the middle of the line, where Seattle used pressure to devastate the Broncos during the Super Bowl.
Do the Steelers have the next Jamaal Charles? The hype is strong for rookie hybrid RB/WR Dri Archer, the fastest man at the 2014 NFL combine. Todd Haley called him the Pittsburgh Steelers version of Jamaal Charles , which is a high and wholly hyperbolic comment. They just need Archer to fare better than Dexter McCluster .
Initial indications are he will though. Archer's first big play of the preseason came when he lined up in the slot to Ben Roethlisberger 's left in an empty backfield formation.
The Steelers play here was a double screen, with Markus Wheaton (at the top of the screen) drawing Ben Roethlisberger's initial look and, thus, a surplus of defenders. Meanwhile, Archer's rolling to a big swath of empty space:
The result was a delightful 46-yard reception that, quite honestly, did look like a lighter version of Charles on the field.
Maybe Haley isn't so far off after all.
Gary Kubiak's impact feld in Baltimore: Much attention on the Baltimore Ravens this offseason's been bad, but there was a positive to their preseason performance in Week 1: the new  new offense Gary Kubiak's installed.
A good rushing effort from Bernard Pierce and efficient nights from Joe Flacco (4 of 5, 52 yards) and Tyrod Taylor (7 of 11, 58 yards) were the results of the new offensive system and this personnel could be a perfect fit for what Kubiak likes to do on offense.
Torrey Smith is the type of player who could flourish in the heavily-featured "No. 1" role Kubiak utilizes and if Dennis Pitta stays healthy, he'll combine with Owen Daniels to give Flacco the mid-range weapons he sorely missed last year.
Hyde and still seeking in San Fran: Not that we're expecting much from him this year, but Blaine Gabbert ... EEEEESH. Three of 11, 20 yards, 1 INT. That's a 1.82 YPA for those scoring at home. That's … not good. If he makes the team (his contract may dictate he does) the San Francisco 49ers better hope Colin Kaepernick stays healthy.
On the other hand, Carlos Hyde looks like an impressive backup for the 49ers. With Kendall Hunter out, Marcus Lattimore very much a question mark and fantasy zombie Frank Gore theoretically aging, the 49ers need else someone to make an impact in the running game. 
Hyde did just that, running five times for 39 yards in the opener against the Ravens. One play in particular stood out, with Hyde using a combo of speed and power to bounce a run outside and pick up a few extra yards at the end.
Whoa highlight: MOAR ROOKIE GIFS. Former Oregon Ducks standout De'Anthony Thomas is JUST. A. PLAYMAKER.
Which is exactly why the Kansas City Chiefs drafted him in the fourth round. To make plays. He did just DAT on a kickoff for Kansas City in the first week.
Mallett and Cousins trending opposite ways: The New England Patriots plan is to deal Ryan Mallett . It has to be with one year left on his deal. Unfortunately his initial showcase in Week 1 of the preseason won't help things. Mallett went 5 for 12 for 55 yards with a performance that won't cause the Patriots' phone lines to start ringing off the hook.
His receivers weren't helping him out and it looked like there was some miscommunication on a few plays in the second quarter. Dude has an absolute cannon on his right shoulder too. But Mallett simply wasn't accurate or consistent.
On the other end of the "Trade Chip Spectrum" was Washington Redskins backup quarterback  Kirk Cousins , who indirectly stirred things up a bit with an impressive performance at joint practices between the Skins and Pats. Cousins essentially outplayed starter and star Robert Griffin III , at least in the eyes of some objective observers. He carried that over into the preseason, going 9 for 13 for 103 yards and a touchdown on a bullet to Aldrick Robinson running a slant out of the slot during the first quarter. It looked like his first read and maybe Cousins forced the ball a bit with the safety almost in position when Robinson caught the ball, but it was a dart.
It's way too early to suggest Cousins could backdoor RG3. Is there any actual indication it might be a competition? And, for what it's worth, based on Week 1 you could also argue Colt McCoy deserves serious run too.
Maybe Jay Gruden is just the king of showcasing scrappy quarterbacks.
You have to see what Clowney did Saturday: How many times did you see the replay of Jadeveon Clowney blowing up the backfield against Michigan on New Year's Day two years ago? Probably -- no hyperbole -- thousands of times. Maybe more.
We basically saw it again on Saturday night, when Clowney exploded into the Arizona Cardinals backfield during Arizona's second drive of the night and promptly blew up Stafon Johnson.
In fairness to Johnson, what could he do? Look where Clowney was at the point of the hand off.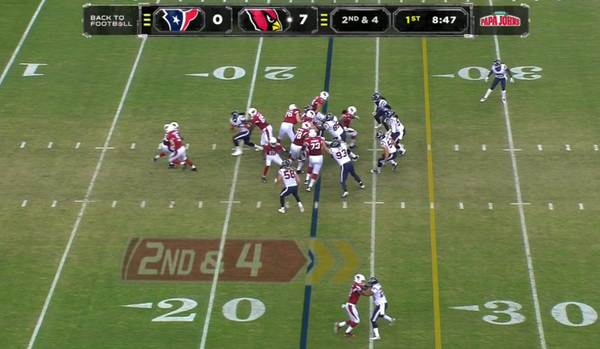 He's 5 YARDS into the backfield before Johnson even gets the ball in his gut.
The decision to leave Clowney on an island (against a tight end no less) wasn't the smartest. But it's not hard to be that fast with no one blocking you. 
Sammy showing off again: Do you score fantasy points for one-handed catches in training camp? If so, take Sammy Watkins IN THE FIRST ROUND.
Cowboys' units are polar opposites: If you can bet on one team to simultaneously finish first in offense and last in defense for 2014, you should uncork on the Dallas Cowboys . If Tony Romo can stay healthy (or Scott Linehan can brainwash Brandon Weeden into thinking it's permanently the preseason) Dallas will score points in gobs. The weapons in the passing game -- Dez Bryant , Jason Witten , Terrance Williams -- are obvious. Joseph Randle (15 carries, 50 yards) and DeMarco Murray could be formidable. The offensive line was a real treat Thursday night, shoving the San Diego Chargers  around for the duration of the first quarter.
Randle ran well but he had space to work with and Weeden operated in a clear pocket with swaths of space most of the time. It should be a very welcome sight for Cowboys fans, particularly because the defense is going to suffer.
Whoever actually runs the defense is largely irrelevant. It's a unit lacking in talent and appears insufficient to stop anyone. We saw what happened last year and there's less talent there in 2014. Credit Philip Rivers and the Bolts offense for doing a good job marching down the field on the opening drive -- they ran 10 plays before Ryan Mathews fumbled on the goal line and only two of them were less than 5 yards -- but it's much easier to storm a fort when no one's defending it.
Great Scott: If you didn't see Cincinnati Bengals quarterback Matt Scott go full Steamin' Willie Beamen during the preseason with his vomit --> throw a touchdown --> vomit sequence, watch that now.
Broncos D looking good: The focus on the Broncos will always be their offense. It happens with Peyton Manning in town. Do not sleep on the addition of a healthy DeMarcus Ware though. He made Prisco's list of bounceback/breakout pass rushers this season and with good reason.
Watch the early portion of Seattle-Denver from Week 1 and every time you see Russell Wilson doing things to get out of trouble, you see Ware chasing him down.
Ware hit Wilson, he sacked Wilson and he pressured Wilson into throwing the ball away. Expect a major impact on a serious contender if he's healthy.
All about the Benjamin in Carolina: Pretty sure we discussed Kelvin Benjamin in this space last week (I moved and I remember nothing from the last two weeks). If we didn't, let's fix that now: Benjamin should be moving up your "must watch" list for the preseason after his b-a-n-a-n-a-s catch against the Buffalo Bills in the preseason.
This is what it looked like when Benjamin actually caught the ball: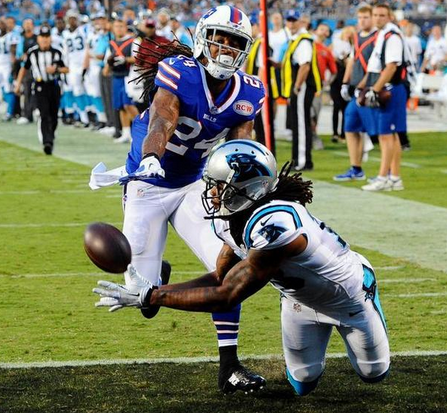 But it doesn't do the actual catch justice. Benjamin slipped while cutting outside, fell toward the sideline and basically found himself about 10 feet away from where the ball was going to land. I have no idea HOW, but he got back there. 
Two words: catch radius.
YUM, CHIEFS:
Let's call it the Blair Walsh revenge game

Jeremy Lane also stood near Bennett along with pass rushers Cliff Avril and Frank Clark

Bennett also dedicated it to 'all of the other athletes using their platform to promote ch...
The Patriots quarterback shows commitment from Day One

Cardinals' running back says he's feeling more energized

The Vikings' receiver is wearing his heart on his foot