Sorting the Saturday pile: Saints top Eagles for first-ever road playoff win
Three weeks ago, Saints kicker Shayne Graham was on the streets. On Saturday, he was the hero in the Saints 26-24 wild-card playoff win over the Eagles.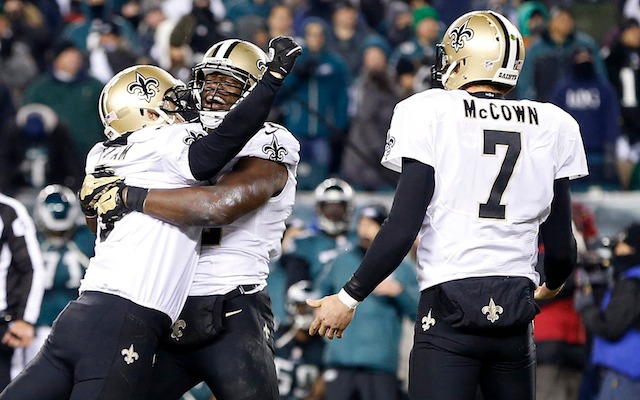 *The Saints' 26-24 win over the Eagles on Saturday wasn't as wild as the Colts 45-44 win over the Chiefs, but it was just as exciting. The game came down to the final play when New Orleans kicker Shayne Graham hit a game-winning 32-yard field goal as time expired. 
Do you know what Shayne Graham was doing three weeks ago? Because I don't. I just know he wasn't playing football. The Saints signed Graham on Dec. 17 and then five days later he was kicking two field goals against the Panthers. Graham played in a total of two games this season -- in Weeks 16 and 17 -- before hitting three field goals in the Saints playoff win. 
If Graham's name sounds familiar to you, it's probably because he's played for your team. Here's a list of everyone that Graham has played for since 2000:
List of teams Shayne Graham has played for. (??!). pic.twitter.com/3jcy1NouhE

— Ann (@Ann_OC) January 5, 2014
The Eagles probably wouldn't mind if Graham played for them next season. Philadelphia kicker Alex Henery missed a 48-yarder against New Orleans, as it turned out, the Eagles could have kind of used those three points. 
*Drew Brees threw two interceptions but the Saints were still able to win because their defense put the clamps down on Philadelphia. Then after putting the clamps down, they grabbed more clamps and put those clamps down. The Saints defense did something to LeSean McCoy that only two other teams did the entire regular season: they held him to 3.7 yards per carry (21 carries for 77 yards). 
Although McCoy was kept in check most of the night, he did do this, which is kind of impressive. Saints linebacker David Hawthorne may want to skip this play while watching film this week: 
The Saints limited the Eagles offense to 256 total yards, becoming only the second team to hold Philly's No. 2 ranked offense to under 260 yards this season. The Giants held the Eagles to 200 total yards in Week 8. 
*The Saints win over Philadelphia offered some playoff firsts. The 26-24 win was New Orleans' first ever playoff win on the road and Drew Brees' first postseason win on the road. Before Saturday, the Saints had been 0-5 in franchise-history in road playoff games and Brees had been 0-3.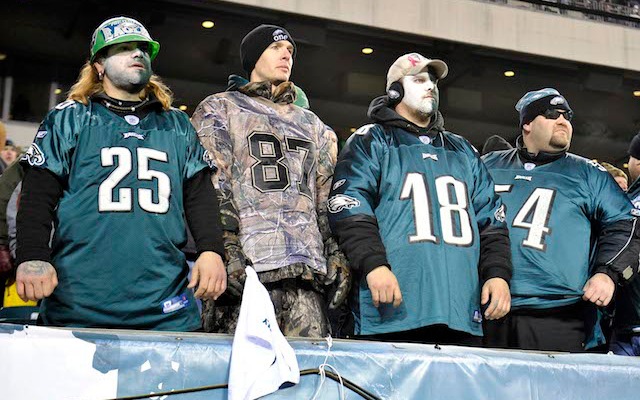 Saturday also marked the first time in NFL history that two games played on the same day were both decided by two points or fewer. Both games looked like they were going to turn into blowouts -- New Orleans led 20-7 and Kansas City led 38-10 -- but both games turned into, well, you saw what they turned into. 
*The Saints defense was so dominating, I'm going to talk about them again, only because I want to talk about defensive coordinator Rob Ryan. Ryan's play sheet had a picture of his dad on it, his dad used to coach the Eagles, the Eagles never won a playoff game with Buddy Ryan. There's some sort of irony in there, but I'm not smart enough to explain it. 
Guessing Kevin Gilbride's play sheet wasn't adorned with a photo of Buddy Ryan. pic.twitter.com/ORktszzvsC

— ryan wilson (@ryanwilson_07) January 5, 2014
*And we close with an obligatory trash-talking tweet from Rams quarterback Kellen Clemens. Is there anyway we can get a special exemption and get the Rams in the playoffs?
Two teams won today in the wildcard round. They shared one opponent they both lost to during the regular season.... we're getting closer.

— Kellen Clemens (@KellenClemens) January 5, 2014
*Actually, lets close with a picture of Shayne Graham. 
Most fans will remember Shayne Graham for his clutch kicks... I'll always remember him for his semi shirt-tucks. pic.twitter.com/zJCoWWRDVo

— Kevin (@Brax17) January 5, 2014
(Wink of the CBS Eye to Bleacher Report for the GIF)
---
Follow John Breech on Google+ or you can even sometimes find him on Twitter
It was an emotional day in Philadelphia for the parents of kicker Jake Elliott

Nick Kostos, a.k.a. 'Mr. Monday Night,' has owned Monday Night Football

The Steelers weren't actually in their locker room for the national anthem
Players weren't the only ones protesting in Week 3

From London to Sunday Night Football, teams around the league demonstrated in response to...

It's unclear whether Marshall actually spits on the fan during videos of the exchange