Sorting the Sunday Pile: Broncos-Seahawks rare battle of No. 1s
Sorting the Sunday Pile looks at the biggest stories from the NFL week that was. This week? The Broncos and Seahawks are a rare battle of No. 1 teams.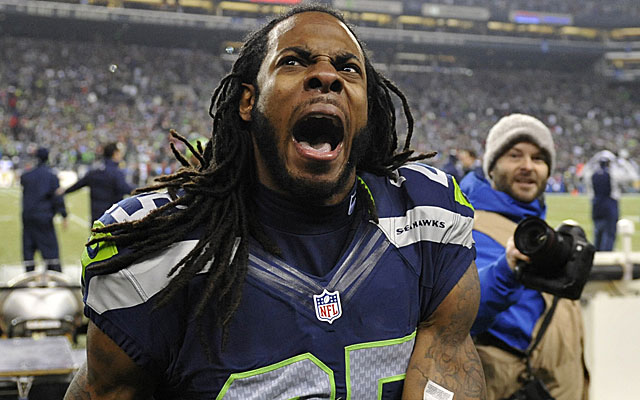 More Super Bowl coverage: XLVIII odds and lines | Expert picks| Latest news
The parity party in the NFL says it's not supposed to work out like this. The NFL's top two teams aren't supposed to meet in the Super Bowl but it's happening. On February 2, the Seahawks an the Broncos -- with the latter slightly favored as of right now -- will meet in New York for Super Bowl XLVIII. 
It's going to be great, even if the two teams couldn't be more different.
Denver got to New York on the arm of Peyton Manning. Not just on Sunday but throughout the season; Manning and the Broncos shattered just about every NFL offensive record during the 2013 season. Having Demaryius Thomas, Eric Decker, Wes Welker and Julius Thomas will help you do that.
Seattle got here despite their offense as of late. Russell Wilson made some critical mistakes on Sunday and he struggled down the stretch this season. He hasn't put up big numbers and he hasn't been dynamite from the pocket. 
Having said that, he did have this little dime piece to Jermaine Kearse to put the Seahawks up for good Sunday ...
That was an aberration late this season and it belies the Seahawks' full gameplan. Seattle got to where they are because Marshawn Lynch is a monster (he had another 109 rushing yards against the 49ers Sunday) and because Seattle's defense is the best in the league.
Say whatever you want about Richard Sherman (more on that in a minute) but he's an elite cornerback, one of the best -- if not the best -- in the NFL. Cliff Avril and Michael Bennett combined for a huge sack and fumble recovery. They were additions to an already stout unit that's only gotten better despite losses like Brandon Browner. Earl Thomas deserves far more credit for what he does. 
If you don't know about the characters involved, there's a full two weeks to learn about them. What's fun about this game -- aside from the weather most certainly becoming a factor -- is that it's a night/day-black/white matchup.
Denver can do defense. Just ask Terrance Knighton a.k.a. Pot Roast. Seattle can do offense. See: above. But the Broncos were the No. 1 offense in the land by just about every normal metric -- 40 yards per game above No. 2 and 10 (!) points per game above second place -- and every advanced metric as well.
Seattle topped Football Outsiders' team DVOA rankings (again) this season and allowed a scant 14.4 points per game while remaining the only team to allow less than 300 yards per game to opponents.
The Seahawks pride themselves on an aggressive defense with a studly secondary. Manning makes his money on being the most cerebral quarterback in the game. If you love football and you love debating whether an elite defense can stop an elite quarterback at his peak, you just got handed a gift.
It'll be just the fifth time in Super Bowl history where the No. 1 scoring offense and No. 1 scoring defense matched up, and the first time since 1990 when the Giants took down the Bills.
Three victories have gone to the defense (1990 Giants, 1984 49ers, 1978 Cowboys) and the offenses have won just one, though it was a bloodbath, with the 49ers toppling the Broncos 55-10 in Super Bowl XXIV.
The world's biggest game is headed to the world's biggest stage. And despite their differences, it'll feature the two best teams in the NFL. It might not be what we're accustomed to in this day and age, but it's bound to produce some pretty spectacular football. 
Narrative 
Sunday was a bad day for our old friend narrative. Peyton Manning showed up in a massive way in massive game and propelled the Broncos past Bill Belichick, Tom Brady and the Patriots and into the Super Bowl. That's not supposed to happen. But it did. And perhaps it's time to realize that Manning, despite what his critics want to say, is pretty good in big games.
Maybe even better than Brady. Touchdown Tom has the lead in terms of rings (3 to 1) but the idea that Manning isn't as good as Brady in big spots is just ridiculous at this point. 
For one, Manning straight up dominated Brady on Sunday. Say what you want about the game being Broncos vs. Patriots, but the defenses 
Here's how the two look in postseason games the past five years:
| | | | | | | |
| --- | --- | --- | --- | --- | --- | --- |
| Quarterback | Record | Comp % | Yards/Game | Yards/Attempt | TDs | INTs |
| Peyton Manning | 4-3 | 68.8% | 300.1 | 7.61 | 2.0 | 0.7 |
| Tom Brady | 4-5 | 61.4% | 274.4 | 6.96 | 1.9 | 1.1 |
Add whatever caveats you want to add. Manning missed a postseason and you can't discount what Brady did previously when he won Super Bowls. No one disagrees. But if a narrative is going to exist, it shouldn't ignore reality.
The reality is that Manning, in recent years, has been a better postseason quarterback than Brady. He won't likely catch Brady in terms of Super Bowl appearances, but please don't point to something silly like "quarterback wins" when making any claims.
Brady's struggled with those of late as well.  
#StayClassy? 
Twitter melted down when Richard Sherman went ape during his postgame interview with Erin Andrews. That shouldn't be surprising but it's disappointing that people decided to call him "classless" or "a thug." 
Did Sherman scream into a microphone minutes after managing to make a critical play in order to seal the Seahawks trip to the Super Bowl? Yeah, he did. He should scream. Did you see that tip he made?
That's a ridiculous play and it's the sort of the play the best corner in the NFL makes. Sherman didn't have to dog Michael Crabtree the way he did. But let's not pretend the Seahawks and 49ers are friendly. There's gonna be some smack talk.
My issue here is the hypocrisy involved in what we want from athletes. We say we want them to be honest. That's not true at all. We like bland honesty. Andrew Luck and Russell Wilson and Peyton Manning are the best at not saying everything while not saying anything. They're not honest. (And that's totally OK; they need to do what they do. Nothing wrong with that.)
Sherman was honest, though, and given how often we lament the boredom involved in athletes who won't actually say anything, it's disingenuous to get mad at Sherman now. If he hadn't shouted his answer, it would've been nothing more than a sick burn.
Kudos to John Elway 
Give some props to the former Broncos quarterback and the man building the Broncos roster. There were some massive contributions from free agents that Elway picked up this offseason on Sunday.
Pot Roast, who signed a two-year $4.5 million contract in the offseason, was a beast in the run and pass game and sacked Tom Brady on a critical fourth down play that turned the game. Shaun Phillips, who's filled in incredibly well for Von Miller this year, made a massive stop of  Shane Vereen on a two-point conversion. Wes Welker had a nice day, but more importantly, he wasn't on the field for the Patriots. Danny Amendola, who replaced him, finished without a catch. Louis Vasquez helped protect Manning, just like he has all offseason. And Dominique Rodgers-Cromartie has had a breakout season after signing a two-year, $10 million deal this year. 
These guys were good, smart signings this offseason. It's not hindsight, but now they look absolutely great. It's easier for Elway to bring them in with Manning hanging around but you can't discount the job that he did in getting those guys to come to Denver. They've made a massive difference and helped propel the Broncos into the Super Bowl. 
Pick Six Newsletter
Get the day's big stories + fun stuff you love like mock drafts, picks and power rankings.
Please check the opt-in box to acknowledge that you would like to subscribe.
Thanks for signing up!
Keep an eye on your inbox for the latest sports news.
Sorry!
There was an error processing your subscription.
Here's your first look at the injuries we're tracking for Week 3 in the NFL

Yes, the Browns Color Rush uniforms do exist, and yes, they're actually going to wear them...

The Bills corner has an explanation for his bizarre situation
SportsLine computer model simulated every Week 3 NFL game 10,000 times with surprising res...

The Ravens have now paid more than $700,000 in fines over the past two years

The Packers quarterback could be dealing with his knee injury for the next few weeks