Sorting the Sunday Pile: Broncos win sets up Manning-Brady XV
Denver's win over San Diego on Sunday sets up the AFC title game that 95 percent of America wanted: Tom Brady vs. Peyton Manning.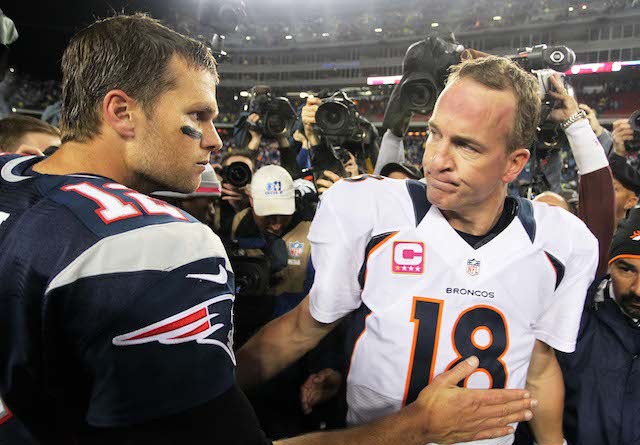 • Sometimes the storylines write themselves and next week's AFC Championship Game in Denver is one of those times. Thanks to the Broncos' 24-17 win over San Diego on Sunday, Tom Brady and the Patriots will be traveling to Denver next week with a trip to Super Bowl XLVIII on the line. 
If you want to know what that means for you, this tweet sums it up pretty well: 
Manning Brady Manning Brady Manning Brady Manning Brady Manning Brady Manning Brady There, now you don't need to watch ESPN this week.

— pourmecoffee (@pourmecoffee) January 13, 2014
The AFC title game will mark the 15th time that Brady and Manning have met in their careers, the fourth time they've met in the playoffs and the third time they've met in an AFC title game. Brady and Manning have each won one title game against the other, making Sunday the ultimate rubber match.
Brady and the Patriots beat Manning and the Colts 24-14 in the AFC title game following the 2003 season. Manning didn't help his reputation of choking in big games that year as he threw four interceptions in the New England win. 
Manning got the best kind of revenge though following the 2006 season when he led the Colts back from a 21-3 second-quarter deficit to a 38-34 win. That victory propelled the Colts to Super Bowl XLI, where Manning picked up his only Lombardi Trophy in a win over the Bears. 
Although the two quarterbacks are 1-1 against each other in AFC title games, Brady has dominated almost every other game in the series. Including those title games, Brady holds a 10-4 career record against Manning.
Manning-Brady XV could be the last time these two meet in the postseason, so we should probably appreciate it. Also, since you'll probably need something to do to pass the time until next Sunday, here's a video of Peyton Manning throwing a football at kids.  
• The best news to come out of Denver's win is that Tim Tebow is no longer the last Broncos quarterback to win a playoff game in Denver, as everyone on the Internet pointed out this week. But don't worry, just because Manning finally got a playoff win with the Broncos, that doesn't mean we're going to stop talking about Tebow. We'll be talking about him until a Heisman-winning quarterback finally wins a postseason game. 
Tim Tebow will remain the only Heisman QB to win a Playoff Game in the last 26 years

— NFL Stats (@NFL_Stats) January 12, 2014
• The Chargers might have lost, but they might have won if they would have had 10 Keenan Allens on the field and Philip Rivers throwing passes to those Keenan Allens. The rookie wide receiver caught six passes for 142 yards and two touchdowns. The rest of the team combined to catch 12 passes for 75 yards and zero touchdowns. Allen's performance marked only the second time in the Super Bowl era that a rookie wide receiver topped 100 yards receiving and scored at least two touchdowns in a playoff game. The other rookie to do it was Lions wide receiver Willie Green, who did it in Detroit's last playoff win -- in 1991. 
That Keenan Allen kid is pretty good... @Chargers 14, @Broncos 24 #SDvsDEN #NFLPlayoffs pic.twitter.com/1BOUUwBvBJ

— NFL (@nfl) January 13, 2014
• Broncos wide receiver Wes Welker returned to the field for the first time since Dec. 8. Welker has had a problem with concussions, so the Broncos decided to fix that problem by having Welker wear a giant helmet. As you can imagine, this went over well with the Spaceballs crowd. 
Not sure if Wes Welker or Dark Helmet from Spaceballs pic.twitter.com/RkY4eUEsE4

— Hunter (@H_Harralson15) January 12, 2014
At least one person thought the giant helmet was a horrible idea and that's former US Men's National Team member and MLS player Taylor Twellman. Twellman had to deal with concussions in his career and his take is that if Welker needs to wear a giant helmet to play, then maybe Welker shouldn't be playing. The other side of that is that maybe Welker's helmet is the helmet of the future that more players will be wearing down the road. The big helmet didn't seem to cause too many problems for Welker, who caught six passes for 38 yards and a touchdown. 
• The Broncos beat the Chargers 24-17, but maybe they should have only beaten the Chargers 21-17. In the third quarter, Broncos kicker Matt Prater made a 45-yard field goal that went directly over the right upright. The kick was called good on the field, but it might have been no good, I have no idea, you can decide for yourself here. I know what you're thinking, why not just make the uprights higher? Maybe Roger Goodell should focus more on that and less on everything else.  
That field goal was really, REALLY close. pic.twitter.com/5gtgmIXRSe

— BuzzFeed Sports (@BuzzFeedSports) January 12, 2014
I only bring that field goal up because it started a string of events where it seemed like the officials had no idea what was going on. In the fourth quarter, the Broncos were facing third-and-7 from their own 22 and Denver was unable to convert after a Manning incompletion. Two flags were thrown on the play, one for defensive holding against San Diego and one for pass interference against the Chargers. Even former NFL vice president of officiating Mike Pereira had no idea what was going on. The pass interference penalty gave the Broncos a first down on a drive where Denver eventually scored a touchdown.
The NFL officiating has even rendered Mike Pereira speechless. RT @MikePereira: Please don't ask me what is going on cuz I have no idea.

— ryan wilson (@ryanwilson_07) January 13, 2014
• If bad officiating puts you in a bad mood, here's something to cheer you up, it's a horse playing a drum. It's a good thing Denver's season is going to last at least one more week because Miles -- that's the horse's name -- looks like he could definitely use some more practice time.
• Finally, lets end with this classic from Tom Brady. If no one in Denver understands a word he's saying next week, it's because of his unintelligible Boston accent.
---
Follow John Breech on Google+ or you can even sometimes find him on Twitter
Patriots QB's ring, given to one of his friends/family members, was auctioned off to an anonymous...

If the Redskins get petty, Cousins will try and get his vengeance through a grievance

The Dolphins also donated $100,000 to the victims' fund after the school shooting that killed...
The Cardinals GM explains his process for finding Carson Palmer's successor

Stefen Wisniewski narrowly missed out on a chance to earn $250K, but the Eagles gave it to...

Shazier heads into the Steelers' facility every day and helps with 'personnel stuff'