Sorting the Sunday Pile: Colts a contender, Broncos beatable
Sorting the Sunday Pile looks at all the biggest stories from the week that was in the NFL.
Home was hardly sweet for Peyton Manning on Sunday night. And for as much as Manning and Andrew Luck downplayed the importance of Manning's return to the city where he built his legacy, it's obvious how much this game meant to both quarterbacks and to both teams. Ultimately Luck came out ahead and there's a good reason why the Indianapolis Colts locker room was raucous after the 39-33 victory.
So what do we learn? Well we need to understand that it's not just possible to take down Denver, it's also very possible that the Colts are a top Super Bowl contender. That might be worthy of a pause, but Luck and Indy have taken down the top three contenders in the NFL this season, beating the San Francisco 49ers , Seattle Seahawks and now toppling Denver.
They did it not simply by having Luck wing it all over the place -- Indy's defense was stout Sunday, too.
Manning was hit, harassed, sacked and picked as the Denver Broncos suffered their first loss of the season in his homecoming to Indianapolis. Credit Luck and the Colts offense for a great performance, but as Luck pointed out afterwards, it was the Colts' team effort that pushed them over the top.
"I don't know if our offense prevailed. Our team prevailed," Luck said. "Very happy to be a part of this game."
Maybe it was the head-rocking, wobble-maker that Robert Mathis  put on Peyton? It certainly appeared Manning was looking a little "wobbly" after that hit. But when he was asked about it after the game, Manning didn't appear to appreciate the sentiment.
"I throw a lot of wobbly passes," Manning said, pausing as if he was debating whether or not to go off at the assembled media. "I throw a lot of wobbly touchdowns too."
Manning's passes have wobbled for most of his career. There was a stretch where he looked to be quacking passes all over the field. However, he finished with good numbers, going 29-for-49 with 386 yards and three touchdowns.
But he also got sacked four times -- after having only been sacked five times prior to Sunday -- and threw a pick. Indy's formula for beating the Broncos isn't some magically replicable gameplan. You've got to pressure Peyton while also keeping his impressive receiving corps in check.
The Colts did that, and though it's certainly no simple task when it comes to limiting the Broncos' offense, Denver is beatable; we learned that, in an indisputable way, on Sunday night. Peyton's still on pace for passing records, but he can be stopped.
Meanwhile, the Colts have to be considered viable Super Bowl contenders. Reggie Wayne could be lost for a while and that will be a major blow, and Indy might not be able to play defense the way they did Sunday night every single week, but they won't get a tougher test than they've faced this year. Victories over the Broncos and Seahawks at home and the 49ers on the road? What more could you possibly want out of a contender.
The loss to San Diego -- only six days ago! -- feels like an eternity ago. Laying an egg at home to the Miami Dolphins in Week 1 doesn't even feel like it can be real. Darrius Heyward-Bey and T.Y. Hilton might not be an ideal one-two punch without Wayne, and  Trent Richardson continues to stink the joint up in the running game, but the Colts have Andrew Luck. He might claim to have "never looked" at himself as Peyton's successor, but the reality is that's the role he plays. And it's a role he plays well, having vaulted the Colts into the same stratosphere as Manning's Broncos just in time for the playoff race to take shape.
Pick-Six Party
The start of Sunday's Week 7 action featured a crazy amount of defensive touchdowns. Five to be exact, with the Carolina Panthers , Buffalo Bills and New England Patriots all pulling off early snags that were taken to the house. The New York Jets would also add one. It was fun to watch:
As Mrs. Brinson said, "These idiots are throwing to the wrong team."
And Then There Was One ...
One year ago the Kansas City Chiefs were spiraling to 2-14 and the top pick in the draft. Even if Eric Fisher isn't doing Luck-y things, the Chiefs find themselves as the only undefeated team remaining in the NFL at 7-0.
It's a remarkable turnaround, especially when you consider the expectations set out for 2013.
Congrats to those who played KC over 6.5 season wins (early line). Doesn't get any easier than that.

— Joe Fortenbaugh (@JoeFortenbaugh) October 20, 2013
Sunday's win over the Houston Texans wasn't perfect -- not by any stretch -- and Alex Smith struggled at times in the passing game. But he did manage a rushing touchdown while faking to NO ONE:
I like to imagine this was a purposely-designed play that somehow worked perfectly. It's much more fun that way. Will the Chiefs go undefeated? It's possible but pretty unlikely. Two games against the Broncos remain, as do two against the San Diego Chargers and one against the Colts. Those are tough matchups.
The Denver matchup will be spicy and not just because it's a divisional rivalry. Knocking Peyton on his butt is the fastest way to beat the Broncos (see: above) and with Denver's offensive line struggling, it won't be fun playing against Dontari Poe , Tamba Hali and Justin Houston .
But Kansas City just keeps getting it done. 18 wins minimum the last two years for the teams with the No. 1 overall pick the year before (and those two teams, the Colts and Chiefs, are a combined 12-2 this year).
A Case for Keenum
It was nice knowing you, Matt Schaub . Good job, good effort, T.J. Yates . We'll find out over the course of the year whether or not Case Keenum is a viable NFL quarterback, but the answer to the question -- at least for the foreseeable future -- is that Keenum's the guy for the Texans.
Houston didn't do a great job of protecting him and Keenum looked slow to pull the trigger at times, but that could be as much about the gameplan in place as it was Keenum squatting on the ball.
The most impressive thing was that Keenum continued to challenge the Chiefs vertically. That's a tough thing to do against those cornerbacks and those defensive lineman. Credit to Keenum for standing in there and continuing to take shots down the field when he wasn't getting hammered.
It's worth Gary Kubiak gambling to see what Keenum can do for at least another week.
Gronk Usage
Though the Patriots did a really nice job of using Rob Gronkowski Sunday, despite losing. Tom Brady was constantly looking for Gronk and an example of what a difference he makes for them comes on the longest catch he made of the day.
Gronk burst off the line, took off up the seam past a pair of defenders and found himself wide open in the middle of the field.
He caught the pass easily and should've scored. That's what a difference he makes: he's an imposing blocker in the run game and also provides a huge target, a vertical threat capable of terrorizing opposing secondaries.
Also, they were smart not to use him in extra point situations.
Gronk wasn't in with the extra point team, BTW

— Ben Volin (@BenVolin) October 20, 2013
Gronk finished with eight catches for 114 yards and looked very much like one of the better tight ends in the league Sunday. He should make a massive difference for the Patriots going forward, even if he didn't help them win against the Jets this week.
Reed Part of Washington Redskins Resurgence?
A tight end from Connecticut who played college ball at Florida, was drafted in the third round and is developing quickly into a well-rounded weapon? Hopefully the Jordan Reed -Aaron Hernandez similarities will stick to the football field ...
Reed looked like a very viable weapon for the Redskins on Sunday, though, catching nine passes for 134 yards, including a beautiful, toe-tapping touchdown against the Chicago Bears .
Reed was the primary catalyst in the passing game for the Redskins, the chain-moving, play-making tight end they always thought Fred Davis would become. But Davis was inactive and apparently not for medical reasons. Reed's performance Sunday set the Redskins record for receiving yards by a rookie tight end and maybe we should've seen it coming: the Bears and their Cover-2 can't stop tight ends and this was the third game of five catches or more for Reed since the season began.
This won't be the last we hear of the talented rookie and he could be a part of a turnaround for Washington. Sam Griffin III ...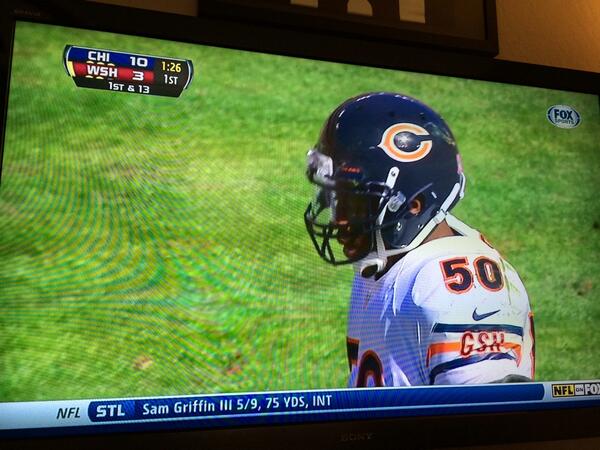 Er, Robert Griffin III ran 11 times for 84 yards and looked very much more like his "old self." After running just 18 times in all of September he's not got 30 in the month of October. When Griffin runs effectively it opens up the rushing attack and we saw that with Alfred Morris compiling 95 rushing yards and Roy Helu scoring three times in the rushing game.
"I think that the mental part of it that I did get over was not thinking out on the field and just reacting," Griffin said, acknowledging he had a mental breakthrough. "I don't that was anything to do with my knee, the knee brace or anything else, I think that was just for me mentally  playing the game, irrelevant of my injury. That's the breakthrough I feel like I've had for myself and I'm proud of that, to just go out there and play with your instincts. That's what I meant when I say that's what got me here and that's what's made me the player that I am.
"It's what makes a lot of those guys in there the players that they are. I think we all did a better job at just having fun."
The additional benefit of RG3 playing well? Guys like Reed get to eat teams alive with short, misdirection-heavy passing plays. It's why the Redskins, regardless of their record, couldn't absolutely be counted out just yet, at least until wee saw whether or not RG3 was healthy.
Now that he's making notable progression? It's a whole different ballgame.
Vick's Window Open Again
Somehow Michael Vick just keeps getting chances. You can't keep that dude down. Nick Foles had a major opportunity to slam the door on Vick -- if at least temporarily -- on Sunday against the Dallas Cowboys and he completely blew it.
He also got concussed, which doesn't help, but his play against a previously porous Cowboys defense should be a major concern. Foles finished 11 of 29 for 80 yards, which gives him a yards-per-attempt average of 2.76. Getting under three yards an attempt passing? That's hard to do, man.
Foles managed to do it though and Matt Barkley didn't look remotely capable of running the Philadelphia Eagles offense, throwing three interceptions after entering the game with Philly very much still in the contest.
For as much as it looked like Chip Kelly should hand the reigns over to Foles for the long haul after Week 6's impressive victory against the Tampa Bay Buccaneers it's a full flip now, with Kelly understandably having to go with Vick if he's healthy.
And if he's not? Barkley's going to have a talk task on his hands.
Pushing the Pile
At the end of the Patriots-Jets game, there was a huge penalty on Pats rookie defensive tackle Chris Jones that gave the Jets new life and another shot at a game-winning field goal. I wrote all about that in our weekly grades, which you can read here. But I found it interesting that Jerome Boger was asked about the incident in more detail following the game.
Q: Please explain the penalty that was called on No. 94 [Patriots defensive tackle Chris Jones] on the field goal.
A: The call was that No. 94 on the defense pushed his teammate into the formation. That is a rule change for 2013 that a teammate cannot push a teammate into the opponents' formation.
Q: Is it any type of push? Is it a two-handed push?
A: Any push. It could be with the body, not necessarily with the hand, but with the body into his teammate, into the formation. It's any type of pushing action.
Q: Is there anything else to go over with this penalty?
A: No, the umpire's flag went up almost instantaneously as he observed the action. We just enforced it as he called it.
Q: And that's a 15-yard penalty …
A: For unsportsmanlike conduct.
What the refs called was the right move. It's just that the rule change was extremely obscured by the elimination of the Tuck Rule and the Crown of the Helmet Rule. As a result, it wasn't perfectly clear and became even less clear when NFL.com began editing posts about the matter, thus causing the ripples of a conspiracy to bubble up.
The rule certainly doesn't appear so obscured this afternoon, does it?
Tampa Bay's Ill-Advised Island
The whole point of trading for Darrelle Revis -- you'd think -- would be to stick him on opposing teams' best receivers, lock down half the field and limit what teams can do offensively. Or you could trade a first-round pick for Revis, pay him a ton of money and stick him in zone, right?
That seems dumb but it's what the Buccaneers are doing with Revis this year. They got torched by the Eagles while refusing to stick Revis on DeSean Jackson two weeks ago and then in Week 7 they, almost inexplicably, refused to stick him on Harry Douglas . This wouldn't be weird except that Harry Douglas, thanks to Julio Jones and Roddy White being injured, was the Atlanta Falcons top receiving threat.
Douglas barely saw any of Revis, meaning Revis was hanging out in a zone, not doing Revis things.
"He's still an outstanding player, I still think the best corner in the NFL right now," Douglas said. "It was great going against him and talking to him a little bit during the game."
It's the worst possible way to use one of the best players in the NFL on the defensive side of the ball. It actually borders on irresponsibility in terms of personnel use.
Whatever. Greg Schiano has quite the mess on his hands right now. Good luck cleaning it up.
GIF O' THE WEEK
Brandon Gibson can FLY:
Potent Quotables
Thanks Carolina fans 4 the flipped birds+few bottles to the head. Sticks n stones may break my bones but aluminum zimas will never hurt me.

—

Chris Long

(@JOEL9ONE) October 20, 2013
Rex Ryan's opening statement: "That's what I'm talking about."

— Ben Volin (@BenVolin) October 20, 2013
Steve Smith will 'punch' Janoris Jenkins 'in his [bleeping] mouth' if he sees him in the street: http://t.co/0sbINAWTL0

— Will Brinson (@WillBrinson) October 20, 2013
It's not how many times you fall down but how many times you get back up. Life is tough but I'm the toughest SOB it's ever seen. Ill be back

— Brian Cushing (@briancushing56) October 21, 2013
Peyton was asked if he lost arm strength after Mathis hit. "I throw a lot of wobbly passes. ... A lot of wobbly touchdown passes."

— Lindsay Jones (@bylindsayhjones) October 21, 2013
The Lions are being recognized after beating two popular preseason picks to make the playo...

Hernandez was 27 when he committed suicide in April 2017

Mowins is set to become the first female play-by-play announcer in NFL on CBS hisory
The Rams have struggled against the 49ers but that was during the Jeff Fisher era

The Cowboys' running back owns his mistake, says it was 'just bad effort'

Casey, who died at 78 on Wednesday, was a top-10 pick in the NFL Draft and an eventual Pro...