Sorting the Sunday Pile: Greatest early slate action in recent memory
Sorting the Sunday Pile looks at all the stories from the NFL week that was. This week there was an incredible amount of drama early on.
Not afraid to admit this: I'm extremely prone to hyperbole. I may actually be the most hyperbolic person ever. But I don't think it's a stretch to call the slate of early games during Week 14 one of the most fascinating stretches of football we've ever seen. Maybe it was the snow. Maybe it football emerging from a tryptophan-induced holiday coma.
Whatever it was, it unfolded perfectly, with one miracle after another going down in front of our eyes. Let's try and slow it down for you while sorting out what some of the outcomes mean for the long haul.
Ravens- Minnesota Vikings Rush
If you wagered the under in this game, well, I'm sorry. The Vikings were up 12-7 (they'd missed a two-point conversion attempt in the third quarter) and this game was limping to a snow-filled conclusion. And then BAM -- the teams combined to score five touchdowns in two minutes and one second. Per Elias it's the fastest five touchdowns has ever been scored in any span and it led to some mind-bending drama.
First Dennis Pitta caught a Joe Flacco touchdown pass. Then things got nuts. Two plays later Toby Gerhart -- in the game for an injured Adrian Peterson -- rumbled to the house on a draw up the middle.
The Vikings semi-pooched the ensuing kickoff, which Jacoby Jones took it to the house for a 77-yard score.
The best part about this return wasn't the actual return though. It was Michael Phelps running the Ravens Twitter account and making Mike Tomlin jokes.
NATURALLY WE WEREN'T DONE. Three plays later Matt Cassel hit Cordarrelle Patterson on a wide receiver screen that the rookie weaved to the house.
Not to be outdone, Flacco flexed his clutch gene and marched the Ravens down the field for the game-winning score which was only slightly less exciting and still totally questionable thanks to the weather.
The Advanced NFL Stats Win Probability chart looks more like a seismograph than the conclusion of a football game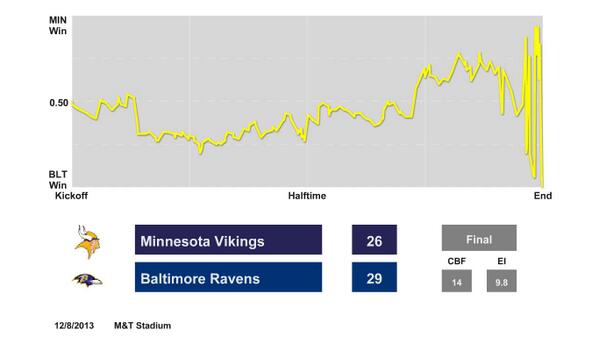 Per Brian Burke of ANS, the "Excitement Score" (EI above) of 9.8 was the second-highest score for a non-overtime game he's ever charted. It was so ridiculous that even Flacco's pulse popped up a bit.
"Oh gosh. I don't know if there's ever been a crazier minute and 40-some seconds ever," Flacco said.
And John Harbaugh wasn't any less incredulous.
"Four game-winning scores? Is that was it is? Five. There were five game-winnining scores. I lost count," Harbaugh said.
Long-term effects: Massive win for the Ravens who kept pace with the other AFC Wild Card contenders. Losing to Minnesota at home with Detroit, Cincy and New England up next might've ended their season. Pitta's return makes them a little scarier. Peterson needs less carries. The Vikings are dead in the water. 
Game of Inches, Literally
Though there weren't as many crazy scores in this one, the very last play of Pittsburgh Steelers - Miami Dolphins was nearly the craziest thing that happened on the whole day. After Miami stormed back to take a six-point, 34-28 lead the Steelers got the ball with one more chance to win. They ran out of time and had to bust out the old crazy-lateral play.
Naturally everyone expected it to be really stupid and end up being dangerous until about halfway through the play when we remembered the ground as covered in snow and OH MY GOD ANTONIO BROWN HAS AN OPEN LANE TO THE END ZONE:
Unfortunately for Brown and the Steelers -- and the ref who had to figure out whether or not to call this back because Ben Roethlisberger 's lateral was probably a forward pass ... -- he somehow managed to (barely) step out of bounds. And man do I mean barely:
Killer moment for the Steelers and an unbelievable job by the ref on the sideline to spot Brown stepping out there. Obvious memes are obvious: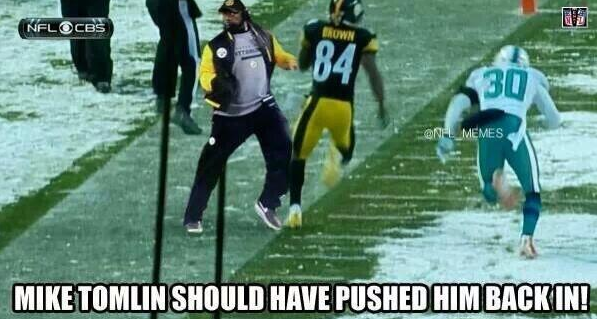 Long-term effect: The Steelers are (basically) eliminated from postseason contention and the Fins are very much in the hunt for the second AFC wild card. Though Baltimore's got the advantage, Miami has a much easier schedule. Kudos to Joe Philbin for keeping this team together and getting a winning streak fired up out of the Richie Incognito-Jonathan Martin nightmare. They've done a good job protecting Ryan Tannehill lately.
Pats Storm Back ... Again
Meanwhile, in New England, the New England Patriots looked dead in the water. Not long after Rob Gronkowski suffered what's believed to be a season-ending injury in the third quarter, Tom Brady found himself in a familiar position. He was down and his offense hadn't produced jack.
Over the last three games, that's been a familiar theme, with the Patriots scoring a total of seven first half points and a whopping 85 second half points:
| | | | | |
| --- | --- | --- | --- | --- |
| Game | 1st Half Points | Halftime Deficit | 2nd Half Points | Result |
| Versus Denver | 0 | 24 | 31 | Win |
| At Houston | 7 | 10 | 27 | Win |
| Versus Cleveland | 0 | 6 | 27 | Win |
But just like the previous two weeks, the game resulted in a win. It was in large part thanks to this pass interference call:
HMMMMM.
"That was awesome," Brady said of the comeback.
It's a good way to sum up the entire day, but most certainly the slew of insane games that unfolded in front of us.
Long-term effect: Gronk's injury, which is apparently a torn ACL, does major, major damage to the Patriots 2013 hopes. They struggled on offense until his return earlier in the year. And though they've been bad in the first half of games this year, Brady and Co. have been a top-flight team on offense since Gronk's return. Having Shane Vereen will help a lot but it's hard to expect them to roll anybody up without Gronkowski on the field. This is a major, major blow.
Snowmaggedon
All of that craziness and we didn't even get to the Detroit Lions - Philadelphia Eagles game, where there was roughly 5,000 inches of snow on the ground. As I noted in our weekly grades, it's a great example of how awesome a New York Super Snow Bowl could actually be. People complain about the weather but it would be fascinating to watch.
Or not watch.
It doesn't provide for pretty football, but who cares? It makes the game beyond whacky, which is something you don't always get in a big game. For instance, Eagles-Lions was the first game since 1957 to not feature a single point scored by kick!
The Lions at least tried to score an extra point. And it ended up being way funnier than anything else we saw all day. After a false start on a two-point conversion, Jim Schwartz sent out David Akers out for the kick. With five inches (more?) of snow on the ground, it was going to be possible and with the clock running down, Schwartz called timeout. On an extra point. So his players could do this:
Obviously the weather wouldn't be fun for anyone working ...
But it would be pretty hilarious to read tweets coming from journalists who ended up in the auxillary press box, assuming the NFL isn't planning to cover a chunk of the stands in MetLife Stadium. At the very least the game would be completely insane and crazy's a good thing when it comes to globally televised sports.
The New Orleans Saints Don't Stink After All
Sunday night's shredding of the Carolina Panthers says more about the Saints than it does Carolina. What it tells me is that when you play the Saints in New Orleans on prime time, you're probably going to lose. I loved New Orleans -3.5 this week, mainly because Drew Brees was going to be angry about the blowout loss to the Seattle Seahawks .
He was, and he took it out on Carolina. I'm not worried about Cam Newton and company. This was a bad matchup in the first place -- teams that can spread the Panthers out and deliver quick-hitting passes do a good job of neutralizing the pressure Charles Johnson and Greg Hardy can generate. Mix in the Saints playing in the dome and coming off a loss and it was going to be hard for the Panthers to compete in this game.
As soon as they ended up getting field goals on two early possessions while letting the Saints score touchdowns, it was a good bet they weren't going to win. The blowout was uglier than it needed to be, but it taught Carolina a good lesson.
My guess is Carolina still manages to win their last three games, make the playoffs and potentially land the division title. I'll be fascinated to see the line for Saints-Panthers in Charlotte in two weeks. The Saints might be favored (though I doubt it) and I think Carolina evens the score.
There's no more reason to overreact to this game than there was last Monday night's Seahawks win in Seattle.
KRAKEN
Hardy, who might be my new favorite football player, deserves his own section separate from the Saints game. His Sunday Night Football intro was the most epic primetime intro I've ever seen:
Naturally Wikipedia updated itself accordingly.
Washington Redskins Mess
Have we ever seen anything as ugly as what's going on with the Redskins? Like the nation's offseason obsession with Robert Griffin III , it's the perfect storm of dysfunction. You've got an old-school coach who's not afraid to play the game. A young quarterback who's constantly the center of attention. That quarterback's coming off a tremendous rookie year and major knee surgery. The team plays in a huge market with tons of focus from the media.
And they're losing. Badly.
Mix in Mike Shanahan refusing to commit to RG3 as his starting quarterback and not denying the rumors that he cleaned out his office last year because he didn't see eye to eye with Dan Snyder about the direction of the team and you've got a full-blown soap opera. (And if you pitched it to TV execs it would get rejected for not being believable enough.)
There's only one way this can end and it's not pretty. The story about Shanny that emerged on Sunday morning almost certainly has to be coming from his camp (right?) and if he's not denying it, it means he's likely preparing for an exit. It would be a massive upset if he ended up sticking around as the Redskins coach for 2014.
It might be a huge upset if he made it through the end of this year. At this point he might as well be riding around the parking lot with a Super Bowl trophy attached to his car's bumper.
Don't Bury the Green Bay Packers
No real idea how this is possible but the Packers aren't going away at all. They're currently the last "alive" team in the NFC and a good ways back of the Panthers and San Francisco 49ers for the wild card. But with their home win over the Atlanta Falcons on Sunday, they kept themselves in the hunt for both the NFC North and the wild card.
10 isn't as bad as it looks though. With the Chicago Bears loss in Philadelphia, Green Bay's just a half game back of the division lead now that Detroit's sitting at 7-6. Chicago plays Monday and Minnesota's eliminated; if Aaron Rodgers comes back next week and the Packers can win their final three games -- they get the Dallas Cowboys , Steelers and Bears -- they'd find themselves at 9-6-1.
A 3-1 closeout for Chicago and a 2-1 finish for Detroit would be pretty good for both those teams. It would also put them at 9-7 on the season. You know what's better than 9-7? 9-6-1.
Worth 1,000 Words
Potent Quotables
Can't say I have ever seen this sentence before... http://t.co/FZuyvW3gCO pic.twitter.com/fEjjvDRjwz

— Eric Stangel (@EricStangel) December 9, 2013
Wow talking about bad officiating & the worst fan base I've ever experience! They threw snow balls the entire 4q like lil kids. Smh

— Adrian Peterson (@AdrianPeterson) December 8, 2013
More Woodson: "They did whatever they wanted to, and we peed down our legs." #Raiders

— Vic Tafur (@VicTafur) December 8, 2013
Ron Rivera on #Saints: "The things that they do here, they do very, very well. We will see how things go when they come to Carolina."

— Tom Pelissero (@TomPelissero) December 9, 2013
Peyton Manning on cold weather troubles, "Whoever wrote that narrative can shove that where the sun don't shine." http://t.co/D9DCGMUeJR

— Eye on Football (@EyeOnNFL) December 9, 2013
If you're an NFL team and you want Phillip Dorsett, just give the Colts a call

Carolina's offense featured McCaffrey in a multitude of ways on Saturday

This is why you should only eat dinner alone
The Titans get out to a hot start against Carolina, plus more from Saturday's preseason ac...

The Kaepernick situation is slowly turning into a black eye for the NFL

The Blair Walsh revenge game got out of hand