Sorting the Sunday Pile: New class of quarterbacks surprise, excite
Sorting the Sunday Pile looks at all the biggest storylines from each week in the NFL.
Sorting the Sunday Pile brings you the biggest storylines from the week that was in the NFL. Send all questions, complaints or comments to me on Twitter @WillBrinson. Also listen to the Eye on Football Podcast below and subscribe via iTunes.
When we think of great young quarterbacks, the "Big Four" of Andrew Luck, Colin Kaepernick, Russell Wilson and Robert Griffin III come to mind immediately. They had very nice 2013 debuts and their success is no fluke. But let's give some love to a different class of quarterbacks, a trio of youngsters who did quite well on Sunday.
Terrelle Pryor, Geno Smith and EJ Manuel only managed to go 1-for-2 in Week 1 of 2013 but a) quarterback wins are stupid and b) they acquitted themselves much better than you'd realize by the records.
Pryor has to be the biggest surprise. Not just because he was the least likely starter of the three just a few weeks ago. He's the biggest surprise because heading into Sunday night he's the NFL's leading rusher.
No one saw that coming, especially the Colts. After jumping out to a 14-0 lead, Indianapolis looked set to cruise until Pryor put his wheels on and carved up the Colts defense on the ground. He played well enough to eventually take the lead before ceding it back to Indianapolis.
"It's not fun watching Terrelle Pryor run around and do his thing. I'm sure for everybody else watching, it's pretty electric," Luck said. "Terrelle Pryor is a stud."
Game recognize game, and that's high praise from a guy (Luck) rapidly developing into one of the better quarterbacks in the NFL. Pryor's performance was pretty perfect given his skillset as he tantalized everyone with his athleticism and running ability but he also made some bone-headed mistakes.
Example one of the former is this smackdown he laid on LaRon Landry after a lengthy run:
And a prime example of the latter was the interception that ended the Raiders' shocking attempt at a comeback victory.  That's a stinger, but Pryor provided enough to get Raiders fans salivating.
At the very least, they have no choice other than to put him out there as the starter this season to see if he can produce enough to warrant passing on Teddy Bridgewater. And actually, if he does produce, they might not even have the Bridgewater option to begin with.
Geno was the lone winner on the day, giving the big top a big win by leading the Jets to victory over the Buccaneers 18-17. He got some help from Buccaneers linebacker Lavonte David, who literally pushed Smith and the Jets into field goal range late in the game.
Smith didn't blow anyone away, but his willingness to stand tall in the pocket and keep making plays was impressive to say the least. And the other team noticed as well. Bucs defensive tackle Gerald McCoy said after the game how surprised he was by Smith's willingness not to fold.
"I was for sure when I was hitting him early on he was going to get rattled. But the kid just kept sitting in there," McCoy said.
A performance of 24-for-38 for 256 yards, one touchdown and a pick isn't setting the world on fire, but the Jets are 1-0 and were far from the comedic disaster of the meltdown we all expected to see. Instead the Jets are a team with moments of offensive competence.
Geno's wasn't Joe Namath on Sunday and it's too early to start worshiping him ...
but he was enough to make even Rex Ryan realize there are other non-Mark Sanchez quarterbacks out there he can succeed with under center.
Manuel was perhaps the most impressive of the young quarterbacks, nearly toppling the Patriots with an efficient day that saw him go 18-for-27 for 150 yards and two touchdowns. He started slowly though. His opportunities were limited by the Bills scoring on defense and he wasn't helped much by limited rushing days from C.J. Spiller (17 carries, 41 yards) and Fred Jackson (13 carries, 67 yards).
But his two touchdown throws were spectacular. The first was an excellent, patient progression through his reads until he found Robert Woods wide open in the back right of the end zone and made a perfect throw. And the second was even more impressive as Manuel flicked the ball quickly and hit Stevie Johnson with a perfect touch pass out of an empty backfield set.
It's too early to crown any of these guys the next sure-fire great quarterback. They're all going to struggle a ton at some point this year. But the early returns for the Raiders, Jets and Bills were much better than anyone could've expected.
Second Class
Well, first class is probably more appropriate for RG3/Luck/Wilson/Kap but in their second stint as starting quarterbacks (and yes, I know Kap is not a "sophomore") they're already 3-for-3 in nonslumps.
Luck stormed back on the Raiders, doing 2012 things (AKA bailing Indy out) en route to setting a "clutch" record of sorts:
.@Colts Andrew Luck has 8 GW drives in 4th Q/OT, most thru 1st 17 @nfl games by any QB that began career since 1970 merger

— Randall Liu (@RLiuNFL) September 8, 2013
Think about that. In nearly half of his games, Luck's led his team on a game-winning drive. That's unimaginable.
Wilson ain't too shabby either: he marched the Seahawks on their own game-winning drive against the Panthers, whipping an absolute beauty of a throw to Jermaine Kearse. It was a 50-yard frozen rope coming just one play after a drop looked like it might be the Seahawks' undoing. He exited the early games with the third most passing yards in the NFL. So yes, he's probably going to be fine.
Still worried about Kap fading without Michael Crabtree? Don't be. He threw for 400 passing yards in the 49ers' opening victory over the Packers, hooking up with Anquan Boldin for more than 200 yards and hitting Vernon Davis for a pair of touchdowns. Kap had the same number of rushing attempts as Luck (hello, stereotypes!) and Wilson had fewer than both.
Because I'm sure you're wondering, Kap was the first 49ers quarterback to throw for 400-plus yards since ... Tim Rattay. Of course.
Anyway, your move Monday, RG3.
Emphasis on Safety?
You know how you know it's going to be a nuts season in the NFL? When there are three safeties before the first Sunday halftime of Week 1. Two of them came before we were 15 minutes into Sunday's action.
Three safeties in the first week ties the record set in three years, according to Randall Liu of the NFL, with three safeties also being recorded in Week 1 of 1970, 1993 and 1999. (Fun fact: in all three of those years, the Cowboys made the playoffs.)
Liu also notes the Steelers-Titans game was the first game with a safety on the opening kickoff since 1988 when it happened in a Giants-Cowboys game.
So Suh Me
Ndamukong Suh has a bad reputation for his behavior on the football field. And he didn't do himself any favors Sunday when he decided to cut-block Vikings center John Sullivan on what would have been a Detroit defensive touchdown were it not for the penalty:
Suh will get fined for this "block" as it's the type of dirty, unnecessary garbage the NFL wants to take out of the game. Sullivan was absolutely nowhere near DeAndre Levy as he returned the play. Blocking him wasn't something that needed to be done and diving at him from a blind spot could've potentially done serious damage to Sullivan's knee.
Even worse, it cost his team a touchdown. Absolute punk move.
Big Red's Big Return
There are many people who thought Andy Reid rolling to Kansas City would result in a quick turnaround for the Chiefs in 2013. It's too early to anoint KC a contender after its 28-2 win against Jacksonville because we're only one week into the season
And there's definitely a "it was the Jaguars, man" caveat here, but the Chiefs scored 28 points on Sunday. That's more points than they scored in a game during the entire 2012 season.
KC went up top on the Jags despite not really flexing any offensive muscles. Alex Smith attempted 34 passes (completing 21 of them for 173 yards, two touchdowns and no interceptions) while Jamaal Charles attempted just 16 rushes (for 77 yards and a touchdown) thanks to being in and out of the game with a quad injury. Reid believes he's should be fine, though.
"I think he's going to be OK," Reid said of his running back. "I'll let you know, but I think he's going to be OK."
He has to be. Charles is the fulcrum for this offense and the team needs him to remain on the field. One concern early for KC, though? More passes than rushes. It's not surprising because this is Reid we're talking about and he's too pass happy to ever change. But Smith isn't going to be an air-it-out, chuck-the-rock quarterback. He needs to be an efficient game manager who makes smart throws and doesn't turn the ball over.
Smith was good Sunday. He wasn't lights-out, but he wasn't bad. Is he a "franchise passer?" No. But he can probably be enough to help KC engineer a turnaround. We'll know more after three straight games against the SEC NFC East.
Can't Spell 'Mike' Without 'Me'
Can Mike Wallace really be serious? The new Dolphins wide receiver was heard complaining about Miami's gameplan on Sunday, shortly after recording just one catch for 15 yards against the Browns.
"Ask coach," Wallace said of his one catch and limited targets.
Uh, dude, your team won.
Given that Wallace signed a $60 million contract this offseason, there are probably certain expectations of his production. But it's not like the Dolphins are going to be mad about what happened here. Again, they won the game.
Joe Haden went full Waffle House on Wallace, handing him the scattered/smothered/covered treatment throughout Sunday afternoon. Brian Hartline was wide open, catching nine passes for 114 yards. Brandon Gibson had seven catches for 77 yards. Ryan Tannehill -- 24-for-38, 272 yards, 1 TD, 1 INT -- and the Dolphins passing offense was quite impressive at times despite Mike's magical disappearance.
Should he be worried? No. Should they? Yeah, if this is how Wallace plans to act following a win, I'd hate to see him after a bad loss.
Late Hits
There were a pair of late hits on quarterbacks on Sunday that really stood out. Those are going to happen because, well, late hits happen. But I have no earthly idea what Lavonte David and Clay Matthews were thinking on their respective moves.
David's decision to shove Geno Smith late in the fourth quarter of Bucs-Jets was the most egregious from the standpoint of giving away the game.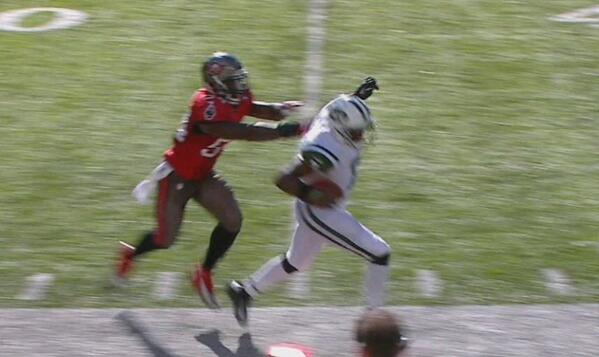 This occurred with 10 seconds left, the Jets having zero timeouts, and the ensuing penalty put New York in field goal range. An absolute disaster, even if David thinks that Geno was fair game when he hit him. He wasn't and everyone knew immediately a flag was coming.
Matthews' hit was more aggressive: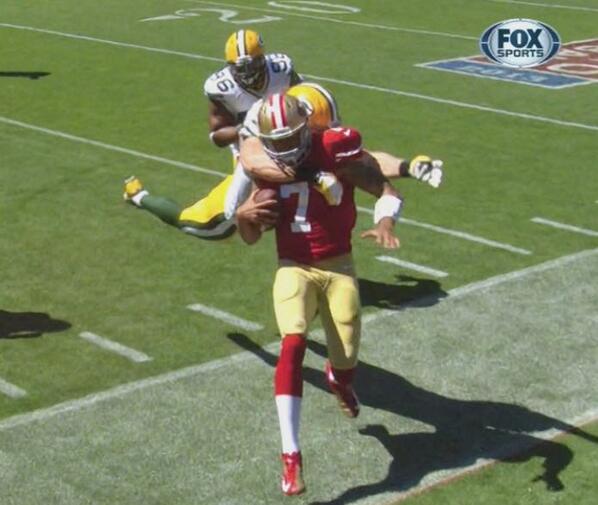 But it didn't hurt the team any less. A fight broke out between several Packers and 49ers players, Joe Staley got a flag for getting into it with Matthews and the refs ruled that the two penalties offset. On the replayed third down, Kaepernick tossed a touchdown to Anquan Boldin.
Yes the refs screwed up the ruling on the field, but there's no excuse for Matthews' decision. If he simply lets Kaepernick go out of bounds the 49ers are facing a fourth-and-2 situation and might've been forced to kick a field goal. Since the Packers lost by six points, four of them seem like a pretty big deal.
Rob Report
Kudos to Rob Ryan and his new Saints defense. They weren't great by any stretch, as they allowed Matt Ryan to throw for 300 yards. But they still limited a high-octane Falcons offense to just 17 points and, most importantly, made a critical stop in the end zone to win the game for New Orleans.
Matt Ryan, who has a ridiculous 23 game-winning drives in the fourth-quarter or overtime, marched Atlanta down the field and set them up for a dagger of a touchdown late in the game. But rookie Kenny Vaccaro got his hand on Matt Ryan's final pass and Roman Harper came up for an interception in the end zone, giving the Saints a six-point win.
This isn't the '85 Bears we're talking about but New Orleans picked Matt Ryan once, sacked him three times and forced two fumbles. Considering they spent Week 1 last year getting shredded by a rookie it's a pretty huge step forward for a team that could be primed for a return to the postseason.
Guy Just Makes Plays
I've noted in this space that I'm enamored with Tyrann Mathieu, the Honey Badger. That doesn't make me unique or anything, but when he does ridiculous ball-hawking things you're going to hear about it. Like, for instance, walking down Rams tight end Jared Cook and forcing a fumble at the 2-yard line:
Dude just has a nose for the ball. And he don't care, either.
Sleeping Lambs
Holy cow was he impressive on Sunday. Consider that he fumbled this ball so he didn't record a touchdown on the play. If he had, he would've ended up with seven catches for 143 yards and two touchdowns.
Cook was by far the most dynamic of Sam Bradford's new weapons on Sunday, but Chris Givens, Brian Quick and Tavon Austin all showed at various points that they can be impact players on the offensive end. The same goes for Daryl Richardson. Wait until St. Louis plays a lesser defense to see how they really stand out.
Given how good the front seven looked -- Robert Quinn is going to have a mammoth season and started it off well with three sacks and two forced fumbles -- it wouldn't be surprising if this team ends up making hay in the NFC West. Even if they finish third, which is a distinct possibility, they're going to scare some people.
Fitz-less Tantrums
There's no more reason for Larry Fitzgerald to pout. Even though the Cardinals lost, he caught a pair of touchdown passes and, for the first time since Kurt Warner retired, has a real quarterback. I'm not buying into the Carson Palmer hype entirely, but he's a substantial upgrade over Ryan Lindley/John Skelton/Kevin Kolb, and he threw balls in places that those guys weren't capable of hitting. Or, as the rest of know it: near Fitz's hands.
Don't sleep on the other two Arizona wideouts this season, either. In Bruce Arians' go-deep-early-and-often offense, Andre Roberts and Michael Floyd both had big games as well. Floyd might've had the catch of the day Sunday, hauling in a 44-yard, one-handed pass:
Like the Rams, Arizona's place in the standings might be predestined because of the division they play in. But they're going to be a real pain in the AZ for some people this season.
Just Early in the Day
How crazy is it that Adrian Peterson ripped off a 78-yard touchdown run of his first carry of the season and somehow only finished the day with 93 yards? Peterson scored that teeter and then carried the ball 17 more times for a total of 15 yards. That doesn't even seem real.
But it was and it's a sign of just how good the Lions interior defense is with Ndamukong Suh and Nick Fairley shoring things up. It's also a sign of just how tough things are going to be if Christian Ponder can't open up this offense.
Peterson still scored two more times and therefore had a monster day, but with Ponder going just 18-for-28 for 236 yards and throwing three picks, it wasn't enough offensively for the Vikings. Were it not for some mental errors from the Lions, Detroit could've won this game by 30 points.
You know that All Day will get his. He's clearly healthy and he's bar none the best running back in the game. But if opposing teams are stacking the box every time and Ponder isn't making them pay it's going to be difficult for Peterson and the Vikings to repeat the success of 2012.
FAT GUY TOUCHDOWN!
Dan Williams scoring on an interception means football's officially begun.

A Bush in One Hand
I think I wrote somewhere before the season began that ultimately we would see Reggie Bush as the best offseason free agent signing of the year because of how he fits with Scott Linehan's offense. If you heard me say that you probably think I'm pretty smart today. Regardless you definitely think that Bush is set for huge things this year after his monster performance that featured 191 total yards and a touchdown.
Bush caught four passes for 101 yards, including a 77-yard screen grab that went the distance, and also ran the ball 21 times for 90 yards. The only stinger is that Joique Bell appears to be the goal-line back.
With Bush's numbers, though, he'll probably live. And he looked like, on Sunday, a combination of New Orleans Reggie Bush (incredible pass catcher, so-so runner) and Miami Reggie Bush (incredible runner, so-so pass-catcher), which is like a more mature-looking USC Reggie Bush.
I'm not buying that the Vikings defense is legit yet, but if the Lions got the Heisman Trophy-winning* version of Bush, they're going to be absolutely explosive on offense.
He could become a more consistent and dynamic version of Jahvid Best and the personnel piece that's finally able to alleviate some of the defensive attention turned toward Calvin Johnson. Matthew Stafford should be doing Joique Bell's touchdown dance right now.
Which leads us to ...
GIF O' THE WEEK
Are you down with Joique Bell's touchdown celebration?
Potent Quotables


I've got this funny feeling that I'm going to be waiting all day for something...

— Carrie Underwood (@carrieunderwood) September 8, 2013
"I don't know if, as an offense, we can do much worse than we did today." - Maurice Jones-Drew
"Let's not get up in arms. It's the first game," - Cam Newton
#49ers QB Colin Kaepernick: "If intimidation is your game plan, I hope you have a better one."

— Matt Maiocco (@MaioccoCSN) September 9, 2013
Worth 1,000 Words

The league-owned network suspended Marshall Faulk, Ike Taylor and Heath Evans as it investigates...

R.J. White has his finger on the pulse of Indy and made a strong play for 'Thursday Night...

Wondering which NFL teams are going to win in Week 15? You've come to the right place to find...
SportsLine's Mike McClure, a DFS pro with more than $1M in winnings, gives optimal lineup...

Marcell Ateman is a big-bodied 'power forward' who can be a No. 1 wide receiver at the NFL...

Bortles was one of the league's worst QBs last season; recently, he's been one of the most...