Sorting the Sunday Pile looks at the biggest storylines of the NFL week. Send questions, complaints and Slanket coupons to me on Twitter @WillBrinson. Listen to the Eye on Football Podcast Week 3 Recap the player below or Subscribe via iTunes.
Three games into the season, Jeff Ireland's offseason decision to play the role of Mr. Shovelstuff and stick all his chips in the center of the metaphorical poker table looks all right. Though they're not the belle of the ball, the Dolphins are undefeated and, at 3-0, tied up top with the Patriots in the AFC East. Thanks to the presence of Ryan Tannehill on their roster, they look like a playoff contender.
It's not a grandiose statement, either. Teams who start the season 3-0 make the playoffs 75 percent of the time in the NFL.
Miami's wins aren't against dominant opponents but they opened up 2-0 on the road (against the Browns and Colts) and scrambled to beat a beat-up Falcons team in their home opener on Sunday. Tannehill was instrumental in that win, driving the Dolphins for a field goal before half to make it 13-10 and showing all kinds of poise as he marched Miami for a game-winning touchdown late in the fourth quarter.
Tannehill belongs in the conversation with Andrew Luck, Russell Wilson and Robert Griffin III. There shouldn't be any more debate about that.
Ireland deserves some credit, too, because getting Tannehill weapons this offseason was critical to his development. A week after calming everyone with a strong performance, Mike Wallace once again didn't have a big game, catching just two balls for 22 yards. But just as in Week 1 he draws coverage away. The result? Brian Hartline and Brandon Gibson had big games once again. The duo combined for 10 catches, 105 receiving yards and one touchdown, plus Gibson's catch to set up a one-yard TD pass to Dion Sims.
Miami's still got issues, so let's not crown their asses just yet. For the third consecutive game Tannehill was on his back too much. He was sacked four times by the Browns, five times by the Colts and another five times by the Falcons in Week 3. Those aren't necessarily pass-rush heavy teams. 
Atlanta shouldn't have been able to move the ball as effectively as they did either. Steven Jackson was out, Roddy White was extremely limited and Matt Ryan didn't have Sam Baker to protect his blindside. Credit Dirk Koetter for a very nice gameplan against Miami but Jacquizz Rodgers and Jason Snelling running well should be a red flag for the Dolphins, even with Paul Soliai out.
There's still a lot to love for Miami, though. Tannehill -- who is on pace for 4,410 passing yards this season -- is reason No. 1. He's completing 66.4 percent of his passes this season and is averaging 7.73 yards per attempt. Both of those numbers are big steps forward from 2012.
A tough schedule -- at New Orleans, versus Baltimore -- before heading into the bye will tell us more about them.
But at 3-0 for the first time since 2002, the Dolphins, the Dolphins, are helping keep Don Shula's champagne on ice. And that's reason to party in South Beach.
Quietly Marching In
Speaking of undefeated teams, I would bet Sean Payton would prefer we not even mention the Saints at 3-0. They're undefeated and, thanks to the aforementioned Dolphins, the only team in the NFC South with a winning record. By contrast, New Orleans didn't get their third win last season until November 5th.
Payton's the obvious difference but let's give Rob Ryan credit where credit's due. His attacking defense is generating sacks and turnovers and this is a vastly improved unit (it was going to improve by default, but still).
Through three games last season the winless Saints gave up 102 points, generated six turnovers and had six sacks. Through three games this year they've given up just 38 points, had six turnovers and eight sacks. But the numbers don't tell the full story -- New Orleans has swarmed opposing quarterbacks this offseason.
"It was all just pressure everywhere," defensive end Cameron Jordan said Sunday. "When you're part of a D-line like that, I mean, it's a party."
Just don't tell anyone.
Music City Mediocrity
This is not intended to rip the Chargers because I remain impressed with what Mike McCoy's doing. They've scored on their first three possessions each week this year and are making strides with a roster bereft of talent.
But San Diego's final play on Sunday. Just ... man. It takes longer to read it than the amount of game clock (two seconds) it actually burned off:
(:02) (Shotgun) P.Rivers pass to D.Woodhead to TEN 44 for 13 yards. Lateral to E.Royal to TEN 33 for 11 yards. Lateral to L.McClain to TEN 46 for -13 yards. Lateral to P.Rivers to SD 45 for -9 yards. Lateral to K.Allen to SD 40 for -5 yards. Lateral to E.Royal to SD 35 for -5 yards. Lateral to K.Allen to SD 33 for -2 yards. Lateral to D.Woodhead to SD 33 for no gain. FUMBLES, RECOVERED by TEN-A.Verner at SD 29. Penalty on SD-P.Rivers, Illegally Kicking Ball, declined. 
And it resulted in this monstrosity from Philip Rivers:
Red Flags
Let's not get carried away and freak out about the 49ers just yet. But there are major red flags for that team and the flags that are flying aren't just on the offensive end of things. Their defense, right now, is kind of a mess.
There are offensive issues, of course. Colin Kaepernick's combined to complete 47.3 percent of his passes for 277 yards, zero touchdowns and four interceptions in the last two games. Laying an egg against the Seahawks is one thing; getting beat down by the Colts should be a massive concern. Kap has caveats. Anquan Boldin's his top target and can be nullified. Vernon Davis was out Sunday. The 49ers didn't establish a running game. Michael Crabtree remains hurt. But when is this all going to change? (And what does it say about the Packers, yeesh?)
Whatever. My biggest issue is the defense. In 2011 and 2012 San Francisco gave up more than 25 points in a regular season game just five total times. In 2013 they've already given up more than 25 in all three of their games. Again, the Packers is understandable. They got beat up by the Seahawks on the road. And on Sunday, yeah, you could say that Andrew Luck is really good. He is. But this game wasn't competitive and that's a major concern.
Maybe Luck was just amped up to face his old coach from Stanford. Colts coach Chuck Pagano certainly seemed to think so.
"I know he's grinning from ear to ear," Pagano said. "I've never seen him smile the way he was smiling after this one."
No one for the 49ers is smiling. They're 1-2 and they just lost their most explosive defender "indefinitely" with Aldon Smith checking into inpatient rehab this week to take care of some serious personal demons. (All football stuff aside, I genuinely wish the young man the best and hope he can get on the path to recovery.) The pass rush is going to suffer mightily when Smith's gone.
What I want to see is the outcome of matchups against the Rams (Week 4, on the road) and Cardinals (Week 6, at home). San Francisco has the Texans sandwiched between those divisional games and where's the hope that they're suddenly going to get better? Their offense was lights out in Week 1 but we jumped to a conclusion expecting Kaepernick could simply carry a passing attack by himself.
Suddenly this is a reeling team that needs to right the ship despite everything trending against it. That's not me counting them out by any means. I'm simply pointing out the red flags in the event they continue to struggle.
Less Metallica, Plz
Jim Schwartz is a pretty intense dude.
Rodgers-McCarthy
You'll never hear me complain about the scrutiny that our modern media gives certain issues in NFL games. I like the over hype. It makes for more drama, it creates more storylines and as a result the NFL's silly season runs year round.
So with that in mind, what do we think about Mike McCarthy and Aaron Rodgers going at it on the sidelines and getting caught by Fox's cameras?
Me, personally, I say no big deal. And McCarthy's with me.
"I think anytime you get into a situation where there's change with personnel and play calls it's frustrating," McCarthy said. "I had called a play in a certain situation and he was frustrated by it. So I feel good -- one every three weeks would be awesome.

"He's competitive man. That's what I love about him. I didn't really think it was that big a deal honestly."
If the Packers win, this is no big deal. But the Packers didn't win and now suddenly we've got to wonder if Green Bay's coach and quarterback are on the same page. They are, folks. Nothing to see here.
Cowboy Up
Not much was made of the Cowboys on Sunday. And that's not just good -- though it was quite good because they whipped the Rams in Dallas -- but it also fits with their offseason profile. Despite years and years of making the most noise when there was no football being played, Jerry Jones' team remained relatively quiet this offseason. Now they're quietly the front-runners in a weak NFC East.
As noted earlier this week, that division stinks. In fact, Dallas' win over St. Louis was the East's first non-division win. The Giants were pummelled by the Panthers, the Redskins lost to the Lions and the Eagles fell on Thursday at home to the Chiefs. Meanwhile Dallas cruised to an easy victory featuring Tony Romo abusing a would-be vaunted Rams secondary and DeMarco Murray going off against the same team he beat for a Cowboys rookie rushing yards record.
There was also DeMarcus Ware setting the Cowboys career record for sacks (115) as Monte Kiffin's defense put Sam Bradford on his back a whopping six times. St. Louis had nothing against Dallas all day and now the Cowboys, who've looked good for most of their three games so far, are in the driver's seat in that divison.
Dallas is the only team in their division with a record above .500, the only team with a positive point differential and the only team that looks anything resembling "complete" (maybe you prefer "competent"?). A lot can happen in a few weeks, obviously, but Dallas is quietly miles ahead in the NFC East right now.
Look Out, Cleveland
The Browns are a late addition to SSP but only because I wrote about them elsewhere. They deserve more, though, because Sunday's first win of the season, a triumphant Brian Hoyer-led victory over the Vikings, was a legit scorcher.
It was a game that exhibited the polar opposite of tanking, with Rob Chudzinski and Norv Turner getting real aggressive in an effort to win. There might be a kitchen sink sitting in the playbook but not much else, with Cleveland whipping out a fake field goal AND a fake punt during their victory.
I've been beating the "Cleveland's not tanking, dammit!" drum for the last few days -- ever since the Trent Richardson trade -- and Sunday's win was prime justification for the Browns not giving up.
Seriously: they won their first game, they looked more inspired and they have a first-round draft pick hanging around as a bonus. Maybe T-Rich will blow up in Indianapolis. But maybe Willis McGahee will blow up in Cleveland too.
Either way it's far too early to completely write them off and they're still sitting on some pretty good talent to build off of.
Jordan Cameron is on pace to catch 106 passes for 1434 yards and score 21 touchdowns.

— Adam Levitan (@adamlevitan) September 23, 2013
Tight ends and Chud, man.
Concerning Statistics
Two numbers that worry me right now.
1) 2.99, Adrian Peterson's Yards Per Carry. OK actually his yards per carry after you take out Peterson's first carry of the year, a 78-yard touchdown run. And maybe that feels like cheating to you but it's important to recognize that after Peterson ripped off that monster run he's been largely ineffective. He wasn't 2012 AP on Sunday either, carrying the ball 25 times for 88 yards. Maybe Peterson will heat up -- he only had 230 rushing yards through three games in 2012 and was just fine numbers-wise by the end of the year -- but the difference this year is the Vikings have started 0-3 not 2-1.
2) 45.7, Josh Freeman's completion percentage this year. It's one thing if you're not hitting that magic 60 percent number we like to see from quarterbacks who succeed. But Freeman's hitting less than a coin toss' worth of his throws. He's been burned by a few unlucky spots this year but there's every reason for concern in Buccaneers land. Although reports of Mike Glennon warming up eventually didn't matter, it wouldn't be surprising if Greg Schiano eventually yanked his starter if the Bucs keep losing.
GIF O' THE WEEK
Matthew Stafford would make an excellent Michigan punter.
WORTH 1,000 WORDS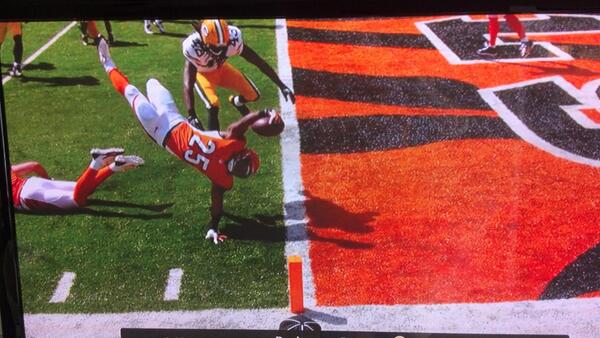 Potent Quotables
So my daughter is laying here under me and just out the blue she says... I can't believe you lost to the Browns Daddy! Smh

— Adrian Peterson (@AdrianPeterson) September 23, 2013