Sorting the Sunday Pile: Tony Romo back unfairly under the bus
Sorting the Sunday Pile breaks down the biggest stories from the NFL week that was. Hey, let's talk about Tony Romo and the fourth-quarter narrative!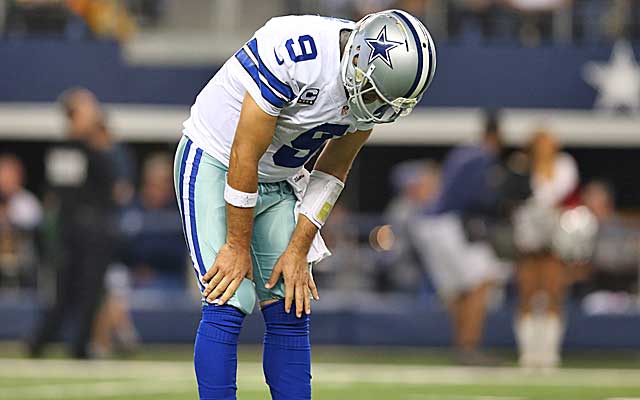 Sorting the Sunday Pile breaks down the biggest stories from the NFL week that was. Questions, comments or piling tips can be sent to @WillBrinson on Twitter. Listen to the Eye on Football Podcast below and subscribe via iTunes.
First things first: that Cowboys collapse was both real and spectacular. Up 26-3 over the Packers at halftime, the Cowboys somehow coughed up an impressively rare lead to give up. The common narrative will focus on Tony Romo's two fourth quarter picks and how he's a choking dog who December and the fourth quarter and God help us all when you put them together. But as we've noted over and over in this space, that misses the bigger point of a loss like this.
And that point is this: If the Cowboys didn't have a terrible defense and if the Cowboys didn't have embarrassingly bad playcalling, then Tony Romo doesn't have to make the throws he made.
Quickly, back to that halftime lead thing. According to Advanced NFL Stats, the Cowboys had a 96 percent win probability. At halftime.
Again, a hard lead to give up. So how did Dallas do it? Well, they did it by being terrible on defense and abandoning what got them the lead in the first place: offensive balance obtained by running the ball.
The defense was pathetic in the second half. The Packers had six possessions and scored a touchdown on five of them. The last one -- and only one that didn't result in a crooked number on the board -- was Green Bay taking knees to close out the game. Green Bay's scoring drives went 80 yards, 80 yards, 22 yards, 80 yards and 50 yards. At a certain point it became clear that Dallas couldn't do anything to slow down Matt Flynn and the Packers wideouts, much less Eddie Lacy.
This isn't breaking news. The Bears, under the guidance of another journeyman in Josh McCown, treated Dallas' defense like a maze made of Swiss cheese last Monday. Everyone was on board with Dallas being horrible on defense, right? The only way to keep Flynn from scoring was to keep him from getting the ball.
Naturally, since DeMarco Murray averaged 9 yards per carry (nine!) in the first half, the Cowboys thought it best to run the ball six times in the entire second half.
Seriously. Look at the Cowboys' five second-half drives -- mind you they began with a 26-3 lead -- and the way Jason Garrett and Bill Callahan managed the offense in the second half:
| | | | | | |
| --- | --- | --- | --- | --- | --- |
| Drive - Quarter/Start Time | Pass Attempts | Rush Attempts | Yards | Time | Result |
| 1 - 3rd/13:08 | 4 | 4 | 48 | 6:35 | FG |
| 2   - 3rd/1:09 | 3 | 0 | -13 | 1:03 | Punt |
| 3 - 4th/12:47 | 6 | 1 | 80 | 4:52 | TD |
| 4   - 4th/4:17 | 3 | 1 | 15 | 2:19 | INT |
| 5   - 4th/1:31 | 3 | 0 | 9 | 0:10 | INT |
Your thoughts, DeMarco Murray?
It's possible Murray, coming off the field in anger at this point, was yelling "WHYYYYY?" More likely it was "RUUUUUUUUUN." That's what the Cowboys refused to do and it ultimately cost them a massive game. With the Eagles losing in Minnesota, Dallas was primed to pounce on the NFC East lead again.
Instead we're left sitting around wondering who to blame. Lots of people will choose to target Romo because of his two fourth-quarter picks. One of those people is his own head coach.
Garrett just said that Romo changed the play on the last interception...should have been a run call.

— Bryan Broaddus (@BryanBroaddus) December 16, 2013
Yikes. As it turns out, Garrett isn't that far off. Here's the pick in question:
As the always excellent Chris Brown of Grantland pointed out (during the play), this is a "package" play that offers a variety of options for Romo to choose from. He can hand the ball off or throw a slant coming from the left side of the field. The problem is Romo doesn't do that. Instead he gets pressured quickly by Clay Matthews, doesn't (or can't?) get the throw off right away, escapes the pressure and tries to make something happen.
Romo's a great "sandlot" quarterback and can improvise with the best of them, but being a gunslinger has as much downside as it does upside sometimes. This was one of those instances.
"The idea was to run the ball and make them use clock," Garrett said. "Run it and if we throw it, throw high-percentage passes to keep the clock going and make them use their timeouts. Tony threw a pass on what we would call a smoke or a flash -- it's something we have accompanying our runs if he get a bad look. That's what happened on the interception. It was a run call he threw the ball on."
Asked how many other run calls were checked off, Garrett was ... less specific.
"I don't have that off the top of my head," Garrett said.
Did he regret the way things went down because of the playcalling and game management of that particular drive?
"Well certainly it didn't work out well for us," Garrett said.
Certainly not. Asked about the future of Romo having options on plays like he did with the interception in question, Garrett made it clear that he could reconsider giving Romo that sort of freedom at the line.
"We'll have those options for really, really challenging and difficult situations," Garrett said. "I think he'll be the first one to tell you he probably should've run the ball in that situation."
Romo egged. No question about it. But we've seen Garrett bungle these situations before and we've seen Romo take the blame for it. Dallas is 7-7 now with games against the Redskins and Eagles coming up. The Washington game is a drama-filled blunder-off and the Eagles game is probably for the division title.
A loss in either of those and the Cowboys are probably done. If they miss the playoffs -- given the opportunities they've had this season -- heads could roll. Which is probably why Garrett's making like a Twitter user and blaming Romo.
Again, no question Romo screwed up. He made a massive mental error and compounded with a physical error. But if you act like he's the one who made the decision to only run the ball six times in the second half and he's the one who gave up 34 second-half points to Matt Flynn you're being blinded by trees.
Jamaal Charles, MVP?
It'll never happen because he's a running back, but Jamaal Charles deserves MVP consideration. (The reason it won't happen: Peyton Manning. And quarterbacks almost always win.) But now is a good time to discuss it with Charles coming off an all-time scoring performance against the Raiders on Sunday. Charles piled up 215 total yards and five touchdowns in Oakland, single-handedly dragging scores of fantasy owners further into the playoffs.
Charles just about single-handedly eliminated the Raiders from the playoffs and clinched the Chiefs playoff berth on Sunday afternoon as well. Not that it's anything particularly new. As usual, Andy Reid's offense ran through Charles, with the speedy running back catching several screen passes that he promptly took to the house.
All told he finished the day having accounted for 38.4 percent of the Chiefs' total yardage this year. That's a crazy high number -- anything greater than 30 percent is nuts. I'd venture that Charles is in the top three easily in the entire NFL. (LeSean McCoy and Matt Forte would be his primary competition.)
Sunday was just insanely efficient though.
That's crazy. Charles' five scores put him in elite company as well: only 10 other players (most recently Clinton Portis in 2003 and Shaun Alexander in 2002) have managed a quintet of scores in a single game in NFL history. Charles could've tied Ernie Nevers, Dub Jones and Gale Sayers for the all-time record of six scores had Knile Davis not broken a run into the end zone.
Charles also became the first player in NFL history with one rushing score and four receiving touchdowns. And that, really, speaks more than anything to his value. Charles can line up all over the field, he can grind out the tough yards, he can break huge plays, and without him the Chiefs aren't heading to the postseason.
Back That Truck Up
Since I already wrote about Kirk Cousins for our Week 15 Grades and since the Redskins-Falcons game was actually just an absurd battle of disappointing mediocrity, how about instead we look at the punishing hit that Steven Jackson laid onto Washington cornerback Josh Wilson. It happened early on in Week 15 but it shouldn't be lost. It's magnificent:
'Pardon me. Coming through.' #WASvsATL pic.twitter.com/dUyIIABxDw

— NFL (@nfl) December 15, 2013
Assimilation in Chicago
Give credit to Marc Trestman for the way he handled the Josh McCown-Jay Cutler situation. Cutler struggled early on against the Browns and the Bears found things tied at the half. Trestman could've panicked and bailed on Cutler for McCown, who played well on Monday night against Dallas. He didn't and Cutler rewarded him by finding his stride and dialing up a long jumpball to Alshon Jeffery that resulted in a touchdown and a touchdown pass to Earl Bennett that all but sealed the game.
Both of those came in the fourth quarter, and the game itself showed Cutler to be healthy and proved wrong everyone who thought McCown should keep starting. Whether the Bears end up going with Cutler long term remains to be seen. For now, though, bringing him into play ahead of McCown looks like the smart move, even if people in the locker room reportedly didn't agree with the move.
Top Heavy
Not a good week for division leaders. The Broncos, Patriots, Bengals, Saints and Eagles all lost, meaning more than half of the division leaders went down. Only the Broncos were at home, so that's a stinger. Their ugly loss was mitigated by the Pats and Bengals falling, though, since the Broncos kept their cushion for homefield advantage. 
So who had the worst loss? I'd say it's a dogfight between the Pats, Eagles and Saints.
New England went on the road with a chance to lock down the division and got handled by Ryan Tannehiill. It's doubly painful because the Pats could've landed the No. 1 overall seed by winning. But given who they played against and the fact that they were on the road and dealing with the first absence since Rob Gronkowski's injury, well, it's hard to hold it against them.
Philly's loss is just completely inexplicable. The offense came out flat and the defense got shredded by Matt Cassel. Matt Cassel! They're still a game up on Dallas -- see: above -- but the Cowboys hold the tiebreaker over the Eagles right now. We're on a collision course for a Week 17 matchup, the final possession and the rock in Romo's hands. Watch if you dare.
For me, the Saints win hands down. They went on the road, but they were playing in a dome. They were up against Kellen Clemens. Winning would've kept them a game above the Panthers for the NFC South. Homefield advantage is vastly more important to the Saints than possibly anyone else who's in the playoff hunt. Now New Orleans is a Week 15 loss to the Panthers from possibly entering the playoffs as a wild card. Crippling loss.
Potent Quotables


Reporter: "Hey Joe. How might you celebrate this win tonight?" Joe Philbin: "I might jump in my pool. I've only been in it once." #Dolphins

— Courtney Fallon (@CourtneyNBC6) December 15, 2013
Brady. "Made some good plays, made a lot of shitty plays." Drops mic after 72 seconds and departs. #patriotstalk

— Tom E. Curran (@tomecurran) December 15, 2013
Antrel Rolle said "Sometimes out there it looked like we didn't have a pulse." #NYG

— Ralph Vacchiano (@RVacchianoNYDN) December 15, 2013
Cutler spoke to several teammates. "I wanted to talk to them man-to-man. 'Hey if you've got a problem with this, I want to know.'"

— Dan Wiederer (@danwiederer) December 15, 2013
Cutty

— Kyle Long (@Ky1eLong) December 15, 2013
You might not recognize the Patriots' defensive coordinator without his beard

T.O. definitely isn't a fan of the Cowboys head coach

R.J. White, who nearly won the Vegas SuperContest, locks in his pick for the AFC Championship...
This player probably won't be too popular in New England if the Patriots lose on Sunday

The connections between the Eagles and Vikings quarterbacks are endless

Josh Nagel went 4-1 on Super Bowl prop bets and shares his favorite props for Patriots-Jag...