Sorting the Sunday Pile, Week 6: Cowboys' stunner in Seattle
The Cowboys stunned the Seahawks in Seattle on Sunday afternoon.
There's not a more difficult test than going into Seattle, squaring off against the Seahawks and facing their tenacious, championship defense. The Cowboys passed with flying colors and served notice to the NFL they are for real.
Can you imagine telling someone in April Rolando McClain would help seal a defense-fueled victory for Dallas over the Seahawks at CenturyLink and record a game-sealing interception off Russell Wilson? Of course not: McClain wasn't in the NFL, the Dallas defense was prepared to be the NFL's worst and Wilson had one loss at home.
Make it two, courtesy of the best win we've seen from Jerry Jones team in maybe five years. Tony Romo shook off a massive first-half shot from Bobby Wagner; he's not just better than people think, he's also tougher than people believe.
The Seahawks average 29.2 points per game at home since they turned to Wilson as their quarterback in 2012. Only twice in the past three years have they been held to less than 20 points at home.
Make it three, courtesy of Rod Marinelli's borderline magical work on the defense. Dallas nearly doubled up Seattle in terms of total yardage, keeping the Wilson and crew to just 206 yards on the day. Seattle was average on the ground (4.4 yards per rush) and even worse via the the pass (4.2)
Dallas held the ball for a whopping 38 minutes and limited Seattle to just 48 offensive plays for the entire game. Take out Marshawn Lynch's long run of 32 yards and he ran for 29 yards on nine carries. Russell Wilson looked like the opposite of the budding superstar shredding the Redskins we saw less than a week ago and could've had worse numbers but for Dallas dropping interception opportunities.
The offense has to get a ton of credit too. As noted in this same space the last two weeks, they're playing really smart, impressive football with a repeatable formula.
DeMarco Murray is just the second running back in NFL history to run for 100 yards in his team's first six games, joining Jim Brown's 1958 season. Murray's running incredibly well right now, but don't sleep on what that offensive line is doing for Dallas' offense.
On the Cowboys' next-to-last drive, Murray plunged into the end zone after the Dallas offensive line gave him a couple gaping holes to waltz through.
That was is in the red zone, against the best run defense in the NFL, on a clear-cut running play with Seattle up four points in the waning minutes of a home game.
You don't do that to the Seahawks. Dallas did. 
Murray's final three runs of the day combined for 46 yards, but the holes he ran through were so big the only thing stopping him was the length of the field.
You're not supposed to throw on the Seahawks in their house either. Dallas did.
Tony Romo completed 21 of 32 passes (65.6 percent) for 250 yards (7.8 YPA), a pair of touchdowns, no interceptions and a mistake-free fourth quarter that included a dime piece to Terrance Williams, who made an even more impressive catch on 3rd and 20 to extend the Cowboys game-winning drive.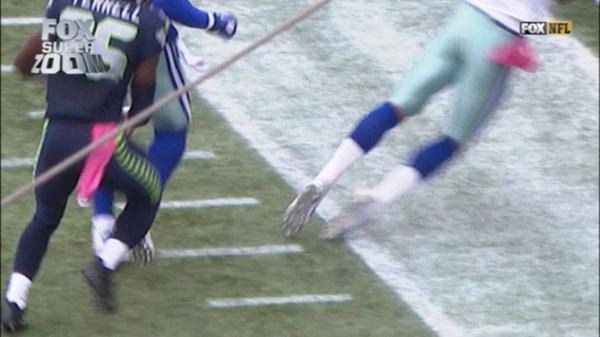 Before this week you could justify staying off the 'Boys bandwagon. Not anymore.
Aaron Rodgers stays relaxed
Not that we need reminding of how important quarterbacks are in the NFL, but Aaron Rodgers showed us again on Sunday afternoon with a surgical drive down the field against the Dolphins Sunday.
The best part about said drive, which culminated a game-winning touchdown pass to Andrew Quarless with less than a minutes left on the clock?
A fake spike from Rodgers, which basically serves an homage to Dan Marino.
I always wonder why more quarterbacks don't bust out the fake spike. My only theory is they're worried it could result in a whistle from the refs and the play being blown dead.
Whatever, Rodgers freestyling ways worked wonders in Miami, including this sick pump fake that Rashad Jones to go flying through the air.
That's Rodgers in a nutshell right there -- arm speed to make it look like he's throwing, athleticism to pull the ball back and the foot speed to get out on the edge and pick up a few yards.
Rodgers on fake spike: "That was kind of some freestyling right there."

— Tyler Dunne (@TyDunne) October 12, 2014
Rodgers initially told fans to relax on the Tuesday after Green Bay's Week 3 loss to the Lions, where they scored just seven points.
Since then he's been rather otherworldly. In three games -- all wins -- Rodgers has completed 59 of 88 passes (67 percent) for 740 yards, 10 touchdowns and zero interceptions.
The numbers would be even higher if two of those games hadn't been blowouts. Philip Rivers, Peyton Manning and Andrew Luck are getting mad MVP run right now. The Packers aren't going to lose many games with Rodgers playing like this.
Patriots take control
Remember when the Patriots were terrible and Tom Brady was washed up? Like with Rodgers and the Packers, people jumped to conclusions a little too quickly with Belichick's squad. The Pats hammer-jacked the Bengals on Sunday night last week and ruined Terry Pegula's debut as new Bills owner this week.
You will not like Brady when he's angry, however. And Brady is apparently angry. Sunday in Buffalo was his second-straight outstanding performance; this week Brady completed 27 of 37 passes for 361 yards and four touchdowns.
With Stevan Ridley suffering an injury and the defense not completely able to shut down Kyle Orton and the Bills, Brady hoisted the team on his shoulders, spread the ball around and improved his record against the Bills to a "not-quite-a-rivalry" 23-2.
10 different receivers caught passes and Brady spread his primary targets between Brandon LaFell (6), Rob Gronkowski (9), Julian Edelman (12) and an assortment of other players.
The Bills defense, here to fore one of the better units in the entire NFL, was left to nothing but Pee Wee tactics to try and slow down the Pats. It didn't work at all.
With the Jets fumbling/bumbling, the Dolphins losing again on Sunday and the Pats topping the Bills, this might be the game we point back to for when New England started putting some separation in the AFC East.
Thomas makes touchdowns look easy
Julius Thomas scored another pair of touchdowns on Sunday afternoon in the Broncos closer-than-the-score-looked win over the Jets.
And he correctly pointed out that its "TOO EASY" to score on the Jets.
Thomas has nine touchdowns through five games, tied with Calvin Johnson from 2011 for the most in NFL history for a team's first five games.
Flacco's big day
Really hope you started … Joe Flacco in fantasy? Yeah sometimes life doesn't make much sense and football makes even less.
Flacco, who had just one regular-season, four-touchdown game in his career before Sunday, became the fastest quarterback in NFL history to throw for five touchdowns since at least 1970.
The Ravens quarterback threw his fifth touchdown with 13:57 left in the SECOND QUARTER, meaning it took him all of 16 minutes and 3 seconds of game action to record the quintet of scores.
Additionally, Flacco was the first quarterback with a quartet of touchdown passes (see them all below) in the first quarter since 1986 (Tommy Kramer of the Vikings) and the first quarterback with five scoring throws in the first half of a game since Tom Brady in 2009.
Flacco averaged more than 10 yards per pass attempt and .17 touchdown passes for every pass attempt. He was flat-out ridiculous against a Buccaneers team with two completely putrid losses on their resume. When the Bucs stink they really stink.
With the Browns blowing out the Steelers and the Bengals struggling to a tie at home against the Panthers, it's worth looking at just how much damage the Ravens can do this season.
Their ground game isn't completely clicking this year but Justin Forsett topped 100 yards and looked explosive. The defense is playing well and improving quickly week over week.
Flacco's significantly better in Gary Kubiak's system with viable weapons around him. The upside is high for this Ravens team.
Kissing your sister in Cincy
Ties are always delightful, if only for the Donovan McNabb jokes that surface on Twitter. The Bengals/Panthers 37-37 draw was one of the most entertaining ties I've ever seen.
This make sense because it was the highest-scoring overtime game that ended in a tie in NFL history; the Raiders and Boston Patriots tied 43-43 in 1964, but it was before overtime rules were in use.
It definitely feels like more of a loss for the Bengals here. They were at home, they had a chip shot to win the game and they really gave the Panthers too many chances to climb back in.
The lone bright spot for Cincy? Jeremy Hill's dancing.
Giovani Bernard ran well (137 rushing yards) but suffered an injury. Mohamed Sanu looked good too, but it's clear the offense isn't as dynamic without A.J. Green. (Duh.)
For the Panthers, it's more of a win, particularly with the way Cam Newton played. He topped 100 yards rushing and found the end zone with his legs for the first time this year.
It's a good sign for Carolina he's getting healthier and his ankle is feeling better. When Newton runs, the Panthers offense is significantly more efficient and dangerous; this felt like a big step forward for that unit.
Carolina was dead to rights two weeks ago but at 3-2-1 they're alone in first place in the NFC South. Granted, the division is terrible -- every team has a negative point differential -- but the league isn't going to take away the NFC South's playoff berth for being bad at football.
Quotes to know
#Ravens Flacco asked by #Buccaneers media about comparisons 2 Mike Glennon."We're 2 tall white guys who can throw the football" @1057TheFan

— Sports With Coleman (@sportswcoleman) October 12, 2014
Rex Ryan: "obviously a tough day again"

— Manish Mehta (@MMehtaNYDN) October 12, 2014
Adam Jones says of course this tie feels like a loss: "We should've f*%^ won this game. Excuse my French."

— Aditi Kinkhabwala (@AKinkhabwala) October 12, 2014
Mike Nugent on final miss: "Probably the worst ball I've ever hit in a game in my career." #Bengals

— Paul Dehner Jr. (@pauldehnerjr) October 12, 2014
Love this Pettine quote: "The cigar is not as big as the one that I smoked after Saints game, but it's pretty close. It's waiting for me."

— Glenn Moore (@GlennMooreCLE) October 12, 2014
"We can be the best ever."-Nick Fairley on Lions D.

— I hate your face (@Spoon_r13) October 13, 2014
Like everything with Luck, there's some good news and some bad news with his latest health...

The top would-be free agent wide receiver is officially off the market

A billionaire owner of the Pittsburgh Steelers is hoping to buy the Carolina Panthers
The crop of free agent offensive linemen just got better

Laurent Duvernay-Tardif might have just made one of the most unique jersey requests in NFL...

The new Raiders coach offered some details on what he wants from Marshawn Lynch