Sorting the Sunday Pile: Who's the AFC wild-card favorite?
Sorting the Sunday Pile breaks down all the big stories from the week that was in the NFL.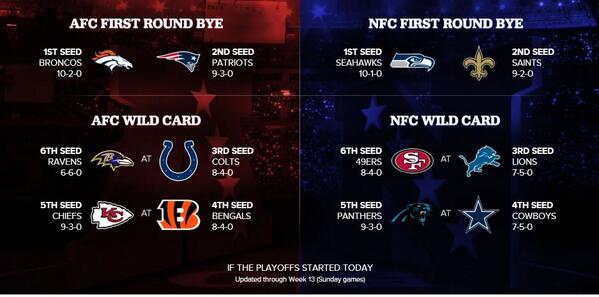 Sorting the Sunday Pile breaks down all the big stories from the week that was in the NFL. Questions, complaints or angry tirades? Hit me up on Twitter @WillBrinson.
Take a glance at the 2013 NFL playoff race and you'll notice that there's not a ton of drama out there for the final stretch. A lot can still happen, but it appears that many of the playoff teams are pretty well locked or tracking to be a lock. But not the AFC's sixth seed. It's a big heaping pile of ugly intrigue. Let's break it down.
The Ravens are the favorite. This is a fairytale. Baltimore has been pretty bad all year long and their running game stinks. But Joe Flacco has the extra gear as we all know after a Thanksgiving Day win over the Steelers they're in the pole position to land the wild card. Would you want to play these guys knowing what happened last year? Dennis Pitta returning would be massive for the Ravens. If he provides a third-down presence for Flacco, their offensive line gels, the defense creates turnovers and Flacco gets hot at the right time, well, it'll be just like last year. I would say watch out but their schedule is scary: Baltimore closes with the Vikings, at Lions, Patriots, at Bengals. Cincy looks like a strong bet to win the division and that stretch is concerning but I like Baltimore as the fave, especially with their head-to-head tiebreak over the Fins.
How are the Dolphins here? Remember when Miami was freefalling after the Monday night loss to the Buccaneers and the entire world descending on them during the Richie Incognito-Jonathan Martin fiasco? The Dolphins have won two of three games since then and barely lost to the Panthers. Miami's 6-6 and could/should be 7-5 and in sole possession of that spot.
Tell me about that 5-7 pile. Yeah it's nasty. The Titans, Steelers, Chargers and Jets are all hanging around two games below .500 after losing (in pretty ugly fashion) in Week 13. It's worth noting that since 1990, 16 teams below .500 after 11 games have made the playoffs. But losing this week doesn't help matters at all. It puts you behind the eight ball and all these teams have major flaws that could prevent them from winning. San Diego lacks a defense, the Jets lack an offense, the Steelers have lost too many early and close games and the Titans are rolling out Ryan Fitzpatrick every week.
It's impossible to imagine the Jets making the playoffs. They just benched Geno Smith for Matt Simms. Let that sink in. The Titans play the Broncos and the Cardinals down the stretch. The Chargers get the Broncos and the Chiefs. I don't want to buy into the Steelers but they have the Dolphins, the Bengals, the Packers and the Browns. They look like a team dead in the water and the Mike Tomlin controversy won't help. But they could conceivably walk down the Ravens and might not see Aaron Rodgers when they play Green Bay either.
Total pipedream for Pittsburgh at this point, but that's the beauty of the dramatic slopfest that is the AFC wild card.
Best Big Weapons?
Is there a more impressive trio of big, pass-catching targets than what the Bears trot out on a weekly basis? Brandon Marshall (6-feet-4), Alshon Jeffery (6-3) and Martellus Bennett (6-6) are excellent examples of what my colleague Pat Kirwan calls "rebound receivers" -- they're huge guys who can haul in passes and dominate in man situations on just about anyone in the league. I grabbed the five biggest high-end trios I could think of in the NFL and compared them by height.
You could definitely make the case that the Calvin Johnson-Kris Durham-Joseph Fauria triumvirate is taller (a lot of people on Twitter did), but I'm not sure you're convincing me that they're better. Megatron's the best wideout in the NFL right now, no question about it. But Alshon Jeffery is miles ahead of Durham right now and has way more upside. He has the potential of a top-ten NFL wideout, and that might be setting his ceiling low.
Jeffery just beat his own Bears single-game receiving record, toppling his 218 yards against the Saints earlier this year with 249 receiving yards on Sunday against the Vikings. One of his two touchdown catches was an insane grab worth your time:
It was ultimately for naught because the Vikings pulled off a weird overtime victory, thanks in large part to Marc Trestman making a very bizarre decision to attempt a 47-yard field goal on second down. I realize you don't want to run the ball, lose yardage and then end up out of Robbie Gould's range. But you gotta try something on second down to pick up a few more yards and get within a reasonable range.
The Bears were only alive because a facemask call on the Vikings pushed them back 15 yards after a Blair Walsh make that led to a Blair Walsh miss (from 57 yards, so an understandable one) and they were able to get a look at a field goal.
Giving Jeffery or Marshall a look on a slant on that second down would've been the smart play. Trestman knows how to get the most out of his weapons and he's doing a great job transforming Josh McCown into a viable starter. But that's a situation where you've got to maximize your weapons to move down the field and give Gould a better look.
Other Big Numbers
EOF colleague Josh Katzowitz whipped up his usual "By The Numbers" recognizing but we've got to hand out some hat tips as well.
Josh Gordon is, like Jeffery, developing into one of the next great wide receivers. Dude is catching passes from Brian Hoyer, Jason Campbell and Brandon Weeden this season and putting up mammoth numbers. He's the first wideout in NFL history to have back-to-back 200-yard receiving games. Seems laughable that the Browns put him on the trade block now.
Eric Decker somehow managed to dwarf both Jeffrey and Gordon in terms of fantasy points, because he had 174 receiving yards and caught four touchdown passes. Demaryius Thomas managed to go over 100 yards too. Peyton Manning's offense is almost unstoppable -- even in cold weather! -- and it's not just the quarterback. It's the diversity of the weapons.
Adrian Peterson passed 10,000 rushing yards for his career. He's the third fastest to that digit, behind just Eric Dickerson and Jim Brown. He's also the third player in NFL history with five 200-plus rushing yard games, along with O.J. Simpson and Tiki Barber. Weird company.
Riverboat Ron Rolls On
The Panthers won their eighth-straight game on Sunday, whipping the Buccaneers handily. The matchup can best be summed up by watching Star Lotulelei's push up the middle on this play:
Mercy. It's his gambling style that draws our attention, but it's probably worth noting that Ron Rivera's done an incredible job fashioning this defense. He's got a questionable secondary, Charles Johnson is hurt and the Panthers might still have the best defense in the league.
Sunday they decided to bracket down on Vincent Jackson, put pressure on Mike Glennon and force him to make plays to other receivers. It didn't work out well for the Buccaneers rookie. Carolina got a few breaks too, and were playing with a lead for most of the game. But they're a viable, consistent and dangerous team.
That Panthers fans and everyone around Rivera are embracing his nickname is just gravy.
Redskins Issue
What a trainwreck for the officials on Sunday night. How can they possibly let the Redskins not realize what down it was and not at least stop the clock for a measurement?
The Redskins thought they had a first down -- the chains moved -- and then suddenly, BAM, it's fourth down and no one decided to let them know. Mike Shanahan said he was told it was first down and he didn't have to worry about anything. Robert Griffin III said there was "no explanation" and that they just kept the game churning along.
Say whatever you want about it not mattering because both the Redskins and the Giants stink. It doesn't apply here. The Redskins were mathematically eliminated from the postseason so that's a huge loss. They're also staring down a scenario where they hand the Rams a top-five pick in the 2014 NFL Draft. That's even worse. And Mike Shanahan is coaching for his job.
Good on Al Michaels and Cris Collinsworth for launching into a tirade against the refs in that game. Jeff Triplette and his crew completely egged the officiating at the end of that game.
Potent Quotables


Cam Newton: "I just want to start out by saying War Eagle."

— Bill Voth (@billvoth) December 1, 2013
Mike Wallace with the quote of the day: "I'm a great player. ... Let's call a spade a spade."

— Adam Beasley (@AdamHBeasley) December 1, 2013
"Best Vikings quarterback" is like "smartest Kardashian" but I do think Matt Cassel is the Vikings' best QB.

— Michael David Smith (@MichaelDavSmith) December 1, 2013
The reason behind Stevan Ridley being inactive, per Bill Belichick: "Because there were 46 players ahead of him that were active."

— Field Yates (@FieldYates) December 1, 2013
Chargers coach Anthony Lynn did not provide details on whether or not Henry will play

Panthers owner Jerry Richardson no longer has day-to-day control of the team

Rally cries for 'St. Nick' are echoing across Pennsylvania as Eagles trudge forward without...
The Panthers will be missing their star linebacker for the rest of the regular season

The Cowboys running back now looks like a tank

Former Atlanta sportswriter Larry Hartstein knows the Falcons and locked in a pick for 'Monday...