Starbucks to sell coffee for 12 cents to Seahawks fans in Seattle
If you're in Seattle on Friday, you can get a cup of coffee for 12 cents. All you have to do is wear Seahawks colors and head to your local Starbucks.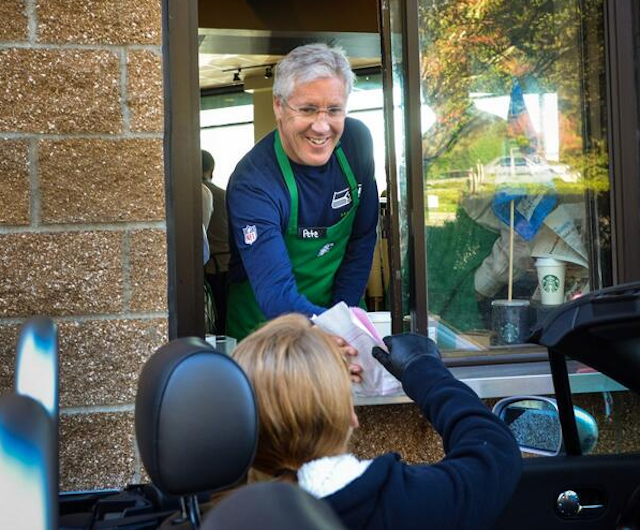 The city of Seattle is known for two things: Coffee and Coffee. Actually, it's known for three things, but the third thing is also coffee and it seemed kind of redundant to mention it again. Anyway, the city's most famous coffee company is celebrating the Seahawks' appearance in the NFC Championship Game by offering everybody in Seattle a pretty ridiculous deal. 
On Jan. 17, Starbucks will be offering 12-cent coffees to anyone who shows up wearing Seahawks colors at any of the 400 stores in the state of Washington. The Seattle-based coffee company set the 12-cent price to honor the Seahawks fan base, which is known as the 12th man. 
If a 12-cent cup of coffee isn't your thing, then you can pay full price at Hot Wire Coffee in Seattle and get a cup that looks like this. 
Combining Seattle's favorite things: coffee and @Seahawks! #GoHawks via @hotwirecoffee pic.twitter.com/OsP98URPjY

— KING 5 News (@KING5Seattle) January 15, 2014
Now all we need is a company in San Francisco to step up and offer a deal. I'm thinking it should be Anchor Brewing Company and they should offer 49-cent beers. Or maybe Apple could sell 49-cent laptops. And I know, Apple's technically not in San Franciso, it's in Cupertino, Calif., but it's all the same thing. 
---
Follow John Breech on Google+ or you can even sometimes find him on Twitter
The former Buccaneers kicker did not have things start well for him in Chicago

Bears special teams showed up in a big way against Arizona

Beast Mode got loose with Oakland and looked pretty impressive in the early going
Beast Mode was one of several players to sit during the Raiders-Rams game

The cleaning staff in Houston missed a couple of things while cleaning up after Super Bowl...

Marvin Jones had some serious fun in the end zone after scoring against the Jets