State of the NFL: Goodell on Super Bowl sites, replay, Redskins, etc.
Roger Goodell touched on a variety of topics in his yearly State of the NFL address.
• 4 min read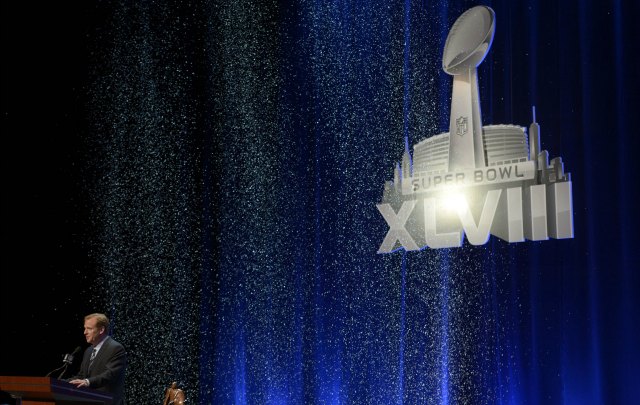 More SB coverage: XLVIII odds | Expert picks | Super Bowl weather | Latest news
NEW YORK -- It appears the NFL is going to avoid a potentially disastrous weather scenario on Sunday for Super Bowl XLVIII. The weather forecast continues to predict cold but dry conditions, and that must make the NFL and commissioner Roger Goodell ecstatic.
During his State of the NFL address on Friday, Goodell made sure to praise New York, New Jersey and the people who have been a part of bringing the league's biggest game to the country's biggest city. But he was also asked about future Super Bowl sites.
More specifically, will the league consider bringing the Super Bowl to another cold-weather city which houses an open-air stadium?
"The ownership will all sit back and review that," Goodell said. "We have a very good, aggressive process in how you select cities. That ability to host a Super Bowl is more and more complicated and complex because of the size of the events and the number of events. The infrastructure is incredibly important."
Goodell made sure to compliment the planning that has been going on in New York and New Jersey for months and years, and "everybody has been fantastic."
"I can't say enough great things about the people who have been working on this," Goodell said. "People are feeling the excitement and the energy. That's a great thing for us. This opportunity has been extraordinary, and we'll look back on it as an important time in our history."
Goodell also was asked by a San Diego reporter about giving multiple Super Bowl bids to one city at a time.
"There's such a demand for Super Bowls," he said. "We see the opportunity for us to expand our game and come into new markets. We found that valuable to the league. That's reflective on how they voted. ... Weather is a factor when you play in the United States in February. That's a continuing challenge. We want to get into as many communities as possible so they can share in the emotional and economic benefits. That's what helps grow our game."
After Super Bowl XLVIII, the NFL will go to three-time host Arizona next year, and for Super Bowl L, the San Francisco area will get to host for the second time. Then, it's off to two-time host Houston in February 2017.
Here are some other topics Goodell was asked about during his appearance:
• On the concussion lawsuit settlement being rejected by US District Judge Anita Brody:
"The judge is taking her time. She's making sure the settlement that was agreed to between the plaintiff and our attorneys is going to work in the way we intended it to work. The No. 1 thing for us is to get the money in place to get it to players and their families if they need it. We're working with Judge Brody to convince her that the settlement we reached can provide the kind of benefits that we intended. We're confident we'll get there."
• On the NFL endorsing fantasy football but not sports gambling.
"We fought sports gambling for a long time, most recently here in New Jersey. I would say our position is in the same vein going forward. We don't put fantasy football into that category at all. ... Fantasy football is a way to engage people with football and to do it in a fun, family-[friendly] matter. I think it's great for family, friends and football."
• On centralizing a replay system, Goodell said it was a possibility moving forward. The competition committee likely will study the matter -- and how much the NFL office could help the on-field referees in determining replay results -- but any changes still would have to be passed by 24 of 32 owners.
• On expanding the postseason from 12 teams to 14:
"There's a lot of benefit to doing that. We think we can make the league more competitive. We can make the matchups more competitive toward the end of the season. There will be more excitement, more memorable moments. That attracts us. This will continue to get very serious consideration by the competition committee and the membership."
• At one point, 49ers tight end Vernon Davis took the microphone and asked Goodell why NFL players didn't get free health care for life.
"We had lots of discussions about that in the collective bargaining process. We went back and improved health benefits to the point where the health benefits that are provided to current NFL players are the best in the world. I'm proud of what we've been able to do. We also still have lot of work to do for former players. The cost of trying to provide health care for everybody that's ever played ... was discussed. It was determined these were the best changes. But we'll continue to make more efforts and do a better job with former players to give them the proper health care."
• Goodell was also asked if he would ever personally call a Native American a "redskin" to his or her face.
"I've spent the last year talking to many of the leaders in the Native American community. We're listening and trying to make sure we understand the issues. But this is the name of a football team that's had it like this for 80 years in a way that's honored Native Americans. We recognize that some don't agree with the name. But if you look at the [poll] numbers in Native American communities, nine out of 10 supported the name and eight out of 10 in the general population would not like for us to change the name."
Follow Josh Katzowitz on Google+
The winner of Sunday's game will he headed for Super Bowl LII

SportsLine's Mike McClure, a DFS pro with more than $1M in winnings, gives optimal lineup...

Super Bowl tattoos are never a good idea until your team has actually won the Super Bowl
A couple of dogs emerge victorious in the Conference Championship round

Our computer model simulated the AFC and NFC title games 10,000 times with surprising resu...

If the past 18 weeks are any indication, Tom Brady could be in trouble Sunday