Steelers' Adams stabbed in apparent robbery, recovering after surgery
Mike Adams, in line to be the Steelers' starting right tackle this season, is recovering from surgery after being stabbed. Adams tells his agent he expects to miss six weeks.
• 1 min read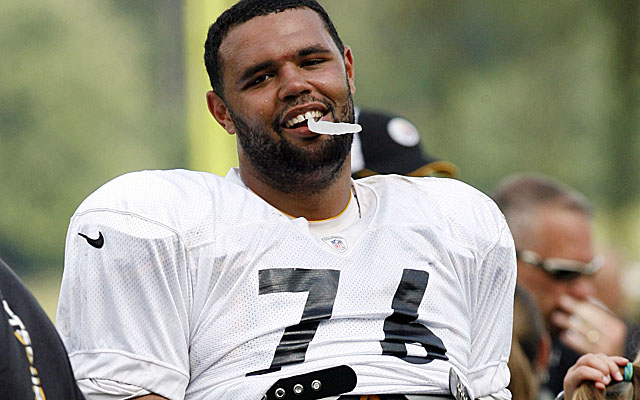 Pittsburgh Steelers offensive lineman Mike Adams is expected to make a full recovery after being stabbed in an apparent robbery attempt Saturday morning in Pittsburgh, according to his agent, Eric Metz.
Adams, a second-round pick in 2012 who is in line to be the Steelers' starting right tackle, is in the hospital following surgery on Saturday morning and will remain there several days.
Metz, who spoke with Steelers security officials as well as GM Kevin Colbert -- who was at the hospital with the wounded player -- said he was told the assailants were attempting to steal Adams' truck, and there is a strong expectation they could be found. Metz said three men were trying to steal the truck from in front of Adams' residence and when he intervened, he was stabbed.
"We are aware of the situation regarding Mike Adams being stabbed earlier this morning," Colbert said. "We are in direct communication with both Mike and his family. Mike is expected to make a full recovery."
Adams was joined by his mother and other family members at the hospital and Adams, groggy from surgery, told his agent doctors told him he will likely miss six weeks.
"He will be fine," Metz said. "He should be back for training camp."
Metz said no organs were struck in the stabbing and, "all things considered it could have been a lot worse." Metz praised the Steelers organization for swiftly getting team officials to the hospital and said he spoke to Adams around 8 a.m. Saturday, when he was out of surgery.
Pittsburgh is reshuffling its offensive line this season with Adams, who played left tackle at Ohio State, making a good transition to the right side during his OTA work.
"He's getting really comfortable on the right side," Metz said.
It might be time to begin worrying about the Patriots quarterback

The Patriots are still odds-on favorites, but the other teams are closing in

SportsLine tapped into its Vegas sources to see who professional bettors like Sunday
Philadelphia readies itself for a massive celebration if the Eagles advance to the Super B...

Guess who's back, back again, Texans' Watt took important step in returning to field

Ryan seems likely to become one of the highest-paid players in the NFL