Steelers-Bengals: 10 things from Pittsburgh's AFC North clinching win
Here are the 10 most important things you need to know about Pittsburgh's win vs. Cincinnati on Sunday.
• 4 min read
With the Bengals down by three points with less than 4 minutes to play, Cincinnati appeared to have the Steelers in trouble. Bengals quarterback Andy Dalton, after throwing two first-half interceptions, had settled down and played well to lead the team within striking distance and Cincinnati had already driven into Pittsburgh territory with the hopes of setting up the game-winning touchdown.
Instead, this happened.
That's Bengals receiver A.J. Green fumbling and then taking a shot to the head from Pittsburgh safety Mike Mitchell while the Steelers recovered the ball. About a minute later, Ben Roethlisberger hit Antonio Brown for the 63-yard touchdown to put the exclamation point on Pittsburgh's 27-17 win.
Great win for the Steelers, who claimed the AFC North title with the victory. And a bad loss for the Bengals -- who now will have to wonder if Green, who suffered a head injury, will be available for the first round of the playoffs next week.
Now, the Bengals, who finish with the No. 5 seed in the AFC, will have to travel to Indianapolis to play the Colts on Sunday afternoon, while the third-seeded Steelers will play host to the No. 6 Ravens on Saturday night.

A sour note for Steelers
Midway through the third quarter, Le'Veon Bell took a shot in the knee from Bengals safety Reggie Nelson after catching a pass. It was nasty looking, and it could have long-term effects.
The source of Le'Veon Bell's knee pain. pic.twitter.com/q783kAM7pM

— Josh Katzowitz (@joshkatzowitz) December 29, 2014
And how bad could an injury like that be for Pittsburgh?
And that, ladies and gentlemen, could be the end of the Steelers playoff run. Bell hurts right knee on low, legal tackle by S Reggie Nelson

— Ed Bouchette (@EdBouchette) December 29, 2014
Le'veon Bell had received 120 of Pittsburgh's 125 carries by a RB heading into this game since LeGarrette Blount left.

— Bill Barnwell (@billbarnwell) December 29, 2014
Bell -- who suffered a hyperextended right knee and did not return to the game -- hobbled off the field, and as he did so, Steelers fans chanted, "M-V-P."
After the game, Tomlin and Nelson had words with each other.
It should be noted that Nelson's hit, while brutal, was perfectly legal. Tomlin emphasized that after the game as well. But Tomlin said that Nelson claimed he had heard Tomlin was trash-talking him. Tomlin insisted that wasn't true and that he had respect for Nelson.
A sour play
Leading by three points midway through the fourth quarter and trying to keep the Bengals from gaining possession, the Steelers apparently thought this fake punt attempt was a good idea.
Clearly, it was not.
Horrible idea, but at least it was horribly executed.

— Dan Graziano (@DanGrazianoESPN) December 29, 2014
Gio Bernard is athletic
While Jeremy Hill has become the Bengals most-important running back in recent weeks, that doesn't mean the team should forget about Gio Bernard.
Clearly, Dalton didn't. And in the process, Dalton made a heads-up play to shovel the ball to Bernard to tie the game at 7-7 late in the first quarter.
Tomlin forgoes Big Ben sympathy
While Roethlisberger was absent for much of pregame warmups because of an upset stomach, you better not bring those weak excuses to Tomlin.
Sounds like Mike Tomlin doesn't have much sympathy for Big Ben's upset stomach: "My mom worked at a shipyard. She didn't get days off."

— Josh Katzowitz (@joshkatzowitz) December 29, 2014
For the record, Roethlisberger made his 158th-career start for the team, tying him with Terry Bradshaw for most in team history.
What can Brown do against you?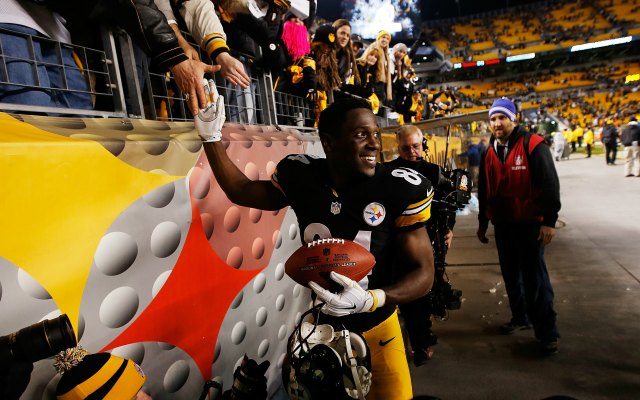 For the first time this season, the Bengals allowed a punt return touchdown, and Antonio Brown's 71-yard score was sweet.
Not pictured. Brown quite literally throwing Shamarko Thomas at Bengals punter Kevin Huber in order to block him.
Before the return, the longest punt return allowed by the Bengals this year was for 11 yards.
Brown ends season as league leader
Aside from his punt return touchdown, Brown caught seven passes for 128 yards and a touchdown. That means he finished with a league-leading 129 catches on the season, the second-most of anybody in NFL history and only 14 behind record holder Marvin Harrison.
Impressive work.
Halftime was ... quiet
After falling behind 20-10 at halftime, the Bengals didn't seem overly-enthused about their chances of recording a comeback victory. Well, except for receiver Mohamed Sanu.
Bengals very quiet in the long Heinz Field walk back to the locker room. Mo Sanu broke the silence with "let's get it going...get it going."

— Joe Danneman (@FOX19Joe) December 29, 2014
How did Dre Kirkpatrick fare?
Pretty well, until the very end of the game when Brown caught his 63-yard touchdown pass, and he beat Kirkpatrick in order to do so.
After playing well last week vs. the Broncos, Kirkpatrick earned the start at cornerback opposite Leon Hall because Terence Newman was inactive with an illness.
And for the most part, Kirkpatrick played OK. But his late-game coverage on Brown was faulty -- Kirkpatrick actually fell down while trying to defend Brown, who also might have pushed off -- and Brown's touchdown put the game out of reach.  
Holding bails out Sanu
Sanu almost had the first incompletion of his entire career. Entering Sunday's game, the Bengals receiver had completed all five passes he'd ever attempted for 177 yards and two touchdowns.
Early in the third quarter, Sanu took the direct snap and lofted a long pass to Green. It was incomplete, but luckily for Sanu (I guess), the Bengals were penalized for holding.
Thus, the play didn't count, and Sanu remains perfect.
Pick Six Newsletter
Get the day's big stories + fun stuff you love like mock drafts, picks and power rankings.
Please check the opt-in box to acknowledge that you would like to subscribe.
Thanks for signing up!
Keep an eye on your inbox for the latest sports news.
Sorry!
There was an error processing your subscription.
The Chargers shocked the Chiefs with a play they had already run earlier in the game

If the Redskins offered a job, Colin Kaepernick would take it

Could Pittsburgh lose the division lead and miss the playoffs?
One Hall of Fame quarterback thinks Tom Brady's skills are going to decline soon

The Steelers are plunging, the Ravens are a value play and more on the Super Bowl odds market...

Everything you know about this battle of AFC West playoff contenders