Steelers C Maurkice Pouncey won't be charged Friday
The Florida State Attorney's Office said Friday, 'I guarantee you there won't be a charge today,' referring to Steelers Center Maurkice Pouncey.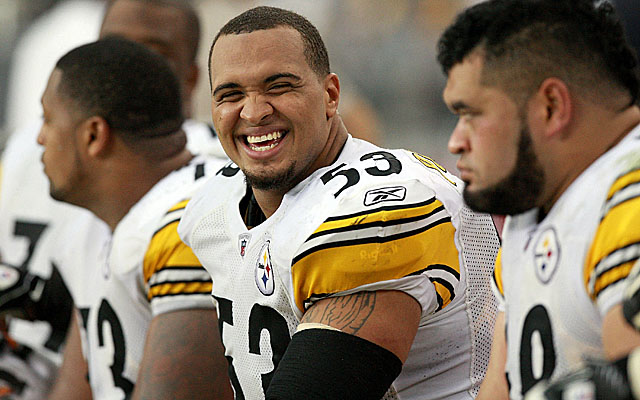 More NFL: Photos |  Videos & GIFs |  Training Camp updates | Manziel watch
On Thursday, the Miami Herald reported that Steelers center Maurkice Pouncey -- but not his brother, Mike -- would be charged with misdemeanor battery following an alleged nightclub assault in Miami last month. By Friday, the State Attorney's Office says it's not yet ready to pursue the charge.
"I guarantee you there won't be a charge today," Ed Griffith, a spokesman for the State Attorney's Office, told the Herald's Adam Beasley. "We will be reviewing all of the evidence from the police, as well as any evidence presented by attorneys of the related parties."
Jeff Ostrow, the Pounceys' attorney, said Thursday, "From what we've discovered, the evidence supporting the battery claims is flimsy, at best."
Whatever legal fate awaits Maurkice, who signed a signed a five-year, $44 million extension in June, Mike, who plays for the Dolphins, appears to be in the clear.
Last week, Maurkice Pouncey addressed reporters about the suit, which claims that he and his brother used homophobic slurs before beating a man and a woman at a Miami nightclub.
"The only thing that sucks about it is that I tried to keep a clean nose throughout the process this year. Having to deal with this, sucks, it truly does," he said. "Even for the birthday party (at the nightclub), we hired our own retired police officer to go out with us. For something like to this to happen is truly unbelievable. I just want to take the time to apologize to the the fans who take this the wrong way. You guys all know me and know the person I am. For people to say bad things about me, that sucks. But sometimes you've got to deal with bad things in life and move on."
Meanwhile, Beasley notes that since the charge would be a misdemeanor there are limits as to what the police can do. " For instance," Beasley writes, "they won't go after Pouncey, a center for the Pittsburgh Steelers, while he's in Pennsylvania. However, he would have to deal with the issue whenever it is he returns to South Florida."
Everything you need to know for Week 3 of the 2017 NFL season is here

You can find every official injury designation for each NFL team shortly after its Friday report...

The Bengals are the only NFL team Aaron Rodgers has played against without earning a win
The Raiders are heading across the country for a showdown with the Redskins

The Ravens and Jaguars head across to pond to play an early-morning game in Wembley Stadiu...

The lawsuit faces a legal hurdle, as Hernandez did not opt out of a concussion settlement with...