Steelers CB Ike Taylor on Raiders: It's scary going into the Black Hole
Steelers cornerback Ike Taylor will probably be keeping his distance from the south end zone in Oakland when Pittsburgh plays the Raiders on Sunday.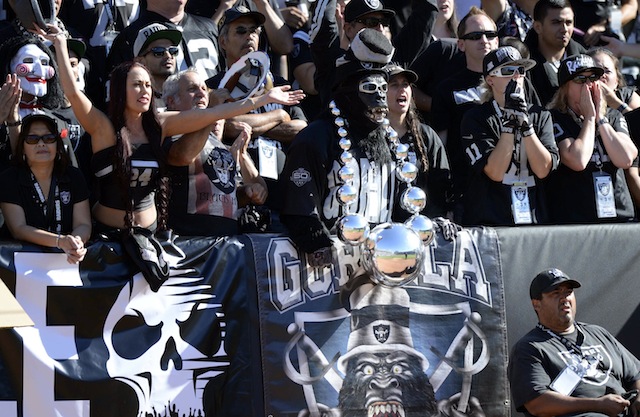 If Steelers cornerback Ike Taylor picks off a Terrelle Pryor pass and returns it for a touchdown in the south end zone at O.co Coliseum in Oakland in Sunday, don't look for Taylor to be making a Lambeau-style leap into the crowd. Mainly, because he wants to live. 
The south end zone is where the infamous 'Black Hole' is and Taylor knows all about the Raiders fans in the infamous Black Hole.  
"It's scary going into that Black Hole. They're really serious about that," Taylor said, via the Pittsburgh Tribune-Review. "You can jump into the stands if you want to, but I don't think you're going to come back out."
The Black Hole is the same group of fans that made headlines earlier this month for making an RIP banner for Manti Te'o's fake dead girlfriend. 
In Taylor's 11-year NFL career, he's never won in Oakland, going 0-2. In 2006, the Raiders went 2-14, but sure enough, they beat the Steelers in Oakland. In 2012, Oakland only won four games and of course, one of those four game came against Pittsburgh at O.co. Taylor seems to have a respect for the fans now. 
"Just going into the Black Hole, in general, you're talking about serious fans. If you don't go in wearing black and silver, you can get wind up getting hurt," Taylor said. 
Teammate Ryan Clark seems to agree, "More than anything, when you see those fans, you think about the tradition, you think about the history of the Black Hole," Clark said. "You think about the crazed, obsessed feeling those fans have towards their team. I think that's why it's a tough place to play. Once they get it rolling there, and the fans get involved, it can get loud."
So how long has it been since the Steelers came away from the Black Hole with a win? Try 1995. Pittsburgh starting running back Le'veon Bell was 3-years-old. That was the Raiders first year back in Oakland after spending 13 seasons in Los Angeles and it was also the year the Steelers returned to the Super Bowl for the first time since 1979. 
Jeff Heath played two very important positions for the Cowboys on Sunday

Mixon ripped off 48 yards on seven carries, then the Bengals never gave him the ball again

Plus everything you need to know about the game
The president continues to call out the NFL for what he says is 'total disrespect' to the...

Elliott faces a six-game suspension though it remains unclear when he'll serve it

Tampa Bay's last-ditch effort to score against Buffalo came up 71 yards short