The Pittsburgh Steelers and San Diego Chargers find themselves in very similar positions as they prepare to clash on Monday Night Football to wrap up Week 5 of the NFL season. Both are 2-2 and trail 5-0 division leaders in the AFC.
But there's one major difference: While the Bolts will have their franchise quarterback from the 2004 draft, the Steelers will continue to be without theirs, as Ben Roethlisberger remains sidelined with a knee injury.
That'll make things difficult on the road, but at least Pittsburgh is well rested after playing last Thursday. And although the Steelers lost that game to Baltimore, backup Michael Vick had a decent performance in relief of Big Ben.
Using numbers to tell the story, here's what to expect Monday night at the Qualcomm Stadium.
1. In Vick they trust?
Key stat: In five quarters of work, Michael Vick has completed 75 percent of his passes and has zero turnovers.
Really, that's all the Steelers could have hoped to get from Vick, who would have won his first start as a Steeler had it not been for two killer missed kicks from Josh Scobee last Thursday against Baltimore.
He's averaging just 5.1 yards per attempt and has yet to complete a pass beyond 20 yards, but he has done a nice job managing the game while letting stud back Le'Veon Bell (191 yards on 41 carries) do his thing.
Can Vick continue to avoid the costly mistakes that have plagued him for much of his career? Tough call, but he has fumbled twice on 87 snaps (both were recovered by the Steelers) and he has already been sacked six times on 44 dropbacks. As a result, his sack rate of 15.8 is the highest in football.
The question is whether the Chargers can take advantage. San Diego's defense has created a less-than-impressive 24 takeaways in its past 20 games and only two teams have fewer sacks during that span.
Chargers defense lack of big plays, 2014-15
Category
Total
Rank
Takeaways
24
26th
Sacks
31
t-29th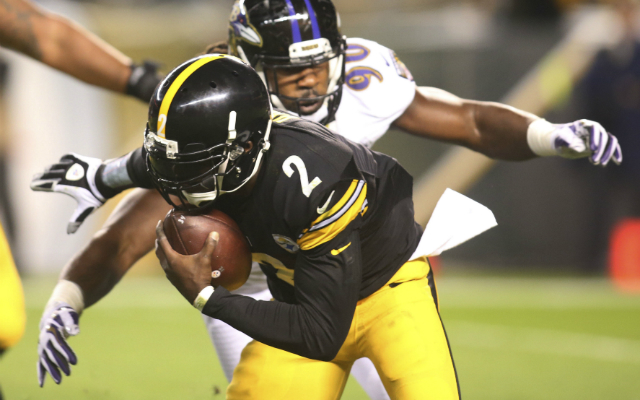 2. Shifty Chargers
Key stat: Philip Rivers has benefited from a league-high 771 yards after the catch. Only two other quarterbacks have YAC totals above 600.
Rivers is on pace to average a career-high 8.9 yards per attempt, and the Chargers rank third in football with 21 gains of 20 yards or more, which is pretty astonishing considering that Rivers ranks 25th among 35 qualified quarterbacks with an average of just 3.41 air yards per attempt.
Rivers has 17 completions for 20-plus yards, which is the fourth-highest total in the NFL. Yet only six of those have come on passes that have traveled that far. A total of 62 percent of his passing yards have come after the catch because of weapons like Keenan Allen, Danny Woodhead and Ladarius Green, who have a combined 15 broken tackles.
Lowest percentage of passing yards through the air, 2015
Rank
Quarterback
Team
Total passing yards
Yards after catch
Air yards percentage
1
Drew Brees
NO
969
658
67.9
2
Alex Smith
KC
1,110
711
64.1
3
Philip Rivers
SD
1,248
771
61.8
4
Nick Foles
STL
815
504
61.8
5
Jay Cutler
CHI
626
378
60.4
That could spell trouble for a Steelers defense that ranked in the bottom 10 in football with 83 missed tackles last season and suffered myriad losses in the offseason, but this might actually be a something-has-to-give situation because that much-maligned D has actually given up a league-low eight 20-yard gains thus far in 2015.
3. The Bell will ring frequently
Key stat: Le'Veon Bell has failed to gain yardage on only five of his 41 carries.
That's a stuff rate of 14.6 percent, and right now the Patriots are the only team in the league with a rate that is lower than that (factoring in runs from other backs, Pittsburgh's team rate is 17 percent).
Since returning from suspension in Week 3, Bell ranks second among backs to only Falcons rusher Devonta Freeman with 282 yards from scrimmage on 55 touches. Prorate his numbers for a 16-game season and he would be in line for a ridiculous 112 catches and 2,256 total yards.
And he'll have a chance to keep that ball rolling this week against a San Diego defense that has surrendered a league-high 4.9 yards per rushing attempt and has given up 71.5 passing yards per game to running backs this season, which is the fourth-worst mark in football.
4. Tight end overload?
Key stat: Ladarius Green has caught 77.8 percent of the passes thrown his way, which ranks fourth among tight ends with at least 10 catches. But now Antonio Gates is back.
Green missed Week 3 due to a concussion, but he ranks eighth among tight ends with a yards-per-reception average of 12.4 and eighth with a yards-per-game average of 58.0, which indicates the physical marvel has started to live up to his athletic abilities.
But now Gates, who had 821 yards and 12 touchdowns last season, is back from suspension, and it might behoove the Chargers to use both tight ends as frequently as possible. Not only could that help an offensive line that has been ravaged by injuries, but it might be particularly beneficial against a Steelers team that Football Outsiders ranked 28th in football in terms of DVOA (Defense-adjusted Value Over Average) when covering tight ends in 2014.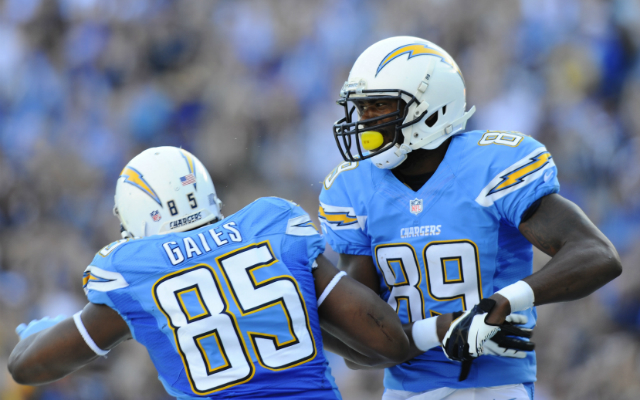 5. Cross-country conflict
Key stat: The Steelers haven't won on the West Coast since 2005.
OK, that's only a five-game sample size, but Mike Tomlin was the head coach for the past three (a loss to the 49ers in 2011 and losses to the Raiders in '12 and '13), and the streak started in San Diego in 2006, when Roethlisberger and the Steelers were defeated 23-13 by Rivers and the Chargers at Qualcomm.
On the bright side, the Steelers have won four of their past five road games overall, with the only loss coming in short-handed fashion in a tough spot against the Patriots. Meanwhile, since starting last season 3-0 at home, the Chargers have put together a lukewarm record of 4-3 in San Diego.
Prediction: Bell should have a big night, but so should Rivers and Green along with that entire San Diego offense (don't forget Keenan Allen). Vick isn't as trustworthy and although the Steelers are coming off extra rest, that cross-country trip might be too much for a somewhat depleted team. I think the Chargers win a close, exciting Monday nighter.
Brad Gagnon has covered the NFL since 2007. You can also read his work at Bleacher Report, Awful Announcing and This Given Sunday. Follow him on Twitter. Or don't. It's entirely your choice.