Steelers-Eagles takeaways: Big Ben was third best QB on the field
Mark Sanchez and Nick Foles both looked better than Ben Roethlisberger in the Eagles' 31-21 win over the Steelers on Thursday.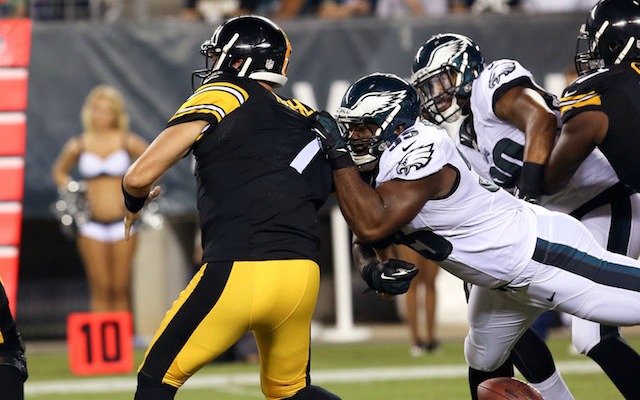 I'm not sure how everyone is going to feel about this, but we might have to stop making Mark Sanchez jokes. Sanchez has put the butt-fumble behind him and for the third week in a row he looked more than capable running Chip Kelly's offense. He arguably looked better than both Ben Roethlisberger and Nick Foles. 
With that in mind, let's get to five takeaways from the Eagles 31-21 win over the Steelers, starting with the Philadelphia quarterbacks. 
1. Sanchez was impressive, Foles kind of. I know it's the preseason and preseason doesn't matter, but I'd argue it kind of matters when you're trying to run Chip Kelly's offense. Kelly wants a precise quarterback, who makes quick, smart decisions and doesn't take sacks.
Guess who's been doing exactly all of that so far? Yup. Sanchez. Through three games, Sanchez is 25 of 31 for 281 yards and two touchdowns. That includes a 7 of 9 performance on Thursday against Pittsburgh's first-team defense. 
The eerie part is that Sanchez's preseason is playing out a lot like Foles' did last year. During his first three preseason games in Kelly's system last year, Foles went 20 of 24 for 259 yards. I'm not saying that Sanchez is going to start over Foles, but if he has to, the Eagles could be in good hands. Basically, Kelly is in a win-win situation: He either has a good backup on his hands or the best quarterback trade bait in the NFL right now. Plus, Kelly can brag about his. 
"I fixed Mark Sanchez" is the NFL equivalent of a Harvard MBA on your resume.

— Will Brinson (@WillBrinson) August 22, 2014
As for Foles, he started a little slow -- OK, a lot slow -- but caught fire in the second quarter. At one point, the Eagles quarterback threw seven straight completions. Foles finished the game 19 of 29 for 179 yards, throwing both a touchdown pass and an interception and looking somewhat erratic in the process. Holy Buttfumble! Maybe Sanchez will start at some point this season.  
Fan Tweet: 
Never thought I'd say this, but Mark Sanchez is having an awesome preseason.

— Jonah Smith (@JonahSmith22) August 22, 2014
2. Big Ben malfunctioned. When someone like Sanchez plays good in the preseason, you can say, "Well, it's only the preseason." That also applies to when someone plays bad. Steelers fans better hope that the Ben Roethlisberger who showed up on Thursday isn't the guy who shows up in the regular season. Roethlisberger was misfiring all night and had an especially bad first half, going 10 of 19 for 82 yards and also throwing a pick. 
If you want to be encouraged by the 27-yard touchdown pass to Heath Miller, you can, but keep in mind, he threw it in the third quarter against the Eagles No. 2 defense. 
Fan tweet: 
Roethlisberger is making the Eagles defense look amazing.

— Anthony Carter (@acarterAFL) August 22, 2014
3. Playing your starters is always dangerous in the preseason. The Eagles-Steelers game was exhibit A for why NFL teams want to shorten the preseason. First, LeSean McCoy was taken to the locker room for X-rays on his thumb in the first quarter. The X-rays came back negative, but if the injury had been something serious, that would have been catastrophic for the Eagles and equally bad for this guy's aspirations of winning a fantasy title. 
I swear to God, if McCoy is seriously injured, I will give up fantasy football forever.

— Evan Kenney (@EvanMKenney) August 22, 2014
Jeremy Maclin also went down, but he ended up returning to the game. Steelers linebackers Sean Spence and Jason Worilds went down, too. After the game, Mike Tomlin said Spence suffered a PCL injury, while Worilds suffered an unspecified knee injury. 
4. Steelers defense. The Steelers defense couldn't stop anyone or anything. As a team, the Eagles averaged 5.2 yards per carry on the ground and that was with McCoy not playing after the first quarter.
By the time the Steelers first team defense left the game, Pittsburgh was trailing 31-7. The drubbing left most people wondering the same thing: Is the Eagles offense that good or is the Steeler defense that bad or is it a combination of both or should we not care because it's the preseason?
Here's a list of fans wondering this: 
Really curious if the Steelers defense is this bad or if the Eagles offense is that good (both units). Think it's a mix of both.

— Connor Rogers (@CRogers_NFL) August 22, 2014
I can't tell if the #eagles are this good or if the #Steelers are just that bad. My #cowboys defense better be able to stop the run.

— Travis Harris (@TraSellsHouston) August 22, 2014
Does the Eagles offense look good or the Steelers defense look bad..... lil bit a both I would say

— Byrons $0.02 (@7Twice) August 22, 2014
5. There's no hope with dope. Well, there might be hope with dope, I don't really know and I don't want to get all preachy, but I will say this: Tomlin had an interesting way of punishing Le'Veon Bell and LeGarrette Blount, who were both cited for marijuana possession on Wednesday. 
Instead of benching them, Tomlin said after the game that their punishment was to play even more. Both running backs played into the fourth quarter. "I'd rather them play more than anticipated than to remove them from the game," Tomlin said. "So that's why we took the stance that we took tonight." 
This guy agreed with Tomlin's stance. 
Good to see Le'Veon Bell and LeGarrette Blount playing tonight for Steelers. In fact, they should be forced to play the whole game.

— Richard Anderson (@rcjanderson) August 22, 2014
Ironically, Blount was one of the few highlights for the Steelers. The running back touched the ball nine times and totaled 46 yards, including seven carries for 32 yards on the ground. 
Can the Vikings become the first home team to play in a Super Bowl?

Wondering which teams will be advancing to Super Bowl LII? You've come to the right place to...

Ken Norton Jr. didn't even last a week in San Francisco
One bettor in Vegas is going to make some serious money if the Jaguars win it all

The Jaguars, Vikings and Eagles have combined to win exactly zero Super Bowls ever

The Steelers wilted under the pressure of the postseason