Steelers match Patriots' $2.5 million offer for Emmanuel Sanders
Now that Pittsburgh has matched the Patriots' restricted free-agent tender off to receiver Emmanuel Sanders, the Steelers won't have to worry about losing him.
• 1 min read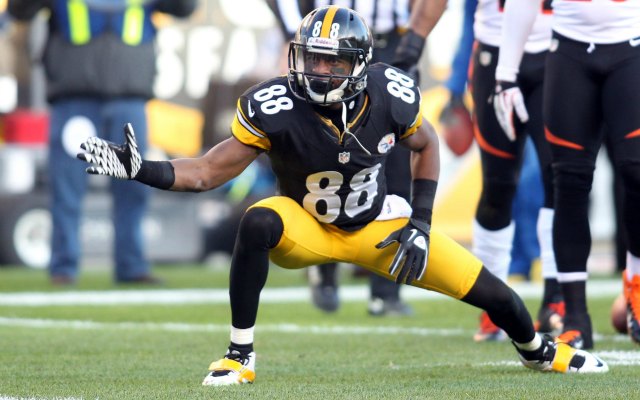 The Steelers won't have to worry about losing both Mike Wallace and Emmanuel Sanders from their receiving corps, after all. That's because the Steelers announced on Sunday that they've matched the Patriots' offer sheet for the restricted free-agent Sanders.
This means Pittsburgh, which lost Wallace to the Dolphins in free agency, will keep Sanders for the 2013 season at the $2.5 million price tag that New England offered last week.
Wrote CBS Sports' Jason La Canfora last week: "The Steelers can afford the cap hit but must decide whether it is better to take a third-round pick for a player whom they could lose for only a low compensatory pick in 2014 if he departs as an unrestricted free agent."
As La Canfora tweeted the other day, quarterback Ben Roethlisberger lobbied hard for the Steelers to match the Patriots' offer. The Steelers decided Sanders was, in fact, worth it -- considering Pittsburgh would have to play Antonio Brown, Plaxico Burress and Jericho Cotchery at receiver if it let go of Sanders, this decision makes some sense.
Before the Patriots made their offer, Sanders would have counted $1.3 million against the Steelers' salary cap for 2013. Now, he'll cost nearly twice that much, and he'll still be an unrestricted free agent after this season.
The Steelers could have let him go, and the Patriots would have had to give up a third-round draft pick in compensation. According to the latest report from the NFLPA (before this latest news), the Steelers are less than $2 million under the cap. It now appears they'll have to move around more money in order to pay its upcoming draft picks.
As for how Sanders reacted to this news? He seems fine with returning to the Steelers.


Glad the business side is out of the way. Now its back to playing football and bringing number 7 back to Pittsburgh. Love!!! #Steelernation

— Emmanuel Sanders (@E_Sanders88) April 14, 2013
Two weeks into the season, the Chiefs keep creating long touchdowns. Can they keep it up?

CBS All Access allows viewers to stream every NFL on CBS game in their local market

CBS All Access allows viewers to stream every NFL on CBS game in their local market
CBS All Access allows viewers to stream every NFL on CBS game in their local market

CBS All Access allows viewers to stream every NFL on CBS game in their local market

CBS All Access allows viewers to stream every NFL on CBS game in their local market