Steelers Observations: Big Ben, Haley relationship takes hold
Last season, Todd Haley replaced longtime Steelers OC Bruce Arians. Ben Roethlisberger didn't throw out the welcome mat, but that has changed.
• 4 min read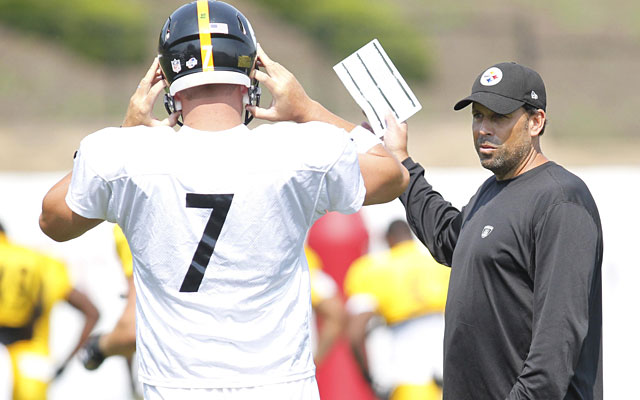 LATROBE, Pa. -- A few weeks back, a member of the Pittsburgh Steelers organization was walking through the dorms here at St. Vincent College when he noticed a sight that was unfathomable a year ago. Ben Roethlisberger, the franchise quarterback, had strolled over to the room of offensive coordinator Todd Haley, plopped down next to the coach and was drinking a cold one with him, shooting the bull and watching "Shark Week."
A year ago, it wasn't uncommon for Roethlisberger to be remote or distant to Haley, then in his first year on the job and facing a difficult challenge with Big Ben's long-time coordinator, Bruce Arians, let go much to the quarterback's dismay. Even witnessing sustained eye contact between the coach and the passer would have been a noteworthy development in 2012, with many in the organization quietly worried these two might never click.
Alas, so much has changed.
Roethlisberger has regularly sought Haley for chalk talks or explanation. Their body language has changed dramatically. Haley, who deferred to Roethlisberger when necessary last year, seems to have slowly built up his trust, and the improved dynamic between the team's offensive leaders has people in the organization breathing a collective sigh of relief.
"It's night and day, which I would expect," Haley said. "It's like any relationship, it takes time. You're not going to instantly jive, and especially in his case. He had been in one situation for a very long time and it's hard to have somebody new in the mix, and that's not always comfortable. But I thought he handled it well last year, made progress and this year we're having some fun. And that's where you start to really get good."
Despite the tension last season, Roethlisberger thrived in Haley's offense. He would occasionally make remarks that didn't exactly exude joy in what he was asked to do, and there was a passive-aggressive dance going on in meeting rooms, but before Roethlisberger's injury he was enjoying his best season and was a legit MVP candidate. He wasn't freelancing as much, and thus taking less abuse in the pocket; his decision-making was improved and his accuracy was stellar.
The Steelers were 6-3 before Roethlisberger suffered his shoulder and rib injuries. He was sixth in the NFL, completing 66 percent of his passes; was fifth in the league with a 100 passer rating (Tom Brady was at 100.1 by contrast) and Roethlisberger's 17-4 TD-INT ratio was Brady-esque (18-3). And this was without a semblance of stability at running back, with Mike Wallace regularly dropping deep balls and before the Haley-Roethlisberger relationship had blossomed.
Roethlisberger has been more vocal with teammates as well, and his leadership style has evolved some too. In the past, despite his stature in the game, Roethlisberger's deep respect for veterans Charlie Batch and Byron Leftwich resulted in him sometimes deferring to them. Now that he is the elder statesman and is even more integrated in the group, players have noticed.
Haley also has a better feel for Roethlisberger's preferences and they are working in tandem to improve the offense.
"We focus on what he does best," Haley said, "and let's scrap the stuff he doesn't like or that doesn't play to his strengths. So I think we've made a lot of progress on offense. ... It's just a totally different feel."
More observations
•This very well could be Troy Polamalu's last season here. Would not surprise me a bit. The speed, quick first step and ability to cover ground just aren't there anymore, and free safety Ryan Clark is getting up there, too. Polamalu's contract puts him among the top safeties in the game, but injuries have prevented him from playing to that level for a while now. The Steelers have had to make these tough calls in the past, and have succeeded consistently by not letting sentiment cloud their football judgment.
This situation isn't all that different from James Harrison and Casey Hampton a year ago, and many other great Steelers before that.
•Ziggy Hood remains the starter opposite Brett Keisel at defensive end but I can't help but wonder if Cameron Heyward displaces him at some point. Hood, a first-round pick in 2009, doesn't always seem like a natural fit in a 3-4, and Heyward, a first-round pick in 2011, probably could play either side.
•With Cortez Allen banged up right now, the Steelers could be vulnerable at corner. GM Kevin Colbert feels good that top cover guy Ike Taylor, though 33, "has the physique, athleticism and speed of a 26-year-old." Teams will surely try to spread them out again to create better matchups in this secondary. We'll see how they hold up in the slot.
•I could see the Steelers looking at tight ends should any of note be cut elsewhere. Heath Miller, who shined in Haley's offense last year, is on the PUP list, as is David Johnson. "We're kind of walking a tightrope there," Haley said, though David Paulson, a seventh-round pick in 2012, is opening some eyes.
•Defensive end Al Woods, whose wife is expecting a baby, could be in a battle to make the team. "This is Al's fourth year, and it's one of those things where your back is kind of against the wall in this business," Keisel said. "And you've got to make plays to keep your job. Al is at that crossroad and he needs to just keep doing what he's doing. That's what I told him."
•The Steelers conducted an evening practice on Family Night at camp, with many players having their wives and families on hand. With camp dragging on, that kept spirits high and adds life to the mundane practices, with crowds able to flock more to the evening sessions as well. "You don't want to get pancaked with your wife over there watching," Keisel said.
Beckham got injured during the 2017 preseason and then fractured his ankle after just four...

The Eagles were one of the most aggressive teams in the NFL in 2017, and it helped them win...

The ex-Dolphins offensive lineman was detained over a threatening social media post
The Titans are getting ready to unveil a uniform that won't be 'anything close' to any other...

The NFL announced on Friday that 32 compensatory draft picks have been awarded to 15 teams