Steelers QB Ben Roethlisberger plans on playing until 2020
Big Ben thinks he can keep his career ticking for another 'five, six, or seven years.'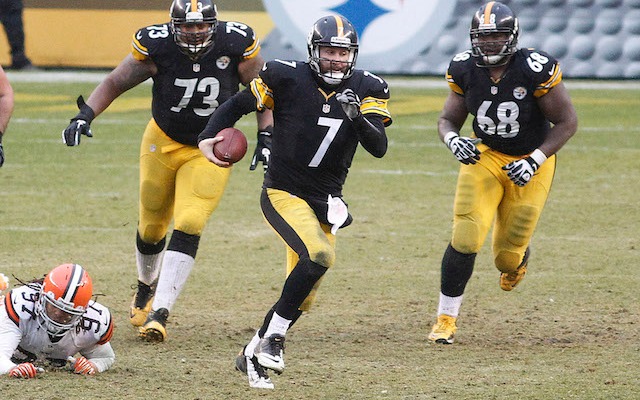 More Draft coverage: Mock Drafts | Prospect Rankings | Big Board | News
If the Steelers are planning on drafting a quarterback this year to groom as Ben Roethlisberger's eventual replacement, they may want to put those plans on the backburner because Big Ben doesn't plan on hanging up his cleats anytime soon. 
During a radio interview on Tuesday, Roethlisberger said that he thinks he has a few more years in him, "I feel like I'm in great shape," Roethlisberger told 93.7 KDKA-FM in Pittsburgh. "I think I can get five, six, seven more years out of this arm and these legs."
If Roethlisbeger can last another seven seasons in the NFL, that would mean the Steelers would be set at quarterback through the 2020 season, a time when Big Ben would be nearing his 39th birthday. 
The Steelers quarterback has two years left on an eight-year deal he signed in 2008 and he's hoping to eventually sign an extension that will keep him in Pittsburgh for those final 'five, six or seven years.'
"This is home for me and where I want to finish," Roethlisberger said. "I bleed black and gold."
The 32-year-old also mentioned that there's a small possibility an extension could be done before the 2014 seasons kicks off. "Always a chance," Roethlisberger said. "I don't know how realistic it is because they have so many other needs."
If Roethlisberger's going play until 2020, he'll have to stay healthy, something he was able to do in 2013 thanks to a Steelers no-huddle offense that limited the amount of hits he took. Big Ben played in all 16 games for Pittsburgh last season, marking only the second time he's done that in his 10-year career. 
Maybe the Steelers should run more no-huddle? 
"In the past, we have always had the no-huddle, but it was on the back burner. It was used to change the pace," Roethlisberger said. "I hope we can all agree that maybe it needs to be more involved in the offense. Maybe more of a base offense. To use it more often makes us feel more confident in it and makes us better."
Roethlisberger touched on a few other topics during the interview, including the fact that he would take Blake Bortles over Johnny Manziel if he was in charge of drafting a quarterback in the NFL Draft. You can read more about that by making your way to the link here. 
Like everything with Luck, there's some good news and some bad news with his latest health...

The top would-be free agent wide receiver is officially off the market

A billionaire owner of the Pittsburgh Steelers is hoping to buy the Carolina Panthers
The crop of free agent offensive linemen just got better

Laurent Duvernay-Tardif might have just made one of the most unique jersey requests in NFL...

The new Raiders coach offered some details on what he wants from Marshawn Lynch