Steelers season on life support after 40-23 loss to Bears
The Steelers season seems to be on the verge of spiraling out of control thanks to a one-dimensional offense and a defense that can't force turnovers.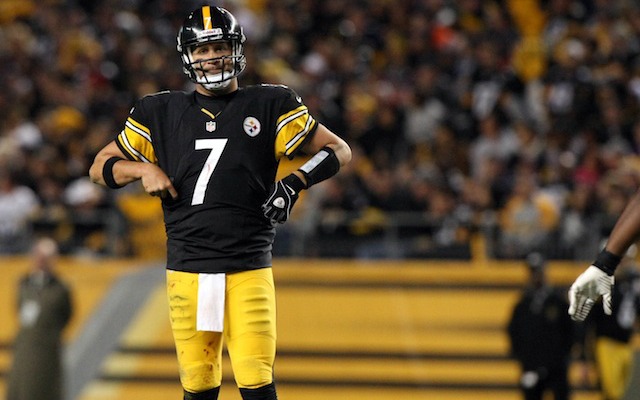 Alright everyone, I have some jaw-dropping news. No, One Direction isn't going on a 31-city U.S. tour with 50 Cent, but that would be definitely be jaw-dropping, and weird. The jaw-dropping news is this: The Pittsburgh Steelers are bad this season. I'd use the word terrible, but I think that's a compliment in Pittsburgh, you know, the whole towel thing. So lets call them horrible. The Steelers are horrible. 
Everything that's wrong with Pittsburgh was magnified 10 times over in the Steelers 40-23 loss to Chicago on Sunday. 
What do we know about the 2013 Steelers?
They can't score. Scoring is kind of important in football and the Steelers have done a horrible job of doing it this season. The offense is off-kilter and one dimensional. Opponents know they can stop the Steelers running game and the Steelers know teams know that, so Pittsburgh turns to Ben Roethlisberger and his right arm. 
How much are the Steelers counting on Roethlisberger's right arm? So much that it's almost like they've eliminated the run game from the playbook. Consider this: over the past five seasons (2008-12), the Steelers averaged 441 rushing attempts per year. This year? Through three games, Pittsburgh's on pace for 277 carries. 
OK, so that's enough complaining about the Steelers offense. Lets complain about the defense, you know, the one that can't force any turnovers. You've probably heard the saying, 'whoever wins the turnover battle will win the game.' Well, there's a reason that saying exists. 
That saying is also a large part why the Steelers are 0-3. Pittsburgh has lost the turnover battle in all three games this season and it's turnover margin is negative-9. The Steelers turned the ball over five times against the Bears and forced zero turnovers. 
Zero's been a nice theme for the Steelers defense, a defense that's produced zero turnovers this season. Pittsburgh is one of only two teams in the NFL -- along with Oakland -- that has yet to intercept a pass this season. However, the Raiders have only played two games and they could intercept a pass on Monday against Denver. 
Basically, the Steelers are trying to win with a one-dimensional offense and a defense that can't force any turnovers, that's not a recipe for success.
There is some good news for the Steelers though and the good news is their schedule. Here's Pittsburgh's next four games: the Vikings, the Jets, the Ravens and the Raiders. All winnable. And also, all losable. 
You know what? Lets look at the four games after that too: the Patriots, the Bills, the Lions, the Browns.
If the Steelers can navigate though those eight games 6-2 or 5-3, they'll head into Week 13 back in contention. It's not time to press the panic button in Pittsburgh, but your fingers should be on it, tapping it hard.
Finally, for what it's worth, lets mention the last Pittsburgh team to start 0-3: the 2000 Steelers. That team reeled off five straight wins after their 0-3 start and finished 9-7, but missed the playoffs. 
Larry Hartstein is on an 8-2 NFL run and gives his best three-team NFL parlay for Week 12

Plus baby names, kicker issues and other things of interest from NFL on Thanksgiving

It was foretold, and King delivered
Kareem Hunt has fallen off after a hot start, but he can get back on track against Buffalo

A Dallas Cowboys Salute to Service thermal pullover makes for the best early Black Friday...

It's time to hook up that jersey shirt of your favorite NFL player with some Black Friday...