Steelers 'ticked off' about missing playoffs, it shows in practice
The Steelers are coming off a non-playoff year. And Pat Kirwan says from the president to the equipment men, they are angry, and that's dangerous.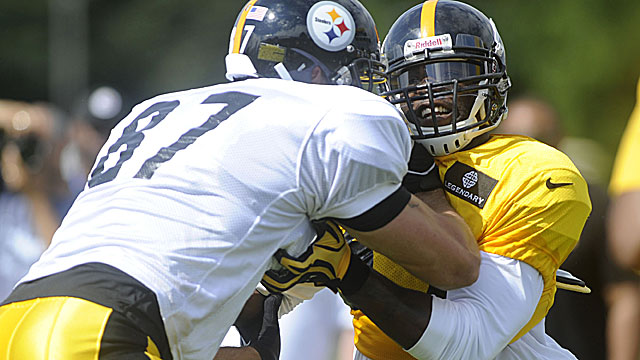 LATROBE, Pa. -- The Steelers have been coming to Saint Vincent's College for 48 years and have no plans of changing their preseason ritual, according to team president Art Rooney II.
The little college stadium the team practices in is called Chuck Noll Field, and close to 10,000 fans showed up to watch the team scrimmage Friday night. Every local establishment is loaded with Steelers pictures, autographed footballs and memorabilia. Just about every fan who shows up for a practice or Saturday night's intrasquad scrimmage will be wearing Steelers gear -- and these fans know football.
As usual, the Steelers rolled out the deluxe treatment for me when I arrived and the list of people who spent time talking Steelers football was exceptional. I talked with chairman Dan Rooney, GM Kevin Colbert, head coach Mike Tomlin, special teams coach Danny Smith, and the following players: Jarvis Jones , Brett Keisel , David DeCastro , Larry Foote and Lamar Woodley.
This team is as one player described it "quietly ticked off about last year and plan on doing something about it."
Things I saw or heard on my camp visit
1. CB Cortez Allen will be out about two weeks and it gives Curtis Brown and William Gay a chance to compete for the third corner spot as rotating starters. Brown missed a big tackle on LeVeon Bell in the scrimmage and Gay struggled out on the outside in coverage.
2. Even though the Steelers are hurting at tight end and fullback with Heath Miller probably out for the first six weeks of the season and David Johnson iffy to be back on time, the team still employed it's 22 personnel and ran the ball against their own defense fairly well. Don't be surprised if the club picks up a tight end after the final cuts around the league.
3. Jarvis Jones is taking reps with the first team defense and looks ready to go vs. the run. He told me he is doing a lot more pass drop work than he ever did in college but it is coming along.
4. The Steelers found a big hitter in fourth-round pick safety Shamarko Thomas . Veterans like Larry Foote acknowledged to me that he works like a Steeler and it showed up in the scrimmage.
5. The interesting thing about Steve McLendon replacing Casey Hampton is the added quickness it gives the position. Dick LeBeau will use him in many different ways, and as one coach said to me, "Steve could play end in our scheme."
6. Plaxico Burress may have lost a step or two with age but he looks in great shape and is still a big threat in the red zone. He appears to be a situational player and the plan is for rookie Marcus Wheaton to be the third receiver. GM Kevin Colbert called Wheaton "exciting and a guy that can beat the press."
7. LaRod Stephens-Howling returned home to his Pittsburgh roots and dazzled the hometown crowd with his explosive runs in the scrimmage. He makes guys miss and is an excellent complement to Bell and Dwyer.
8. The most valuable unsung hero on this team may be backup offensive lineman, Kelvin Beachum a seventh-round pick in 2012. He is the first backup to all five line positions. He was working at center to round out his ability to go in at any spot.
9. The Steelers will consider adding an offensive lineman either through trade or at the last cuts. As Kevin Colbert said, "there will be close to 200 linemen released before the final rosters are set and we will look at all of them."
10.I see a lot of teams practice on this camp tour and one thing that struck me about the Steelers is quarterbacks don't wear red shirts at practice. Defensive players are smart enough not to unload on them but the signal callers don't stick out in different color jerseys warning defensive players to stay away.
The hot storylines from camp
1. Replacing the key starters that left: Four solid starters from the 2012 team are no longer here and the challenge to replace them is happening right now. Head coach Mike Tomlin was quick to point out to me that the replacements may lack starting experience but in all four cases the men being asked to step up have been in the program for a while and are well known. Cortez Allen will replace CB Keenan Lewis and the club feels good about the move. Steve McLendon replaces Casey Hampton and will bring more quickness and pass rush to the defense. Emanuel Sanders steps in for Mike Wallace and may not have the speed of Wallace, but he is a savvy route runner. Finally, Jason Worilds and Jarvis Jones are battling for the job at ROLB vacated by the departure of James Harrison . As one old-time Steelers scout said to me, "we have let many outside linebackers go over the years and we always have a guy step up."
2. Is this the year they return to the run game? Last year, the preseason hype was the return to the run game. When the season ended, they were 26th in rushing and if you throw out QB scrambles and wide receiver reverses, the team ran the ball 23 times a game. That number has to go up closer to 29-30 times a game. The offensive line is built to run block and the addition of rookie LeVeon Bell gives them a chance to get it done. The Steelers may not be a top-10 run team but I would be surprised if they weren't in the top half of the league this year.
3. Where are the critical depth issues? Every team has depth issues and this team is no different. After sitting down with GM Colbert, it is clear the Steelers are looking for offensive line depth, tight end help and possibly some secondary backups. The club doesn't have the cap space to go out and make a big trade but will be looking at the waiver wire every day. As Colbert said to me "we never try to win training camp and we are coaching our guys first but we will look."
4. Rebounding from a non-playoff year: Not many things in the NFL are more dangerous than an angry Steelers team coming off a non-playoff season. From president Art Rooney down to the equipment men, this group is quietly angry. Mike Tomlin told me "we don't like to look back as we get ready for this new season, but if it serves as motivation, then so be it." Mr. Rooney said he noticed a renewed work effort in the offseason. Larry Foote said "I was pissed off after last year." LaMar Woodley said "we all know what has to be done around here and it will get done." Don't expect much predicting or players firing off warning shots. This team is going to do its talking on the field. I asked one player what he thought of people predicting the team would come in fourth in the division. His answer was unprintable.
5. What is foremost on the minds of the defense: Steelers fans love to say we had the No. 1 defense in the NFL last year, but it is clear after talking with the players and coaches that turnovers were far from up to par. Last year, the defense recovered 10 fumbles and had 10 interceptions for a grand total of 20. A team like New England had 41 turnovers. In 2010, the Steelers had 35 takeaways on defense. In the last two years combined, they have 35 takeaways. Coach Tomlin said he stopped counting the dropped interceptions last year.
6. Position battles: There are four interesting battles going on at camp. The starting running back spot is being contested by Jonathan Dwyer and LeVeon Bell. I think the rookie wins it. The third wide receiver behind Emmanuel Sanders and Antonio Brown is up for grabs with rookie Marcus Wheaton looking like he might have the inside track against Jerricho Cotchery and Plaxico Burress. The seventh lineman is critical especially when you look at the history of the Steelers health on the offensive line. Right now, Guy Whimper is leading because he is a veteran, but his competition may not be on the roster yet. Finally the ROLB job is between Jason Worilds and rookie Jarvis Jones. It may be the end of the season before we determine which linebacker player the most.
7. Guys on the bubble: Any time a team has a number of older players and some restrictions in the salary cap there will be good veterans on the bubble. The Steelers have nine players with 10 or more years of experience and three more with nine years. There is a growing effort to get younger. Bubble guys could include WRs Jerricho Cotchery, Plaxico Burress, RB Baron Batch , QB John Parker Wilson , and punter Brian Moorman .
8. Prediction: In June, I said the Steelers were my pick to go to the AFC Championship Game against the Denver Broncos, most likely as a wild card team. After visiting with them and watching the work they put in and the attitude, I will stick with my prediction.
Romo was at it again in Week 3, diagnosing defenses and calling out the plays before the s...

Washington's star cornerback is not a fan of the president and his incendiary rhetoric

Joe Lockhart, speaking against Trump, called Sunday 'an important day in the NFL'
Week 3 in the NFL was absolutely bonkers, and Twitter overreacted as usual

The Hall of Famer and former Bills great also thinks Trump needs to quit Twitter

Here's an early look at the lines for all NFL games being played in Week 4