Steelers training camp: No-huddle, big nickle will be keys to reaching 10-6
The Steelers are coming off two 8-8 seasons, but a healthier Ben Roethlisberger, more no-huddle and an infusion of young talent could bring a return to glory.
More NFL: Photos |   Videos & GIFs |  Stories | Training Camps | Johnny Manziel watch
The Steelers are 16-16 over the past two years but went 6-3 down the stretch last year and are feeling pretty good about themselves. Pittsburgh lost its dominant defense image last year and is trying to regain it with a big youth movement.
On offense Ben Roethlisberger looks in great shape and ready to take off from where they left off last year. The 32-year-old QB is now in control of the offense and it should pay big dividends.
What to expect from the offense
The Steelers will be serious players in the no-huddle offensive game. Last year it was a major factor in their 6-3 finish and it will grow this year. Pittsburgh now has a big one-two punch in the running game with Le'Veon Bell and LeGarrette Blount. Bell had 1,259 yards rushing and receiving last year in 13 games and if healthy he will crack the 1,500 yard mark this year. Blount is leaner and in great shape physically and mentally. Blount ensures that if Bell isn't 100 percent the run game rolls on.
As for the passing game it all revolves around protecting Roethlisberger. Art Rooney pointed out to me that Big Ben was only sacked seven times in the last seven games mostly because of the shotgun, no-huddle offense. Ben also threw 15 touchdowns in those seven games and I expect the passing game to be just as effective this year.
The addition of offensive line coach Mike Munchak can't be underestimated when it comes to the zone-run scheme or pass protection. There was improvement right away and I was impressed with the group even against Dick LeBeau's defense in a full contact scrimmage.
What to expect from the defense
I got a chance to talk with defensive coordinator Dick LeBeau about his 2014 defense and he wanted to discuss going slowly with the young players, particularly rookie Ryan Shazier.
LeBeau described his prized rookie as "off the charts" but wanted to resist the temptation to do too much with him early even though he has what it takes to do so much. The Steelers have eight new starters since the 2012 roster and there is youth and speed on the field now.
I think the "Big Nickel" package will play a prominent role in the 2014 game plan. The Steelers really have three safeties who need to be on the field. Troy Polamalu (who intercepted Big Ben in the scrimmage), acquired veteran Mike Mitchell and emerging star Shamarko Thomas can all play and are physical enough to play near the line of scrimmage when formations dictate.
Expect the Steelers to move linebackers around and not have them play their normal spots. Shazier will go from ILB to outside pass rusher, Jarvis Jones will jump from the right side to the left side and as soon as all the youngsters can handle the mixed fronts we will see the magic of the LeBeau package.
Rookie report
1. Ryan Shazier will be a candidate for Defensive Rookie of the Year and should put up big numbers.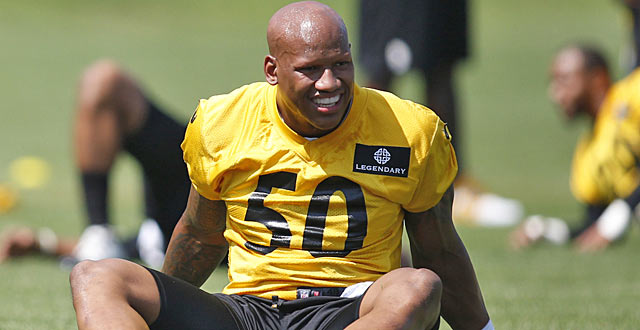 2. DL Stephon Tuitt should find his way into the starting lineup, and as Mike Tomlin said, "He may have come out as a junior but he was a three-year starter."
3. RB Dri Archer is so quick that the team will find packages for him on offense and he could become the explosive kick returner they need.
4. WR Martavis Bryant really jumped out at me during practice. He has had a few injuries in camp but was a full go for the scrimmage and made the best of it. I believe he will make the team.
5. CB Shaq Richardson is buried on the roster for the time being.
6. Jordan Zumwalt is nursing an injury but has a chance to be a backup linebacker with the versatility to play inside or outside.
7. Wesley Johnson is a well-built offensive lineman competing to make the team.
8. Daniel McCullers is a massive nose tackle LeBeau described as a guy who can't be moved. He is large and able to keep blockers off the inside linebackers. He isn't a lock to make the opening day roster but there is enthusiasm about him.
9. Rob Blanchflower is a tight end on the bubble who might get to the PSQD.
Biggest concerns
1. Is there enough depth on the offensive line? Once the Steelers went to the no-huddle offense the sacks dropped way down and the run game improved. Those two things help an offensive line but the team needs Mike Adams, Cody Wallace and Guy Whimper to be great backups or this team could struggle as it has in past years.
2. Who wins the defensive end job opposite Cameron Heyward? Right now veteran Cam Thomas is battling rookie Stephon Tuitt. The team will be better if Tuitt emerges as a solid starter.
3. Can the Steelers defense get back to creating turnovers and stopping the run? The Steelers were 21st against the run and 20th in turnover ratio, which is a long way from Steelers football. But the injection of young, fast defenders should make a difference and LeBeau seems excited about the prospects of fixing the problems.
4. Can the offense replace the production of Jerricho Cotchery and Emmanuel Sanders? Sanders and Cotchery caught a combined 113 passes and 16 touchdowns. After visiting camp, Markus Wheaton and Lance Moore appear to be the front runners to do the job. Keep an eye on rookie Martavis Bryant who looked good in the team scrimmage and is a deep threat.
Players on the bubble
1. Darrius Heyward-Bey is here on a trial basis and the team should only keep five wide receivers. With Antonio Brown, Markus Wheaton, Justin Brown, Lance Moore, Martavis Bryant and Derek Moye it will be tough.
2. Will Allen is a good safety but the team has Troy Polamalu, Mike Mitchell, Shamarko Thomas and seems to like Robert Golden.
Season prediction
The Steelers are attempting to carry over the strong finish from last year and they are excited about all the young talent on the roster. Last year they averaged 8,000 no-shows in the stadium, which is unheard of in Pittsburgh. Some claim it was the weather but others said it was a second 8-8 season. No matter, it is time to get back to Steelers football, and after this visit I think they are bound for a 10-6 season and a heated battle for the division title.
Steelers coach Mike Tomlin wanted the Patriots and now he's got them

Brady has been reluctant to speak about his friendship with the president since the electi...

The Chargers, after starting 0-4, can take first in the AFC West with a win Sunday
The Fins wide receiver took a shot at the Pats with his touchdown celebration

Former Atlanta sportswriter Larry Hartstein knows the Falcons and locked in a pick for 'Monday...

The Patriots losing might be bad for New England but its great for watching Bill Belichick