Stephen Ross pledges at least half of his estate to charities
Dolphins owner Stephen Ross has joined with 113 other rich people to pledge at least half of their estates to charity when they die.
• 1 min read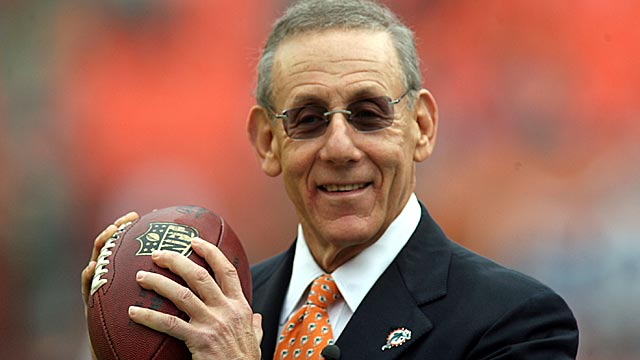 Think what you will about Dolphins owner Stephen Ross, but you can't say the guy isn't charitable. The billionaire who emasculated Tony Sparano while chasing Jim Harbaugh and then blamed Sparano for the organization's ills and who ripped the Florida legislature for not allowing a stadium renovation bill to come up for a vote when he himself won't pay for his stadium's renovations has joined the "Giving Pledge." That means he is following the lead of other billionaires and planning to give away half or more of his estate to charities after he dies.
In Ross' case, a substantial portion of his $4 billion empire will be used to help people in need, which is what he did six months ago when he pledged $500,000 to Hurricane Sandy relief.
"As a very young boy my uncle taught me a valuable lesson -- the importance of giving back and using your impact and influence to make the world a better place," Ross said in a statement. "Although I have generally conducted my philanthropic efforts privately, I hope through publicly committing to the Giving Pledge that I will inspire others to commit to significant philanthropy the way my uncle inspired me. I am delighted, grateful and honored to join this important effort in the hope that collectively we can leave the world a little better place than we found it."
Ross, 72, joins 113 other pledgers who range in age from 28 to 97. According to the Giving Pledge, "pledgers give to a wide variety of causes, such as education, health, medical research, social services and the environment."
No matter what you think of Ross and his organization, we say bravo to him for his charitable ways.
The former Ravens linebacker initially retired in January but tried to find a job this sum...

Kizer respects his elders, especially elders protecting his blind side

The Patriots' top pick likely won't play a down for them in 2017
Chris Long put his arm around Malcolm Jenkins during his teammate's protest on Thursday

Nick Folk had some trouble putting the ball through the uprights against Jacksonville

If this fan was general manager of the Jaguars, Blake Bortles probably wouldn't be quarter...