Stephen Ross pledges at least half of his estate to charities
Dolphins owner Stephen Ross has joined with 113 other rich people to pledge at least half of their estates to charity when they die.
• 1 min read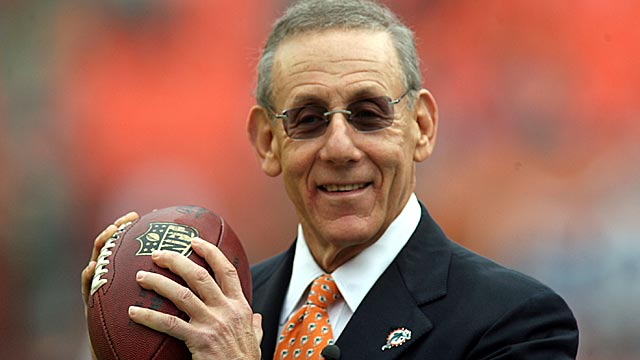 Think what you will about Dolphins owner Stephen Ross, but you can't say the guy isn't charitable. The billionaire who emasculated Tony Sparano while chasing Jim Harbaugh and then blamed Sparano for the organization's ills and who ripped the Florida legislature for not allowing a stadium renovation bill to come up for a vote when he himself won't pay for his stadium's renovations has joined the "Giving Pledge." That means he is following the lead of other billionaires and planning to give away half or more of his estate to charities after he dies.
In Ross' case, a substantial portion of his $4 billion empire will be used to help people in need, which is what he did six months ago when he pledged $500,000 to Hurricane Sandy relief.
"As a very young boy my uncle taught me a valuable lesson -- the importance of giving back and using your impact and influence to make the world a better place," Ross said in a statement. "Although I have generally conducted my philanthropic efforts privately, I hope through publicly committing to the Giving Pledge that I will inspire others to commit to significant philanthropy the way my uncle inspired me. I am delighted, grateful and honored to join this important effort in the hope that collectively we can leave the world a little better place than we found it."
Ross, 72, joins 113 other pledgers who range in age from 28 to 97. According to the Giving Pledge, "pledgers give to a wide variety of causes, such as education, health, medical research, social services and the environment."
No matter what you think of Ross and his organization, we say bravo to him for his charitable ways.
Our computer model simulated every Week 3 NFL game 10,000 times with very surprising resul...

Without Nelson, the Packers' offense struggled in a loss to the Falcons

Kizer had to leave last Sunday's game after experiencing a migraine
Griffin says Moss is lying about the QB being happy when Shanahan was let go

LSU's star defender returned from injury this weekend and highlights our 2018 Draft Top 20

McCarron could gain a lot from a Dalton benching, but he's sticking up for the Bengals' embattled...