Steve Smith (knee) questionable; Panthers' Rivera sounds optimistic
As Panthers receiver Steve Smith continues to battle with his knee, he's listed as questionable to play vs. San Francisco.
• 1 min read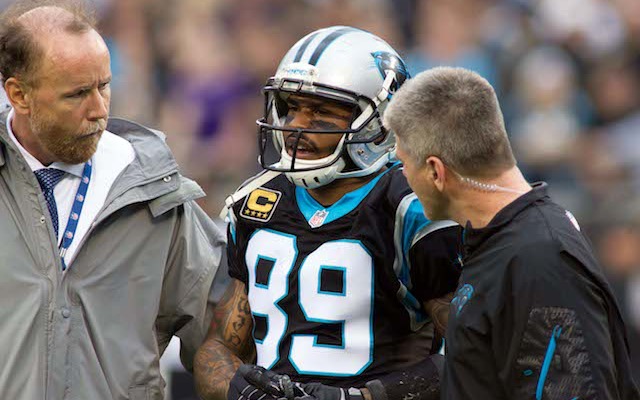 First, Panthers receiver Steve Smith, battling with a knee injury, said Wednesday he was 71 percent healthy. Then, bad news struck Thursday when he admitted his body was only feeling 57 percent. On Friday, he admitted he made up those numbers all along, but here's where Smith and the Panthers stand as they head into Sunday's playoff game vs. the 49ers.
He's officially 50-50.
As the team unveiled its injury report for the week, Smith -- who has been limited in practice with the sprained PCL that kept him out of the regular-season finale -- is listed as questionable for the game.
Though Smith randomly picked numbers, he did say this Thursday: "It didn't go as well as I thought it would. It will be all right. A little treatment. I did everything. I just probably overdid it."
But Friday, coach Ron Rivera sounded a little more optimistic about Smith's future.
"My gut is he will play," Rivera said, via USA Today. "Until we shut him down with the rain, he was moving around well."
That's what Smith was saying early this week.
"It's not about, 'Can I go?' It's 'how confident do I feel when I am going?'" Smith said. "I will play Sunday. It's about how much of that do I don't worry about the knee. That's when the confidence increases."
Follow Josh Katzowitz on Google+
Plus the Saints are rolling in the NFC South, the Falcons are in trouble, the Bears are weird...

Here are the Week 7 grades for every team that played on Sunday

It was the Falcons' first score against the Patriots in over 90 minutes of game time
Hooker, the 15th pick in the draft, was in the middle of a stellar rookie year

Plus Jordy Nelson's lonely pre-game, Jamal Adams' Milly Rock, Le'Veon Bell's stiff arm and...

Justin Timberlake is headed back to perform at the Super Bowl for the first time in 14 yea...