Steven Jackson to Rams WR Brian Quick: 'I'm challenging him right now'
As the Rams get set for the six-week break between mini-camp and training camp, Rams running back Steven Jackson was quick to tell rookie receiver Brian Quick that he must not go on vacation.
• 2 min read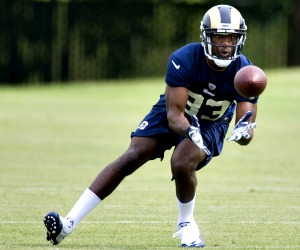 Quick has plenty of work to do, one of his teammates says. (US Presswire)
Steven Jackson
isn't worried so much about helping ease the
Rams
second-round draft pick into his new
NFL
world. Jackson won't coddle him, won't pat him on the shoulder if he screws up his assignment.
No, Jackson, entering his ninth season in the league, is more worried about winning, and on Tuesday, he thought second-round pick Brian Quick (No. 33 overall from Appalachian State) should learn just how focused Jackson is on that goal. After all, the Rams have gone 37-91 since drafting him with the No. 24 overall pick in 2004, and frankly, it seems Jackson is simply tired of losing.
And it's not just opponents Jackson is targeting. It's Quick, as well.
"I'm sure (receivers coach Ray) Sherman will get him right," Jackson said, via the
St. Louis Post Dispatch's
Bryan Burwell. "But over the next six weeks, he's going to have to work real hard to be prepared for a long season, because we're going to lean on him, lean heavily on him. He's a high draft pick and we're going to need someone on the outside to make plays and I'm challenging him right now because we're going to need him to prepare himself over the next six weeks to be a standout on this team."
And then Jackson played the Division I FCS card.
"He's a big target, but he has a little ways to go," Jackson said. "What I mean by that is he's coming from Appalachian State. Nothing against it, but it's a (big) difference. It's a difference coming on this field and it's a difference having the mentality of a pro."
Burwell breaks down those quotes by writing that this wasn't some spur-of-the-moment discussion with Jackson. He wasn't spouting rhetoric for the sake of doing so. Burwell writes that this was intended to be a message "delivered loudly and clearly" so that Quick gets to work during the six weeks between mini-camp and training camp.
At the same time, Jackson apparently wasn't trying to insult Quick either. The App State remark was a bit condescending (after all, Jerry Rice didn't go to a Division I powerhouse, and he turned out to be a decent player), and yet, Quick seemed to handle the public challenge well.
"I'm in my playbook," Quick said. "Every day I come out here to get better and I want to be that guy who can help the team. If that's what it takes, if (Jackson) wants to challenge me, I'm going to step up to the plate and make plays and do the things I need to do to help the team and be a better player."
I counted six clichés in that sentence, so it's clear the NFL media training is already paying off dividends for Quick. Jackson is hoping that his challenging words make the same kind of impact.
For more NFL news, rumors and analysis, follow @EyeOnNFL on Twitter, and subscribe to our Pick-6 Podcast and NFL newsletter. You can follow Josh Katzowitz on Twitter here: @joshkatzowitz.
Takk McKinley re-activated his social media accounts because you can only watch so many puppy...

Andy Dalton doesn't seem too concerned about being replaced

The Patriots coach and quarterback quietly donated some serious money to Watt's fund
The top pick in the 2018 draft will come from Oklahoma State but it's not QB Mason Rudolph

Nick Kostos won big on Monday nights last season and gives his best 3-team NFL parlay for Week...

While the offense in Pittsburgh tries to gain traction, the defense has looked great