Stevie Johnson says he's not quite 'clicking' with Colin Kaepernick yet
Former Bills receiver Stevie Johnson says he's building chemistry with Colin Kaepernick, but the two aren't quite 'clicking' yet.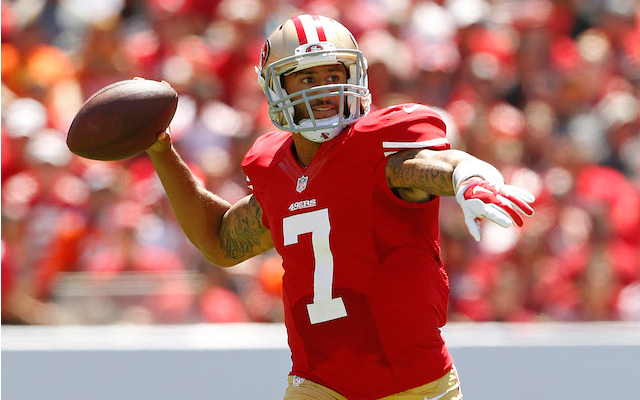 Colin Kaepernick and Stevie Johnson have been teammates since May 9, when the 49ers sent a fourth-round pick to Buffalo in exchange for the former Bills receiver.
Despite the fact that Johnson and Kaepernick have had over three months to work together, both players admitted this week that they're not on the same page yet. 
"There are times that he's going to make a move on a DB, and you have to be ready because he's also making a move that you have to see," Kaepernick said of Johnson, via the Sacramento Bee. "So I think that's something where it took a little bit longer just to get used to his body language because he had some unorthodox things that he does. But ultimately his separation is there, he's getting open."
Johnson admits that his playing style can be 'unorthodox,' which in turn can make it take longer to build chemistry with a quarterback. 
"I've pretty much taken it upon myself to be unorthodox to make up for some things that other receivers have -- you know, speed and quickness," Johnson said. "I set up my routes a little different. It's a gift and a curse. Because it can take some time to build chemistry with quarterbacks. But at the same time, the gift is that you know you can get open."
Getting open won't doing anything for Johnson if Kaepernick can't get him the ball. The former Bills receiver says that although he's not 'clicking' with his quarterback, they're almost there. 
"I would say we're getting close," Johnson said. "I can't say we're completely on. It's only been a couple months. It's getting there. I can't say we're clicking right now but we're getting there."
Johnson and Kaepernick have less than two weeks to start 'clicking,' the 49ers open the regular season on Sept. 7 at Dallas. 
There are apparently some people within the Packers who are worried about him playing

Reports of Tom Brady's demise are premature

Emory Hunt has his finger on the pulse of the Boys and locked in a strong pick for 'Sunday...
Larry Hartstein has his finger on the pulse of the Bears and has a strong pick for Bears-Lions...

The Pittsburgh linebacker was placed on injured reserve Tuesday

Steelers coach Mike Tomlin wanted the Patriots and now he's got them