Strahan, Bettis, Dungy, Marvin Harrison among HOF semifinalists
Here are the 25 semifinalists for the 2014 Pro Football Hall of Fame class.
• 1 min read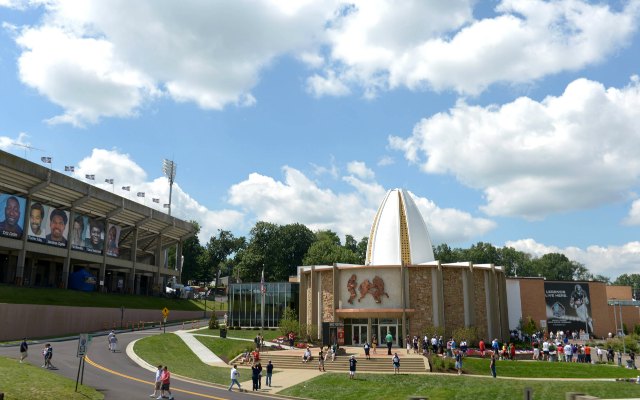 In September, 126 modern-era football players made the initial list for the class of 2014 Pro Football Hall of Fame. On Wednesday, it was whittled down to a semifinal list of 25.
Here are the 25 that survived the cut, via the HOF.
Morten Andersen, K -- 1982-1994 New Orleans Saints, 1995-2000, 2006-07 Atlanta Falcons, 2001 New York Giants, 2002-03 Kansas City Chiefs, 2004 Minnesota Vikings
Steve Atwater, S -- 1989-1998 Denver Broncos, 1999 New York Jets
Jerome Bettis, RB -- 1993-95 Los Angeles/St. Louis Rams, 1996-2005 Pittsburgh Steelers
Derrick Brooks, LB -- 1995-2008 Tampa Bay Buccaneers
Tim Brown, WR/KR -- 1988-2003 Los Angeles/Oakland Raiders, 2004 Tampa Bay Buccaneers
Don Coryell, Coach -- 1973-77 St. Louis Cardinals, 1978-1986 San Diego Chargers
Roger Craig, RB -- 1983-1990 San Francisco 49ers, 1991 Los Angeles Raiders, 1992-93 Minnesota Vikings
Terrell Davis, RB -- 1995-2001 Denver Broncos
Edward DeBartolo, Jr., Owner -- 1977-2000 San Francisco 49ers
Tony Dungy, Coach -- 1996-2001 Tampa Bay Buccaneers, 2002-08 Indianapolis Colts
Kevin Greene, LB/DE -- 1985-1992 Los Angeles Rams, 1993-95 Pittsburgh Steelers, 1996, 1998-99 Carolina Panthers, 1997 San Francisco 49ers
Charles Haley, DE/LB -- 1986-1991, 1999 San Francisco 49ers, 1992-96 Dallas Cowboys
Marvin Harrison, WR -- 1996-2008 Indianapolis Colts
Joe Jacoby, T -- 1981-1993 Washington Redskins
Jimmy Johnson, Coach -- 1989-1993 Dallas Cowboys, 1996-99 Miami Dolphins
Walter Jones, T -- 1997-2008 Seattle Seahawks
John Lynch, FS -- 1993-2003 Tampa Bay Buccaneers, 2004-07 Denver Broncos
Karl Mecklenburg, LB -- 1983-1994 Denver Broncos
Andre Reed, WR -- 1985-1999 Buffalo Bills, 2000 Washington Redskins
Will Shields, G -- 1993-2006 Kansas City Chiefs
Michael Strahan, DE -- 1993-2007 New York Giants
Paul Tagliabue, Commissioner -- 1989-2006 National Football League
Aeneas Williams, CB/S -- 1991-2000 Phoenix/Arizona Cardinals, 2001-04 St. Louis Rams
Steve Wisniewski, G -- 1989-2001 Los Angeles/Oakland Raiders
George Young, Contributor -- 1968-1974 Baltimore Colts, 1975-78 Miami Dolphins, 1979-1997 New York Giants, 1998-2001 National Football League
Eventually, this list will get knocked down to 15 finalists (plus two senior nominees in Ray Guy and Claude Humphrey), and the HOF voters will discuss and decide in New York City on Feb 1. The election results will be announced that night.
Follow Josh Katzowitz on Google+
The Oklahoma quarterback isn't exactly being discreet about where he wants to begin his NFL...

No one was hurt, but Fournette's Mercedes lost a bumper

It might be time to begin worrying about the Patriots quarterback
The Patriots are still odds-on favorites, but the other teams are closing in

SportsLine tapped into its Vegas sources to see who professional bettors like Sunday

Philadelphia readies itself for a massive celebration if the Eagles advance to the Super B...