Sunday 5: Questions about Chiefs; running QBs start getting job done
Questions are raised (including a red flag above the red-hot Chiefs), the running QBs taking flight and more QBs sidelined. Let's get into Five from Sunday.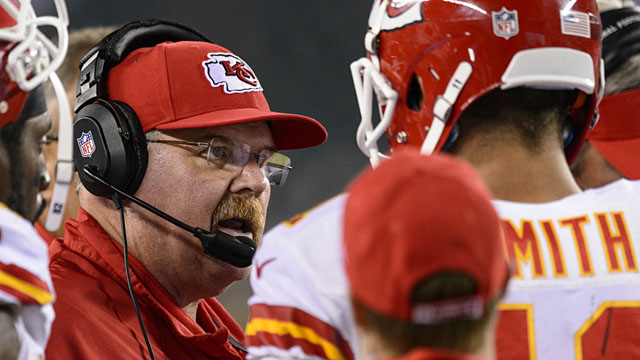 With Week 7 almost in the books, questions are raised (including a red flag above the red-hot Chiefs), the running QBs taking flight and more QBs sidelined. Let's get into Five from Sunday:
1: Week 7 raises questions
We love what what Andy Reid has accomplished, getting the Kansas City Chiefs to 7-0 -- the NFL's final undefeated team after Denver's loss Sunday night at Indy.
But in four of those wins, QB Alex Smith has not thrown a touchdown pass -- including Sunday's near-miss against the Texans. In fact, Smith has not thrown a TD pass in his past three games.
It's hard to imagine an NFL QB could throw 104 consecutive passes over three weeks, win all three games and never connect for a score. Indirectly related, the Chiefs' scoring is on a steady decline over the past three games (26, 24, 17). Can the Chiefs continue winning with those two factors at work?
Question No. 2: The Dolphins lost their third straight. Is the pounding taken by Ryan Tannehill affecting his game? He's been sacked 26 times (the most in the NFL) and that equates to a sack every 8.5 pass attempts.
Question No. 3: Check the season Jets rookie QB Geno Smith is having -- he never wins two in a row (then again, he never loses two in a row). Week 1: Win over Tamps Bay. Week 2: Lost to New England. Week 3: Won over Buffalo. Week 4: Lost to Tennessee. Week 5: Beat Atlanta. Week 6: Lost to Pittsburgh. Week 7: Beat New England in overtime. Is a loss coming up at Cincinnati?
2: Give them the green light
Young running quarterbacks had been relatively heading into the week, but it appears coaches want them to get the running dimension working again.
Washington's Robert Griffin III (11 carries for 84 yards, long gain of 23 yards), San Francisco's Colin Kaepernick (11 carries for 68 yards, including a 20-yard scamper) Geno Smith (six carries for 32 yards, including a 14-yarder), Indy's Andrew Luck (four carries for 29 yards, long gain of 11 yards), Seattle's Russell Wilson (eight carries for 29 yards, including an 11-yard gain) and Carolina's Cam Newton (10 carries for 26 yards, including a 13-yarder) not only let their feet do some work -- all of them emerged victorious.
With RG3 and Kaepernick again running some option from the pistol, and the others escaping collapsing pockets, defenses will have another adjustment to make when facing this wrinkle.
3: Key part of a winning formula
Rex Ryan of the Jets had to find a way to defend Tom Brady and Chuck Pagano of the Colts had the same challenge against Peyton Manning.
Neither the Jets nor Colts were supposed to win Sunday but found a way. Both defensive-minded head coaches employed a lot of man-under/two-deep coverage schemes to combat the two great quarterbacks. The coverage allows cornerbacks and linebackers to lock up man-to-man with two-deep zone safeties behind them to support the underneath man coverage. Teams run this coverage a lot when they don't feel any threat of the quarterback as an effective runner and he has a great arm with multiple weapons. It is not advised to use this coverage against mobile athletic quarterbacks.
In what we also call a "Cover 8," this is what happens: The quarterback tends to hold the ball at times waiting for receivers to come open, allowing a four-man pass rush time to reach the QB. Brady and Manning often had only small windows to squeeze throws into, which effected the outcome. It's never a good idea to blitz these future Hall of Famers because they know where the single-covered receiver is and will burn the pressure call.
Manning and Brady were sacked four times apiece. Each also has seen a "Cover 8" look many times and have solved its issues in the past. But they'll certainly have to solve it again, because every future opponent saw it work against them on Sunday.
4: Unsuccessful QB shuffle continues
Over the past two weeks, backup quarterbacks have a 2-13 record. With one game remaining in Week 7, 54 different quarterbacks have seen action -- that's 22 who weren't Week 1 starters. And Sunday saw three more -- Jay Cutler, Sam Bradford and Nick Foles -- lost to injury.
And you can expect more because of the pounding absorbed by QBs. In 14 games this week, there have been a relatively modest 73 sacks, but more than 140 hits on quarterbacks, which does not count open-field tackles on QBs escaping pressure.
Heading into Week 7, defenses already had recorded 500 sacks and are on pace to record well beyond 1,200 this season. Mark my words: We will see close to 90 quarterbacks throw passes this season. What we won't see: A lot of winning from the backups.
5: Cowboys in driver's seat
The Dallas Cowboys are the only team in the NFL to have beaten all three of their division opponents by Week 7, and Sunday's win at Philadelphia really was worth two wins.
The Eagles are only a game back, but losing to Dallas means the Eagles still wouldn't take the division lead even they win and Dallas loses in Week 8.
Most impressive about the Cowboys on Sunday? They beat the Eagles handily without DeMarcus Ware and DeMarco Murray. Dallas still has games against five teams with losing records and can control their own destiny.
Patriots QB's ring, given to one of his friends/family members, was auctioned off to an anonymous...

If the Redskins get petty, Cousins will try and get his vengeance through a grievance

The Dolphins also donated $100,000 to the victims' fund after the school shooting that killed...
The Cardinals GM explains his process for finding Carson Palmer's successor

Stefen Wisniewski narrowly missed out on a chance to earn $250K, but the Eagles gave it to...

Shazier heads into the Steelers' facility every day and helps with 'personnel stuff'