Sunday Review: KC's run vs. backups ends; Foles better than we think
In watching Week 9, stuff jumps out, like: KC's 9-0, largely beating backup QBs, but real QBs are in the Chiefs' future -- and the best part about Nick Foles' record day.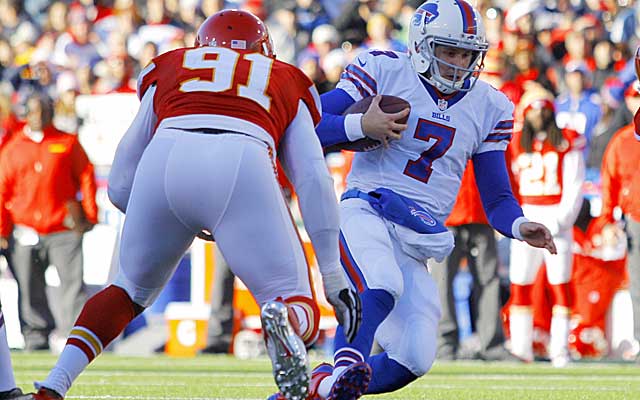 While watching Week 9, stuff jumped out, like: KC may be 9-0, largely beating backup QBs, but real QBs are in the Chiefs' future -- and the best part about Nick Foles' record day.
Chiefs run of backup luck is over
The Chiefs are 9-0, but are criticized as average team with an inflated record because they have faced a string of backup quarterbacks.
There's no denying that, but there also is no denying that their defense scored two touchdowns in Sunday's come-from-behind win over Buffalo, and Alex Smith is 30-6-1 as a starting QB since 2011.
We will all find out just how good the Chiefs really are after their bye next week with upcoming games against Peyton Manning, Philip Rivers, Robert Griffin III and Andrew Luck.
But for now, the Chiefs are the NFL's only unbeaten team and will make the playoffs. And there's this: That defense has yielded only 45 points on the road with a 4-0 record away from Arrowhead Stadium.
Foles impresses beyond his 7 TDs
Not only did Eagles QB Nick Foles tie the NFL record with seven TD passes against the Raiders on Sunday, but almost every pass play used five-man protection schemes. That means his blocking was solid and he is farther advanced as an NFL passer than most players with his limited experience.
Five different receivers caught a touchdown pass and it's going to be hard for the Eagles to go back to Michael Vick after Foles' big day.
400-yard record sure to fall
Three quarterbacks threw for 400-plus yards: Foles, Tom Brady and Ben Roethlisberger. That brings the 2013 total of 400-yard games to 17. The single-season record is 18.
Week 9 Grades
Not only will this record fall; it could could wind up being doubled.
On the other side of the coin, three quarterbacks didn't crack 200 yards and won. Geno Smith (115 yards), Alex Smith (124 yards) and Jake Locker (185 yards) found other ways to lead their teams to victory.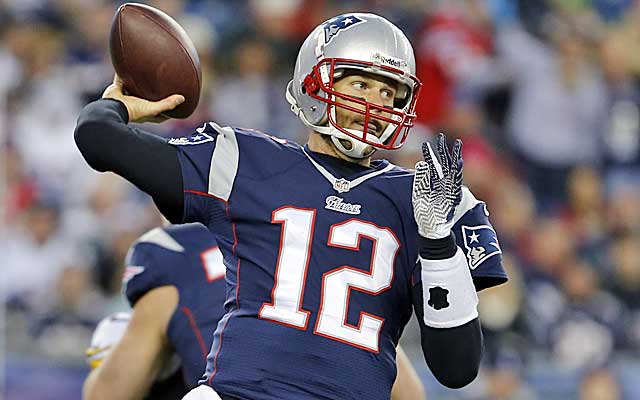 Rivera and the 4th-down edge
A month ago, Panthers coach Ron Rivera told me he didn't have a problem going for it on fourth down. He's a man of his word. Since then he is 5-for-7 on fourth down, and on Sunday made another great call when he went for it on a 4th-and-1 with Cam Newton running the bootleg for a touchdown.
Panthers and the playoffs? Could be
The race for the playoffs has another strong entry as the Carolina Panthers won their fourth straight. Newton's impressive run coincides with the streak. Over the past four games, Newton now has seven TD passes and four rushing TDs. He has completed 70 percent of his passes while rushing for 128 yards on 25 carries.
Saints ain't outdoor road warriors
I warned everyone last week that the Saints aren't the same team outside and on the road that they are at home. After Sunday, Drew Brees has thrown 14 touchdown passes at home (where the Saints are 4-0) and seven on the road (where the Saints are 2-2, all outdoors).
In fact, since 2010 the Saints are 16-12 on the road and Brees has thrown 57 touchdown passes. At home, they are 21-7 and Brees has thrown 86 touchdown passes.
That's a lot of loot to sit, Josh
I wonder why Vikings QB Josh Freeman was inactive this week when he was deemed healthy. Did they pay him $2 million to sit and watch in street clothes? Sooner or later they have to play him and find out what he has left, right?
I had a problem with the following:
• In the third quarter of the Chiefs-Bills game, KC's Brandon Flowers was called for roughing the passer call when blitzing. It was a bad call because Flowers made every attempt to bypass Jeff Tuel after the throw and only hit the QB because he was tripped. If that's roughing the passer, there is very little left any pass rusher to do. And Tuel went down like a punter does when he's looking for a roughing call.
• Dez Bryant of the Cowboys says he plays with passion. OK, but try playing the game with your helmet on and stop trying to discussing issues with the officials. He was flagged for unsportsmanlike conduct when he took his helmet off to passionately discuss things with the official. Try to remember the rules!
• Vikings coach Leslie Frazier made a questionable call on a fourth-and-5 with 3:04 left, and with Minnesota leading Dallas 23-20. He had three choices: 1) Attempt a 54-yard field goal with a kicker (Blair Walsh) who was 10 for 10 last season beyond 50 yards, 2) Punt, 3) Go for it. The Vikings punted and the Cowboys went on to win 27-23. Even though the field goal may not have been enough to win the game, I just found the decision strange.
• I timed three booth reviews Saturday during college football games on incomplete vs. complete passes. All three booth rulings were correct and averaged 50 seconds for the entire process. I timed three of the same situations in NFL games Sunday and they averaged five minutes from the play to the decision. Time to really consider the college rule. The lengthy stoppages hurt the flow of the game and, honestly, make games boring.
• Redskins CB Brandon Merriweather rightfully was suspended for dangerous hits to the head. On Sunday, he made a great legal tackle on Chargers RB Danny Woodhead in the knee area, and immediately people complained that was a dirty play.
Former Steelers coach and CBS analyst Bill Cowher begs to differ, offering this after the text-book tackle: "It is called tackle football and there was nothing wrong with the play."
I think we are all trying to change the game so much that the game may not stand up to the overreaction to safety issues.
And this is why Tyrod Taylor is now the Bills' starting quarterback again

Here are the picks and props you need to be a winner while watching all the football you can...

Freeney, 37, was impressive in Seattle before getting surprisingly released
The 49ers have a realistic shot at home against a Seahawks club dealing with a myriad of i...

R.J. White has his finger on the pulse of the Packers and made a strong play for 'Sunday Night...