Super Bowl 49: How Russell Wilson's inner circle powers his toughness
Russell Wilson can't give up, and his Seahawks will never surrender. It's all part of a mental approach that has the young QB on the cusp of greatness.
• 13 min read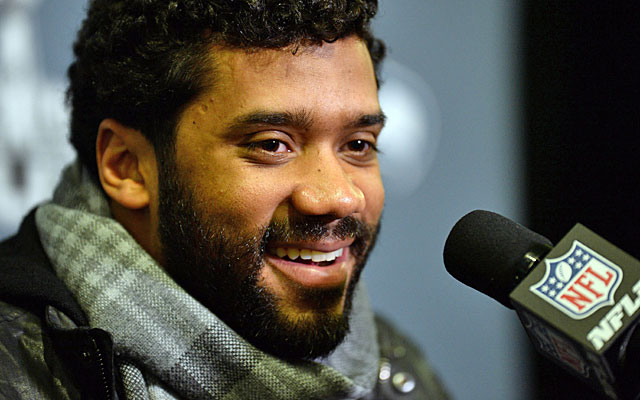 PHOENIX -- Russell Wilson had just thrown his fourth interception of the game in what may have been the worst 55 minutes of his career last Sunday. The Seahawks' season was all but expunged, their hopes of consecutive Super Bowls dying by the play. Some fans began streaming out of the stadium and those present displayed varied states of distress, heads in their hands.
But Wilson is undeterred. He stalks the sidelines, in constant motion, with his Seahawks cape around his shoulders and a ski cap on his head, imploring, willing his team to overcome a 19-7 deficit to the Packers. He is the living embodiment of mind over matter -- unwavering in the face of steep odds on an afternoon in which his offense was mired in ineptitude. He is a bundle of positive mental energy, repeating a mantra as he cruises past as many teammates as possible with Seattle's defense on the field. "Hey, we can still win this game," he barks out, at first, to seemingly no one in particular, NFL Films microphones and cameras capturing the scene. "We can win this game. We can win this game! Stay in it! We can still win this game."
These words are not hollow. None of this is for show. It's not an act. It's not empty rhetoric or the ravings of a delusional madman; these are the calculated expressions of a quarterback who is about to take this game over. This was the manifestation of a lifetime of positive thinking, of setting and achieving goals and displaying tremendous mental discipline to achieve them. Wilson would go on to key a quick touchdown drive by alerting Marshawn Lynch to a coverage in which he would throw deep to him down the flank -- finding and instructing Lynch on the bench before the drive even began -- then he ran for a touchdown, made an amazing scrambling, spinning pass for a two-point conversion and threw two beautiful bombs to win the game in overtime.
"His leadership on the sidelines and in the huddle on Sunday was huge," said receiver Jermaine Kearse, who caught the winning spiral. "The power of positive thought."
It was simply Wilson at his very best, with his words and deeds making these final five minutes of the NFC Championship Game, and ensuing overtime, some of the more memorable drama we've seen in quite some time. It was the culmination of his time spent with an inner circle of close advisors and confidants, like agent Mark Rodgers, more like a family member, and hours spent planning and preparing with esteemed mental conditioning coaches like Trevor Moawad and Michael Gervais, who help craft his off-season plans for physical, mental and holistic health.
This is the moment where all his extra work, mental and physical, takes hold, and with everything going wrong, Wilson is most right. He becomes a beacon to help mount a comeback for the ages, further cementing himself, at just age 26, as one of the elite mental athletes in the game above and beyond his physical gifts. As he gets closer to what might be a remarkable accomplishment, winning back-to-back Lombardi Trophies in just his third year in the league, those close to Wilson marvel as much at his mental clarity, alacrity and positivity as they do his touchdowns, remarkable scrambles and feats on the field.
"I think he's very, very special," Seahawks coach Pete Carroll said. "I don't know how he could play at the level he plays at and have the expectations and be able to live up to those expectations in the most challenging of times without having a tremendous mind. He's got a tremendous competitive mindset and it stems from the confidence that he feels based on the preparation that he puts in.
"So he builds toward each game to the point where he trusts what's gone on to get him to that point knowing that he's ready for whatever comes up, and you saw a tremendous illustration of that [on the sidelines Sunday]. That's exactly what he was conveying in the moment. I don't think you could hope an athlete at this level could have a more clear mindset of what it takes to come through and get it done more so than what Russell has."
Wilson is clearly an outlier -- the transformation into Super Man after a 55-minute drubbing, complete with cape and all -- and admits it may be a combination of nature and nurture that allows him to do what he does. As with everything, he credits his faith -- Wilson finds a daily Bible verse to tweet each day (picking it out the night before) -- first and foremost for his ability to stay positive under duress. Carroll, a heavy believer in the power of a positive mental attitude, and the role of the psyche in athletic performance, has found a kindred soul in his quarterback, reaffirming that course. Advisors like Rodgers, who he speaks with at least twice daily; Rodgers' son, Matthew, who lives near him in Seattle; mental coaches like Moawad, who crafts motivational videos for the quarterback and incorporates life lessons from champions of business, politics, sports and entertainment, round out Team Wilson, which has known nothing but success since the quarterback entered the league as a third-round pick.
"I have great people around me helping me with that," Wilson said, noting the old "nature vs. nurture" debate as to how much of this he's born with and how much is learned. "People like Trevor Moawad and Dr. Gervais and Mark Rodgers my agent, but he's more than that he's really like my best friend. I talk to them a lot, and they keep me going the right way."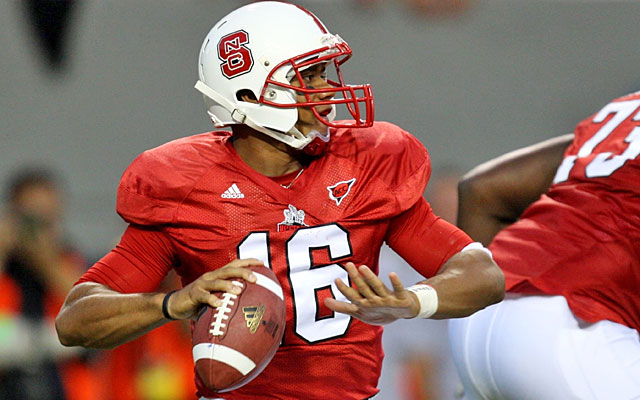 • • •
Nothing that has transpired surprises Wilson. None of this. Rodgers, his agent who deals almost exclusively with baseball players, recalls meeting him as a scrawny second baseman at North Carolina State in the baseball offices at the school, and he was blown away. Rodgers has been representing players since 1987, and within 30 seconds around Wilson he knew this kid was special.
"With this guy, noting happens by happenstance," Rodgers said. "Nothing surprises him. He's been this way since I met him. He's just different. He had a vision and a complete understanding of who he was, a very lucid vision of exactly who he wanted to be, and he wasn't asking questions; he was making statements. He wanted to play Major League Baseball, he wanted to play in the NFL. And I'm looking at this kid across the table from me, and he was smaller then, and I'm thinking he might be a middle infielder, but a two-sport star who is a starting quarterback in the NFL? I was like, 'Wow, I love this kid's confidence.'
"I've been around him arguably as much as anyone since that time and we've been through a lot together -- the debacle at NC State to making a decision about where to go after NC State and the transition to Wisconsin, his experience playing minor-league baseball, the draft, the death of his father, his wedding, his divorce, transitioning into being a starting quarterback in the NFL, winning a Super Bowl, having the opportunity to win another one ... it's been quite a journey, and at the end of the day the person who is least surprised by it is Russell Wilson."
Rodgers said that in all of their conversations and through Wilson's setbacks, getting knocked for being too short to be an NFL quarterback at 5-feet-11, he has never seen him relent or entertain the prospect of failure. "I can't recall a lone negative thought regarding his career or his ability to succeed on the field," Rodgers. "Never once did I sense one iota of doubt; I've never heard an expression of doubt. He's never given me any sense that anything he was going to attach himself to was not going to be successful."
Wilson chose North Carolina State because Chuck Amato -- who would be fired even before Wilson arrived in Raleigh -- was the only coach who would allow him to play quarterback and also pursue his dream with baseball. To Wilson, there were no other options. That was his plan.
Russell's discipline and mindset, as well as natural athleticism, convinced Rodgers he could still be a major-league infielder if he spent a few years in the minors. If Wilson dedicated himself to golf for a half a year, he could probably qualify for the PGA Tour, and, with a year of training, Wilson could become an Olympic athlete in track and field. "How many people are that way?" he said. "But that's truly the way Russell thinks. Whatever challenges are in front of him, he doesn't think about the failure side of it, only success. He's driven, with one focus, and that is success."
Wilson's mind is always open as well, those close to him say. He embraces new ideas, seeks feedback and is always asking questions. Why was this mogul so successful? What led to the rise of this leader? His mind is always working and his IQ, one imagines, is off the charts. Mind power. He peppers Rodgers with questions about real estate, law, business and trusts him like a family member.
Rodgers hasn't yet given Wilson the OK to purchase a house on his modest rookie salary -- that's about to change when the Seahawks pay him $20-odd million a year on his contract extension -- and it has become almost a game between them, Wilson texting or emailing certain expensive listings in the Seattle area and his agent telling him it's out of his budget.
"Now it's more a symbol of, 'You're not quite there yet,' " Rodgers said. "And he's getting there, and getting closer, but there's still work to be done. It's become like a little cat-and-mouse game between us."
Wilson has a rock star persona, but is relentlessly down to earth. He's a hip dresser and a natural charmer and a dervish on the dance floor, but more or less a homebody at heart (no one I spoke to has seen him take a sip of alcohol). He has an appetite for reading and is dedicated to his craft year-round. He is never satisfied.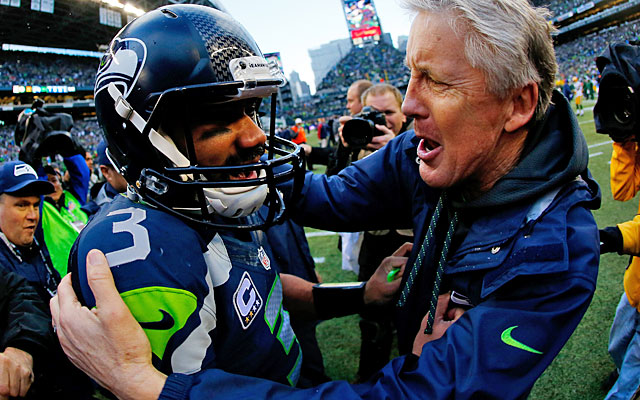 • • •
That single-mindedness was only heightened after raising the Lombardi a year ago. A few weeks after the Seahawks pummeled Denver in the Super Bowl, Wilson called Moawad, who has trained more than 350 draft prospects for the combine as the head of mental conditioning at combine-prep giants IMG and API, to begin ramping up for the 2014 campaign. They had already become close since Wilson did his draft prep in Bradenton, Fla., at IMG during Moawad's time there, and now Wilson craved more.
Wilson had just touched the pinnacle before even reaching his prime, but complacency is foreign to him. He hounds Moawad, who works very closely with the Alabama and Florida State football programs, about what makes their coaches, Nick Saban and Jimbo Fisher, so great. He wanted to concoct a program that he could take with him from Seattle to Dallas to Los Angeles, throughout the off-season, that would encompass nutrition, mental conditioning, physiology, everything that would possibly put Wilson in the best head space possible to help his team do the nearly impossible and repeat as NFL champs.
"To me he's like a 26-year-old Nick Saban," said Moawad, who has started his own firm, The Moawad Group, after 14 years working for major athlete training companies. "He's a guy that understands that you don't have to be sick to get better. That's a very unique understanding. Ninety-eight percent of pro football players do not understand that until it's too late, or almost too late, and even then they will be compliant but not committed. And Russell is both compliant and committed."
Moawad and Wilson came up with a meal plan, workout regimen, throwing routine, study guides, mental training exercises, everything they could to help get him and the Seahawks back to this game, focusing on building flexibility and balance and enhancing his athleticism. As Wilson traveled to different cities for off-season work, Moawad made sure he found workout facilities nearby that had all the equipment he would need to stay on the daily schedule. He would end up doing football drills and throwing to and with guys like Blake Bortles, Julian Edelman, Kenny Britt, T.J. Ward.
"There could be 20 players going out to throw, and within five minutes Russell was the head coach," Moawad said. "It could be a bunch of 15-year vets, or prospective first-round picks, or whatever, it doesn't matter. Russell had everything organized and he was the leader and he does it in a way that's not intimidating at all, it's just very inclusive and very engaging."
Moawad's relationship formed with Wilson shortly after he finished his college career at Wisconsin, but he was already a fan by then. He recalls how the diminutive quarterback confounded and eluded a powerful Florida State team when he watched from the Seminoles sidelines, leading NC State to a huge upset win, with Fisher yelling at his team to find some way to stop him. He remembers the first time he met Wilson when he came to the IMG campus to train for the draft, immediately drawn to his mentality and natural leadership traits. He remembers how, before that group of draft hopefuls departed for the combine (a list of prospects that included projected top-10 picks Luke Kuechly and Ryan Tannehill) he asked Wilson if he had anything to share. For 30 minutes the projected mid-round pick held them all enrapt as he encouraged them and laid out a plan for them to dominate the combine.
"It was like I had asked Pete Carroll to talk to them," Moawad said.
Moawad and Wilson would study smallish quarterback Drew Brees, a classy star, on the field and off. Moawad has access to thousands and thousands of interviews and clips with leaders of all walks of life, and Wilson would watch the motivation speeches Brees would give to other athletes on the IMG campus back when Brees was preparing for his combine. He shares clips of interviews from mega-champions like Bill Russell -- Wilson is consumed with winning multiple Lombardi trophies -- and even from hip hop stars like Drake, who went from making $25 million to stating his desire to make $250 million.
Moawad makes videos to send to Wilson, motivational messages (THIS IS FOR YOU, THIS IS FOR THEM, THIS IS WHY YOU PLAY, MOMENTS WAIT FOR NO ONE) interspersed with highlights from his most recent game, college games, high school games, footage of his father as a player. He got Wilson connected with Derek Jeter through the Yankees mental conditioning coach, with Jeter perhaps the player who Wilson is most likely to follow in terms of his winning ease and gravitational pull with others.
And last Sunday, his steely calm, his productivity when it mattered most, seizing that stage all seemed very Jeter-like. Moawad estimates that 25 percent of Wilson's rare mental makeup is genetic and the rest is conditioning. "And I think Russell has had a steady diet of really positive conditioning his entire life, and that's from his father and his family and Mark Rodgers and Mark's son and Pete Carroll and other coaches," Moawad said. Neither the moment nor the deficit was too big.
"That glass wasn't half-empty, it was totally empty except for a drop at the bottom of the glass," Rodgers said. "And to stay positive and stay focused and to know eventually the Packers would go into a certain coverage, and you were going to make some plays and change that game. He was on the sideline preparing his teammates for that moment and they could've been down on themselves, but instead Russell was thinking about what was going to win the game, and not how they were going to lose."
At a time when virtually every fan in that stadium thought the worst and braced for defeat, with no one in the press box giving Seattle a chance, Wilson was the ultimate true believer, and, soon enough, true achiever. The brain and the body became one, a season was saved, and a legend grew larger with one game still yet to be played.
>> Who's going to win? Expert Picks
Pick Six Newsletter
Get the day's big stories + fun stuff you love like mock drafts, picks and power rankings.
Please check the opt-in box to acknowledge that you would like to subscribe.
Thanks for signing up!
Keep an eye on your inbox for the latest sports news.
Sorry!
There was an error processing your subscription.
Rodgers is the next quarterback in line for an extension after Matt Ryan's record-setting...

Smith will be eligible to return against the Browns on Oct. 7

The Jaguars have an underrated superstar on defense, plus O-line issues and more from Jack...
Peterson, 33, is trying to rejuvenate his Hall of Fame career after two disappointing seas...

SportsLine's Mike McClure, a DFS pro with more than $1M in winnings, gives optimal lineup...

The rookie isn't pleased with his performance so far after three up-and-down outings