Super Bowl 49 X-factor: Jamie Collins, the Patriots' Russell Wilson eraser
Inside, outside, rushing the QB or covering TEs -- Jamie Collins excels at it all. The Pats LB may be Bill Belichick's most valuable chess piece vs. Seattle.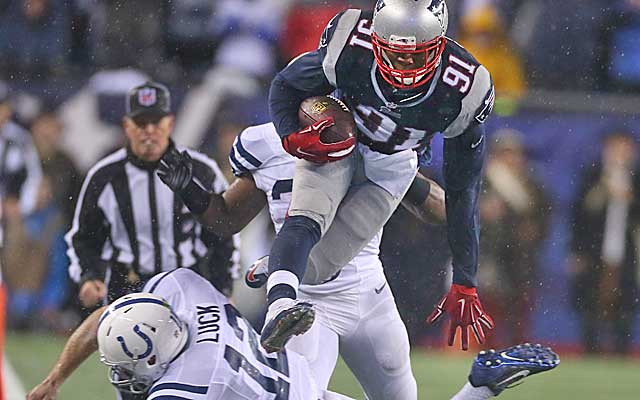 PHOENIX -- Last week, following a Pro Bowl practice, several prominent defensive players gathered on the sideline to talk Super Bowl.
"That No. 91 is New England's best defensive player," one Pro Bowl defender said. "He can do it all."
That No. 91 is second-year linebacker Jamie Collins. I am not quite sure he's better at his job than Patriots corner Darrelle Revis is at his, but Collins is on his way to being one of the game's most versatile defenders.
That's why I'm labeling him the X-factor in this Super Bowl. With the style of offense run by the Seattle Seahawks, including a lot of read-option looks and a quarterback in Russell Wilson who loves to leave the pocket to make plays, a player like Collins has even more value heading into Super Bowl XLIX.
Collins, you see, can flat out fly for a man who is 6-3, 250 pounds. A former college defensive end at Southern Mississippi, Collins has transitioned nicely to a linebacker spot in the New England scheme.
His ability to line up inside and outside, as well as excel as a rusher and a cover player, makes him as valuable a chess piece as Bill Belichick and Matt Patricia have in their scheme.
I asked Colts quarterback Andrew Luck about Collins. He faced the Patriots twice this year. Luck, not known for his hyperbole, glowed as he mentioned Collins.
"I think he's the most underrated player in the NFL," Luck said. "He can do so many things in that defense."
Collins, a second-round pick in 2013, started slowly this season, but when Jerod Mayo was lost for the season, both he and Dont'a Hightower, another young talent at linebacker, amped up their games. Collins finished with 116 tackles, four sacks, two interceptions and four passes defensed.
In New England's scheme, he can line up inside. He can line up as an outside pass rusher. He can blitz. He can attack inside in the Double-A gap looks the Patriots love to use. It's rare to see a player of his size run the way he does, and with Belichick coaching he can use a player like that in so many ways in so many looks. They are perfect together.
Collins' four sacks all came as an inside rusher in the A-gap. When he and Hightower line up in that Double-A gap look, it can be confusing for lines and quarterbacks. Sometimes, they both come. Sometimes, they both drop. At other times, one will blitz and one will cover. It's up to the line and backs to figure out how to block it, which makes it a big part of the New England defense.
Here's a look at Collins getting one of his four sacks in a Week 13 game against Green Bay on an inside A-gap blitz. It was an amazing play that truly shows off Collins' entire game.
Play: Second and 21 at Green Bay 47 with 3:52 left in the third quarter
Offense: JET (4WR, 1RB) with QB in shotgun
Defense: Nickel, four-man rush, man-free
The Patriots have two down linemen on the play, with four linebackers. Collins is lined up off the ball. At the snap, Collins charges hard up the field to the A-gap. Packers running back Eddie Lacy meets him in the hole, and a big collision knocks Lacy back.
Collins continues up the field and reaches to grab Aaron Rodgers, getting a hand on him. But Rodgers breaks free and moves away. Lacy drives Collins to the ground, but he doesn't stay there. Collins quickly pops up, and runs to Rodgers. When Rodgers tries to come back to his left, Collins plows into him. Rodgers fumbles, but he is able to pull the ball back underneath him. That play shows off Collins' speed, power and determination.
He's also a solid player in the run game. I did notice at times that he would run around some blocks. That can be troubling. In this Green Bay game, he did so and created an easy running lane for Lacy on a long run. But Collins is also so athletic that when he does gamble, he can usually get back in to make the play.
Here's a look at him in the run game against the Packers doing just that.
Play: First and 10 at Green Bay 15 with 1:53 left in the first quarter
Offense: Houston (3WR, 2RB)
Defense: Nickel, man-under, single-high safety
This seven-man box should mean a run for the Packers, especially with one of the seven defenders being safety Duron Harmon. The run goes to the left side of the New England defense, which means right at Collins. He reads it and quickly moves to his right. As he does, Packers center Corey Linsley pulls outside to block him. Collins jumps inside of the block and is able to pull James Starks down for a 2-yard gain. That's a risky play because if Collins doesn't make the tackle after jumping inside, it's a big gain. That's where he makes up for his inability to take on blocks with his great athletic ability and feel for the game.
In the pass game, he's also good in coverage. The Patriots will ask him to cover tight ends in man situations, and he is a good zone defender. His speed helps him cover a lot of ground.
Here's a look at an interception against the Jets in Week 17. He had the tight end in man coverage and ran the route with him, and then had the defensive backs' mentality to get his head around and make the play. That's big-time stuff.
A lot of teams will spy Wilson with a safety. But with Collins and his ability to move, I would imagine he would spend a lot of time with his eyes forward on Wilson when he takes his drops.
Wilson is good getting outside to make plays, but it's rare when a linebacker can run like Collins. That could cut down on some of those improvisational plays Wilson feasts on each week.
"He's going to be really important against them," Luck said.
"You mean like the X-factor," I said.
"Yeah," he said, "something like that."
Everything you need to know about the AFC and NFC title games

The Patriots are looking to win back-to-back Super Bowls but will have to take out the surprising...

Gronk is one of the toughest players to defend in the NFL, so how will the Jaguars handle...
CBS All Access allows viewers to stream every NFL game on CBS in their local market

It wasn't the matchup that we expected, but the Jaguars would argue that's everyone else's...

Pete Prisco reveals his spread and total best bets for Sunday's AFC and NFC Championship g...