Super Bowl problem: City of Seattle is running out of Skittles
It's not just Marshawn Lynch who craves Skittles, apparently it's the entire city of Seattle.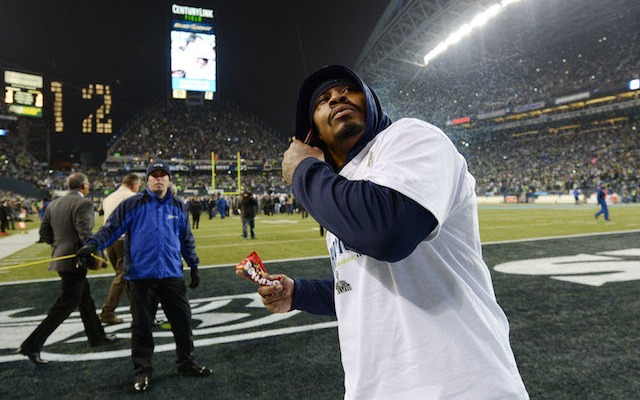 Apparently the entire city of Seattle likes Skittles as much as Marshawn Lynch does. Beast Mode's favorite candy is nowhere to be found anywhere in Seattle. That's right, there's a shortage. If you're hoarding packs of Skittles, you're the guy who bought Apple stock in 1979. 
Just to show you how serious the Skittles shortage is, here's a few tweets from several people who wanted to Taste the Rainbow on Sunday, but now they'll be tasting nothing because Seattle has no more Skittles. 
This is the 2nd store I've been to that's completely out of skittles. I blame @Seahawks and @MoneyLynch #GoHawks! pic.twitter.com/lBLHvBPWOW

— PuyallupCoug (@PuyallupCoug) February 2, 2014
Did you see that picture? Lots of Starbursts, lots of Twizzlers. No Skittles. Now look at the poor soul below, if she wants to celebrate a Beast Mode touchdown, she'll have to do it with Smarties. Yuck. 
Seattle has run out of skittles #spiritof12 #powerpellets #SEAofBLUE #beastmode #tastethegreenandblue pic.twitter.com/My4ohdKRRn

— Allie Choy (@arriechoy) February 2, 2014
Then there's this QFC store in Seattle a store that learned a valuable lesson this week: ORDER MORE SKITTLES. 
Only candy out of stock at QFC: Skittles. #beastmode pic.twitter.com/BetVev4kr3

— Andy Palmer (@UWAndyP) February 2, 2014
Finally, we have Bartrell Drugs. They ADVERTISED a skittles special and still ran out. 
Local @bartelldrugs out of #Skittles due to "Skittles mania" (via @nwfoodette) #GoHawks #Seahawks pic.twitter.com/DLGZBiltVk

— Lindsay Cohen (@cohenkomo) February 2, 2014
The Skittle black market will likely be thriving by the time Super Bowl XLVIII kicks off at 6:30 p.m. ET. Plan accordingly Seahawks fans. 
Let's call it the Blair Walsh revenge game

Jeremy Lane also stood near Bennett along with pass rushers Cliff Avril and Frank Clark

Bennett also dedicated it to 'all of the other athletes using their platform to promote ch...
The Patriots quarterback shows commitment from Day One

Cardinals' running back says he's feeling more energized

The Vikings' receiver is wearing his heart on his foot