Super Bowl XLVII: even with problems, Saints have chance to play in New Orleans
When the NFL awarded the Super Bowl to New Orleans for the ninth time, it wasn*t a stretch to predict that the Saints could play for the NFL title in their home city. Is that dream gone now? Not necessarily.
• 3 min read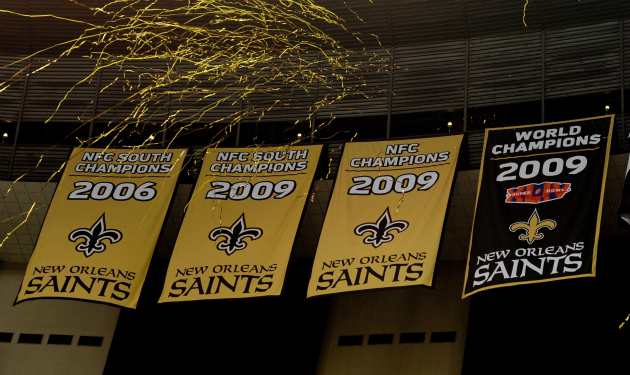 With the Saints have a chance to add to their lone NFL championship title banner when Super Bowl XLVII invades New Orleans? (US Presswire)
While the NFL's championship game makes its triumphant return to New Orleans for Super Bowl XLVII, the state of football in the Crescent City is decidedly less celebratory.
How could it be when the bounty program punishments of coach Sean Payton (the entire 2012 season), linebacker
Jonathan Vilma
(all of 2012), general manager Mickey Loomis (eight games), interim coach Joe Vitt (six games) and defensive end
Will Smith
(four games) will hang heavy over the franchise all season? Or when Loomis has been accused of eavesdropping on other teams? Or when franchise quarterback
Drew Brees
and the team
still
haven't agreed on a long-term contract, putting his 2012 (and his future in New Orleans) in doubt?
Three years ago, the Saints were the toast of the
NFL
, overcoming the aftereffects of Hurricane Katrina to win the organization's first
Super Bowl
in 2010. After so many years of ineptitude, New Orleans was at the top of the NFL world, and when the league awarded the city the honor of hosting the Super Bowl for the ninth time, it wasn't a stretch to predict that the Saints could become the first team to go for an NFL title in their home city since the
49ers
won Super Bowl XIX at Stanford University.
But … is that dream gone now? Could the Saints overcome all their offseason baggage and actually become a Super Bowl contender? Sportsbook.ag thinks so, because the gambling website has made the Saints the NFC South favorite (and 12-1 to win the NFL title).
And taking a look at their roster, even without Payton around and with the flux of having to deal with an interim coach to the interim coach for the first six games of the season, New Orleans has some of the best talent in the conference.
Once again, this all assumes Brees plays in 2012. If we have to sit through a quarterback battle between Chase Daniel and
Sean Canfield
, I think we all can agree New Orleans won't be winning any NFC South titles.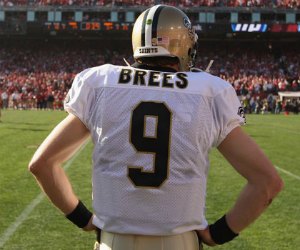 If the Saints can't come to terms with Brees, there's almost no chance they'll make it to the Super Bowl. (US Presswire)
Running back
Mark Ingram
was less than stunning in his rookie season, gaining 474 yards on a team-high 122 carries, but
Pierre Thomas
and
Darren Sproles
-- one of the most-electrifying offseason transactions of any team in the league -- had more success on the ground. Obviously, though, this is Brees' offense, and he showcased that by completing 71.4 percent of his passes and throwing for 5,476 yards and 46 touchdowns against 14 interceptions in 2011.
It was a record-setting year for New Orleans on offense, and its top-five pass-catchers from last season will return -- tight end
Jimmy Graham
, Sproles, receiver Marques Colston, receiver
Lance Moore
and Thomas. Even without Payton, the offense should be one of the best in football (it was No. 1 in yards gained last year).
Meanwhile, the defense should be improved, at least among the linebackers. Although the Saints will be without Vilma, who might not be as effective as he once was anyway, they've brought in former Falcon
Curtis Lofton
and former Seahawk
David Hawthorne
to help improve the linebacker corps. The problem, though, is that the Saints last year had a tough time pass-rushing their opponents with any consistency, and losing Smith for a quarter of the season won't help matters.
The secondary, ranked 30th in passing yards allowed last season, is still questionable. The Saints lost
Tracy Porter
to free agency, which will hurt the unit's depth, and
Patrick Robinson
and
Jabari Greer
– both decent cornerbacks or better -- will have to prove opponents can't throw on them with much success.
Thanks in part to the bounty punishment, the Saints didn't have a draft pick until the end of the third round, and aside from third-round pick defensive tackle Akiem Nicks -- who should receive some playing time behind
Sedrick Ellis
at defensive tackle -- it's unclear what kind of impact the rookies will have.
But this team might not need the help anyway. They're still a little thin on defense, but hell, the NFL is a passing league now. Defense, in many ways, is almost an afterthought. With Brees in the mix, the Saints should never truly be out of a game. Whether that translates into a home game appearance Super Bowl XLVII remains to be seen. But could it happen? Absolutely.
For more NFL news, rumors and analysis, follow @EyeOnNFL on Twitter, and subscribe to our Pick-6 Podcast and NFL newsletter. You can follow Josh Katzowitz on Twitter here: @joshkatzowitz.
Tampa Bay's last-ditch effort to score against Buffalo came up 71 yards short

Burfict has already been suspended once this season and another suspension could be on the...

Bengals cornerback Dre Kirkpatrick tried unsuccessfully to tackle Bell's hand with his fac...
A week after Bryant wanted to be traded he's calling out teammates

Here's an early look at the lines for all NFL games being played in Week 8

Plus the Saints are rolling in the NFC South, the Falcons are in trouble, the Bears are weird...