Super Bowl XLVIII Pick: Seahawks defense has to stop Peyton Manning
Will the Seahawks win their first Super Bowl in franchise history or will Peyton Manning become the first quarterback in NFL history to win a Super Bowl with two different teams?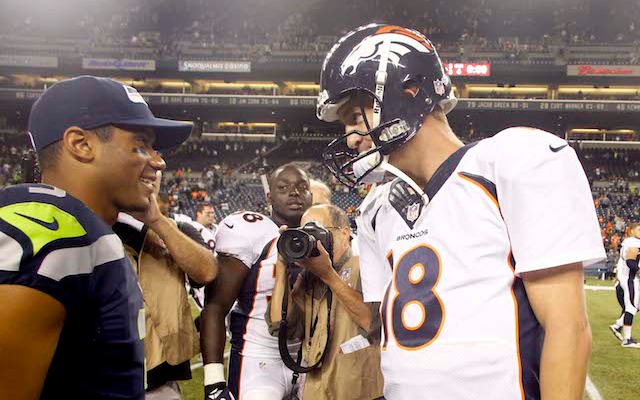 More SB coverage: XLVIII odds | Expert picks | Latest news
My favorite thing to do leading up to the Super Bowl is to look at story lines that have nothing to do with the game, but they kind of have something to do with the game, but they really don't, but we'll still talk about them because they're fun to talk about and it's the Super Bowl, so we need as many story lines as possible.
Lets look at three of those story lines and lets call this section: Super Bowl story lines that probably won't affect the Super Bowl, but they might. If you already hate this section, you can skip it and scroll down to where it says 'Super Bowl XLVIII Pick,' that's where you'll find my Super Bowl XLVIII pick. 
Super Bowl story lines you'll hear about that probably won't affect the Super Bowl, but they might
1. Marijuana. I don't work for High Times, so I don't get to write about marijuana often, so obviously I have to take any chance I can get, like right now. The Super Bowl will be played between the only two teams in the NFL located in states where marijuana's legal. Also, the game is scheduled to kick off at 4:20 p.m. local time in Denver. There will be non-stop marijuana jokes on the internet until Feb. 2, so please brace yourself accordingly. And if you're on Twitter, you should probably follow Snoop Dogg, he's a Seahawks fan. Everything's kind of falling into place for that guy. 
How pot could affect the Super Bowl: A player could get arrested with marijuana in New York in the week leading up to the game. Tip for all players: If you see Nate Newton in a van, stay far away, nothing good can happen. 
Chances of pot affecting the Super Bowl: Four percent.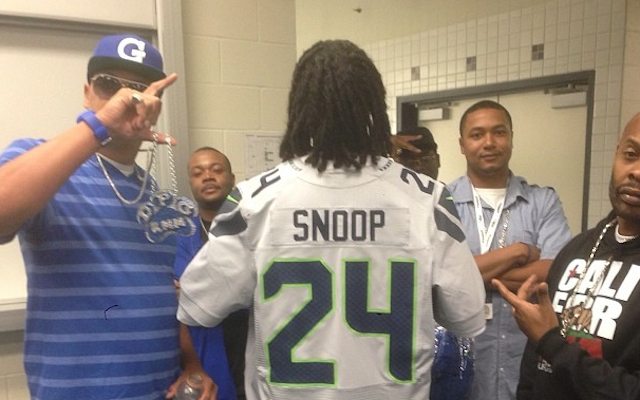 2. 1983 playoffs. The Seahawks first postseason win in franchise history came in 1983 against, you guessed it, the Broncos. Seattle won the game 31-7 and John Elway threw an interception in what was his first-ever playoff appearance. There's no doubt that Elway has been plotting his revenge against the Seahawks for 31 years now. It's been a diabolical plan and it only took three decades and Peyton Manning for him to possibly pull it off. 
How the 1983 playoffs could affect the Super Bowl: The last time a quarterback drafted No. 1 overall by the Colts played the Seahawks in the playoffs, he lost. That was Elway. Now it's Manning's turn to end the curse. And yes, this means that 15-years from now, Andrew Luck will be a Broncos quarterback playing the Seahawks in the Super Bowl, so go ahead and mark that on your calendar.
Chances of the 1983 playoffs affecting the game: .001 percent.
3. Postseason passing yards. Peyton Manning has more career playoff passing yards than the Seahawks have as a franchise in the postseason. In 23 total playoff games, the Seahawks have 4,798 passing yards as a team. In 22 career playoff games, Manning has thrown for 6,309 yards. I'm not sure what's crazier, that Manning has only played in one less playoff game than the Seahawks franchise or that he has more passing yards. Or are those stats equally crazy? 
How passing yards could affect the Super Bowl: If Peyton Manning picks apart the Seahawks defense, Seattle will be in big trouble, but not the same kind of trouble someone would be in if they get arrested with marijuana in New York. 
Chances of passing yards affecting the Super Bowl: 81 percent. 
Lets also not forget that the Seahawks reportedly sent a plane to Denver in March 2012 in hopes of landing Manning. That plane didn't return to Seattle with Manning, but the Seahawks did draft Russell Wilson a month later, so everything seems to have worked out for everyone. 
Now lets get to my Super Bowl pick and see if that will work out for me. Don't forget, you can check out the Super Bowl pick from every CBSSports.com expert by clicking here.
Wait, you want one more Super Bowl storyline that probably won't affect the Super Bowl, but it could? Fine, I'll do it.
Super Bowl XLVIII will mark the ninth time since 1989 that two teams who played in the preseason ended up playing each other again in the Super Bowl. The team that won the preseason game is 7-1 in the Super Bowl rematch. That's good news for the Seahawks, who beat the Broncos 40-10 in August. 
Now lets really get to the pick.  
Super Bowl XVLIII Pick
Seattle (13-3) vs. Denver (13-3) at MetLife Stadium, 6:25 p.m. ET (Fox): Super Bowl XLVIII was awarded to New York on May 26, 2010 and it's almost as if on that day, Seahawks coach Pete Carroll said, "I'm going to build a team to win that Super Bowl" because that's almost exactly what he's done. 
There's no team in the NFL better suited for a cold-weather Super Bowl than Seattle. Carroll has built the perfect team for winning in a wintry climate. When the Seahawks get to New York, they'll bring with them the  No. 1 ranked defense in the NFL and the No. 4 rushing offense. 
If the Seahawks were playing anyone other than Peyton Manning, I'd probably pick them to win this game by two touchdowns, but they are playing Manning and Manning's been borderline unstoppable all season. 
The two biggest questions are: Can Manning win in cold weather? And more importantly, can he win in cold weather if he's being hit on every other play?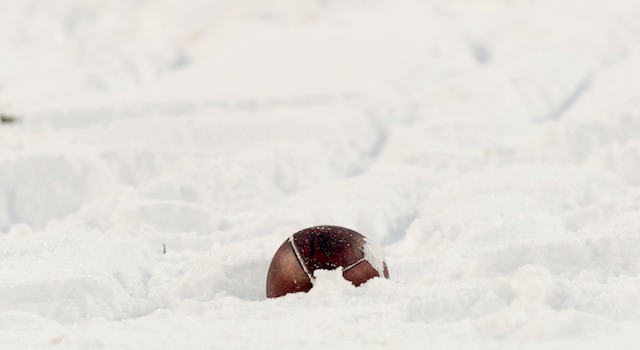 This could turn into Ivan Drago versus Apollo Creed if Manning starts taking too many hits early. In the NFC title game, the Seahawks had to deal with a quarterback who could escape their rush. Most of Colin Kaepernick's 130 rushing yards came on broken plays, not designed ones. The Seahawks won't have to worry about that with Manning, but Manning will get the ball out 145 times faster than Kaepernick did.
The Seahawks defense is so athletic though, it might not matter how fast Manning can get the ball out. Even if the Seattle defense can get to Manning and make a hit, they need to be careful doing it.
It's ironic that the lasting memory of Seattle's last Super Bowl appearance is bad officiating because I won't be surprised at all to see that on Super Bowl Sunday. Think about it, you have the most aggressive defense in the NFL going against a quarterback that will most likely get any close call. If someone's pinky finger touches Peyton Manning's shoulder pad, officials will probably throw a flag for roughing the passer. 
That's not to say that the officials are out to get the Seahawks, it just means the way the NFL is being officiated these days favors the Broncos. 
Another advantage for Denver is that they don't have to play the Seahawks in Seattle. But it's not really an advantage when you think about it because the Seahawks went 6-2 away from home this year and those two losses came by a total of eight points.
The last time the Seahawks lost a game away from Seattle by more than one score was a 23-13 loss to Dallas in November 2011. Basically, it's been over two years since anyone's blown the Seahawks out and I don't expect that to happen against Denver.  
I think Peyton Manning will move the ball against the Seahawks, but I see most of those drives ending in field goals. I also see Russell Wilson holding up the Lombardi Trophy and Marshawn Lynch handing out Skittles at Disney World. 
By the end of this game, we should also finally know if defenses actually do win championships, I say they do. 
SUPER BOWL XLVIII PICK: Seahawks 23-16 over Broncos
Call me crazy, but I feel like the guy with the tattoo below is probably also picking the Seahawks. He better hope they win or he'll have to explain every day for the next five years why he got a 'Super Bowl XLVIII Champs' tattoo before the Seahawks actually won Super Bowl XLVIII.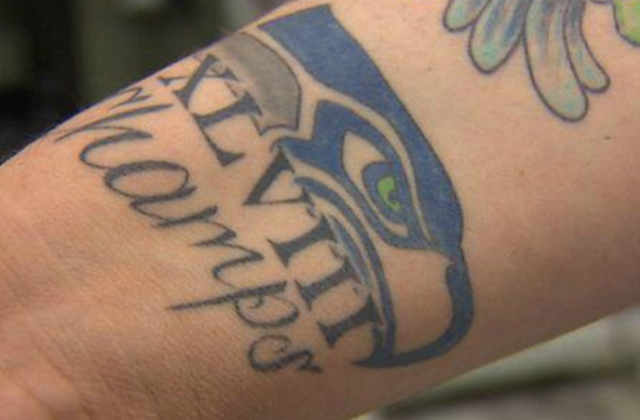 Record picking Denver games this season: 15-3 (Includes 2-0 in playoffs)
Record picking Seattle games this season: 13-5 (Includes 0-2 in playoffs)
Last Week
Best Pick: Last week I predicted the Broncos to beat the Patriots and the Broncos beat the Patriots. Although I have to admit I didn't really pay attention to the game because I was counting how many times Peyton Manning said 'Omaha.' Eventually Manning started saying 'Marshall' instead of 'Omaha' though, so I had to stop watching the game because if there's one thing I'm not going to put up with, it's a quarterback switching his audibles to words I don't personally improve of. But then I found out 'Marshall' is actually the name of Manning's son, so I approved of the word and watched the rest of the game.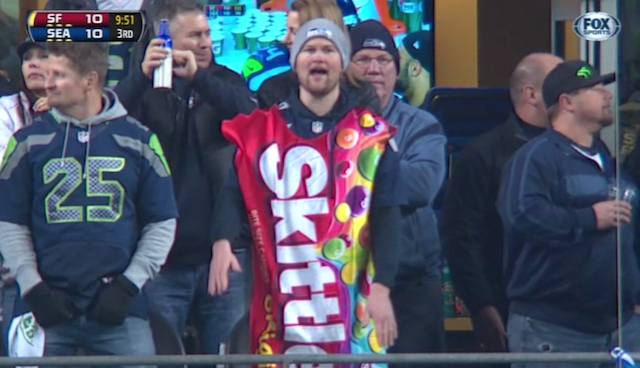 Worst Pick: Last week, I learned an important lesson and that lesson was: if a guy in an adult-sized Skittles costume shows up at a game, the home team's going to win. It's a fact. Of course, I didn't know the a guy in an adult-sized Skittles costume was going to show up at the game in Seattle, so I picked against the Seahawks. Had I known he was going to be there, I would have definitely picked Seattle to win. To the guy wearing the Skittles costume, if you're reading, please let me know if you'll be in New York. 
Last week's playoff record:
Straight up: 1-1
SU overall: 6-4
Against the Spread: 1-1
ATS Overall: 5-5
Final Regular Season Record
Straight up: 165-90-1
Against the spread: 124-132
---
Follow John Breech on Google+ or you can even sometimes find him on Twitter
The former Buccaneers kicker did not have things start well for him in Chicago

Bears special teams showed up in a big way against Arizona

Beast Mode got loose with Oakland and looked pretty impressive in the early going
Beast Mode was one of several players to sit during the Raiders-Rams game

The cleaning staff in Houston missed a couple of things while cleaning up after Super Bowl...

Marvin Jones had some serious fun in the end zone after scoring against the Jets