Super corners set limits, rest of Seahawks' dominant D fills in gaps
Seattle's stellar D starts constricting with press man coverage by star corners. It leaves safeties, LBs and D-linemen free to make plays.
It's hard to believe how dominant the Seattle Seahawks' defense is, and what's more -- this unit isn't even playing at full strength. Let's see what we find when we drill down into this unit.
The Seahawks have yielded 10 points, and that's without CB Brandon Browner, DE Chris Clemons and pass rusher Bruce Irvin. Also missing is rookie DT Jordan Hill, who was very impressive this summer. It's hard to believe just how dominant they are right now, let alone what they'll be like in a few weeks. You'd certainly never know they were missing key players with the way they handled the NFC West rival 49ers on Sunday night -- sacking elusive Colin Kaepernick three times and keeping him on the run most of the day.
Seattle's base defense is a four-man front with press corners playing man-to-man coverage on the outside, not permitting wide receivers to run any routes inside, and a zone concept from the linebackers and safeties. There are variations of the package, but usually the three linebackers and the two safeties team to handle issues that come up with tight ends and running backs as receivers. Teams using a wide receiver on each side of the formation really are reduced to a nine-man offense because CBs Richard Sherman and Browner (when healthy) or Walter Thurmond eliminating the two wide receivers.
Check out Sherman in press coverage on Vernon Davis (13:19 of the fourth quarter). Sherman gets the interception, a great example of just how well the Seattle corners play. Also note the range safety Earl Thomas has to get over the top of Davis so Sherman can make a play on the ball.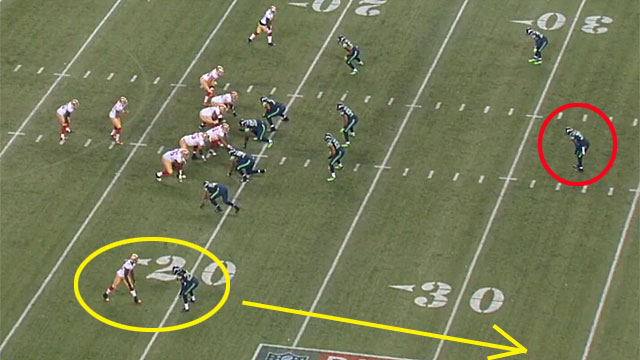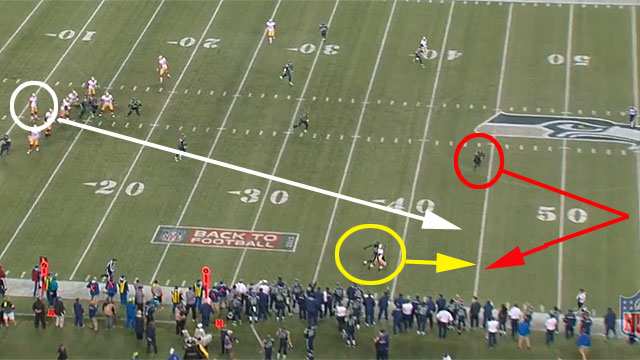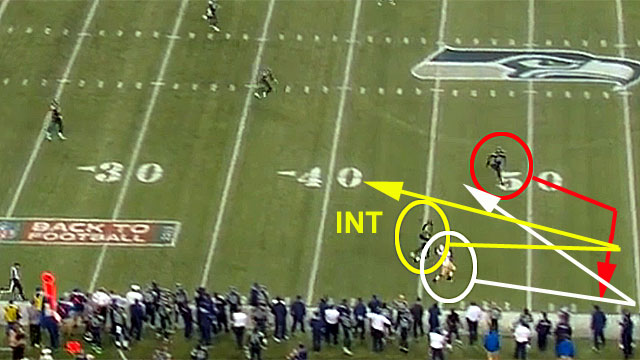 The ripple effect of having press corners is the ability to put nine men in the box against heavy run sets. On the game's first play, the Niners came out in their 22 personnel package (two RBs, two TEs, one WR). Sherman takes the only wide receiver man to man and Thomas floats in the deep middle. The rest of the Seattle defense is up in the box playing the run. Frank Gore gets a 2-yard gain. Kam Chancellor is such a big safety, he's up by the line of scrimmage and easily handles the fullback block to turn the ball carrier back into unblocked LB K.J. Wright as the defensive line slants inside to force the bounce play to Chancellor. Gore finished with 16 yards on nine carries. In his past two games vs. Seattle, Gore has 44 yards on 15 carries.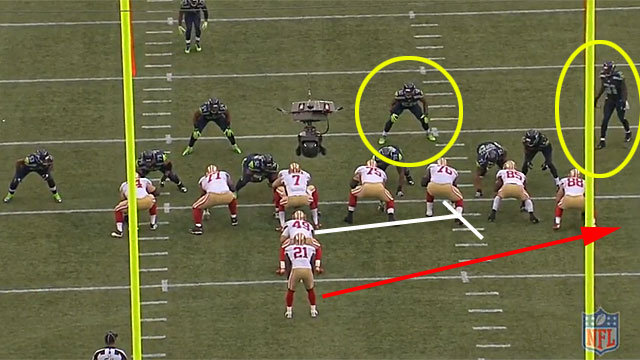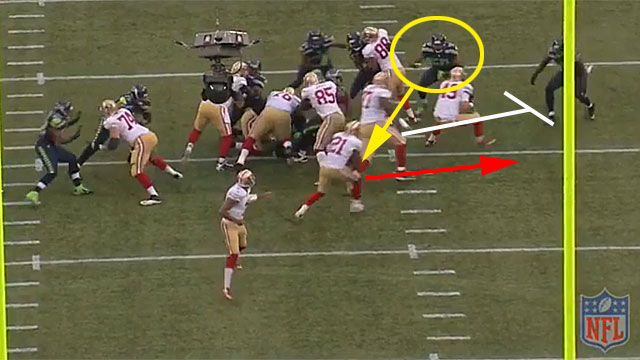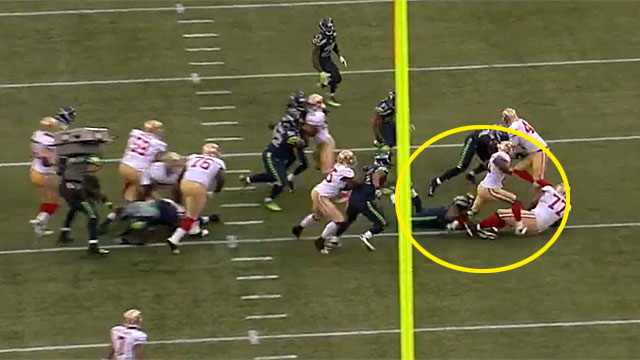 One big key is DE Red Bryant. I watched him line up in the old Randy White "flex" stance, slightly off the line of scrimmage reading the blocking scheme. Teammates Tony McDaniel and Brandon Mebane crowd the ball and penetrate quickly into the backfield. It's almost as if the D-line is playing on two levels.
While there is a lot of four-man rush, there also is a five-man pressure look and I also saw a three man rush led by Cliff Avril (8:18 of the second qurarter, on a third and 10), which forced a fumble. The look had undrafted rookie DE Benson Mayowa covering Gore out of the backfield and Wright "spying" Kaepernick. Wright picked up the fumble after Avril hit Kaepernick.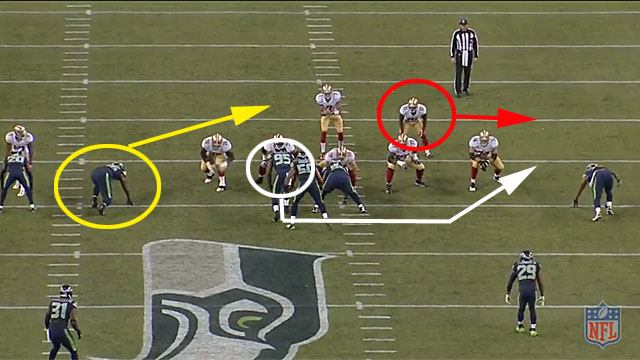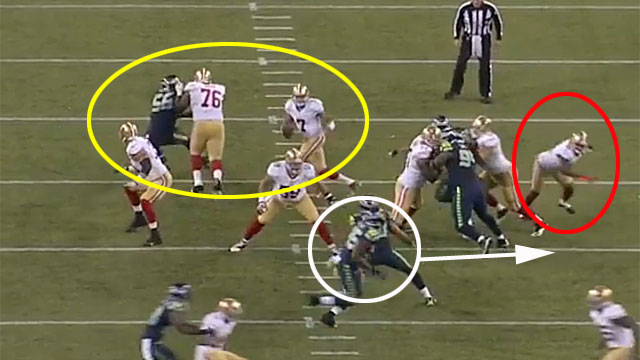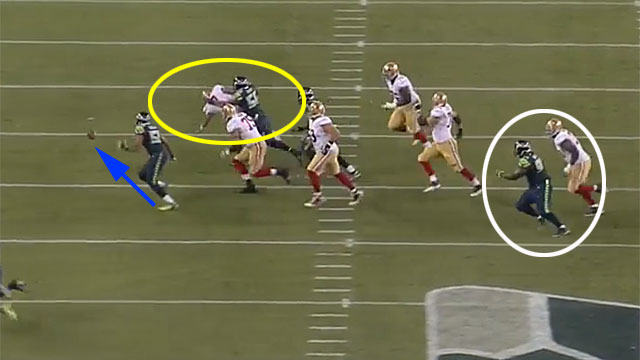 The Seahawks are hard to read because the defense has so many looks. Wait until Clemons, Avril, Irvin and Michael Bennett are all on the field together. The Seahawks will not need the pressure calls.
When they have the opponent in third-and-long situations, they keep everyone in front of them.
On this play (5:27 of the first quarter, third and 16), Seattle isn't in their classic press man, as they play a soft coverage look on the back end and make Kaepernick throw short, limiting the Niners to a 7-yard gain, forcing a punt.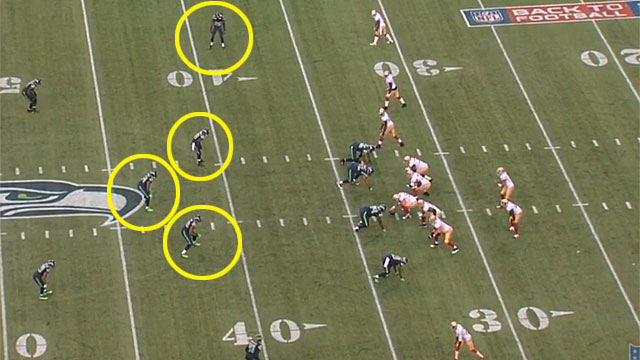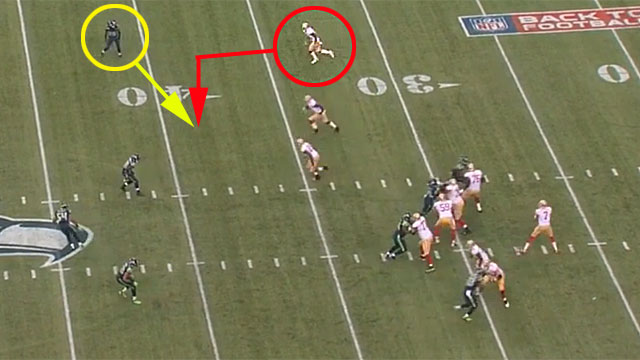 Sometimes they occasionally leave a guy open on purpose, whether they would ever admit it or not. It's no accident that fullback Bruce Miller was targeted five times in the passing game.
Miller has averaged one target a game in his career but on this play (14:06 of the first quarter, third and 6), Seattle -- in its zone inside/press man outside scheme -- leaves Miller as the receiver of choice. Miller comes up short of the first down, and the 49ers punted.
I asked an opposing coach what he would do against this defense, and he said, "I wouldn't be in too many two-back sets because they play it so well. I wouldn't put my best receivers on a single receiver side on the line of scrimmage because they press so well. I wouldn't spend a lot of time trying to practice against all the looks because there are too many to go over. I might consider more bunch-set passing to get them in zone looks, but you have to watch out for Cam Chancellor blitzing off the look and I might prefer the one back spread run game over the heavy sets."
Another coach laughed when I asked, simply adding, "play them away from Seattle or there's no chance right now."
There's some truth in that statement. Last season, Seattle was 3-0 vs. the NFC West, scoring 120 points and yielding 26. On the road, the Seahawks were 0-3, scoring 35 points and giving up 52. But home or away, the D was stout, giving up an average of 13 points. 
Let's count down the season's 10 worst QB decisions, and, no, the Nathan Peterman debacle isn't...

This matchup isn't quite as sexy as it was before the season but the Redskins can still make...

The Vikings and Chargers beat the Lions and Cowboys and cover plus more winners
SportsLine's Mike McClure, a DFS pro with more than $1M in winnings, gives optimal lineup...

R.J. White has his finger on the pulse of the Cowboys and made a play on the Thanksgiving Day...

And this is why Tyrod Taylor is now the Bills' starting quarterback again