Surprising Shaun Phillips has triggered $800K in bonus money
Broncos linebacker Shaun Phillips has been a monster on the field, and is reaping a financial windfall because of it, Jason La Canfora reports.
• 1 min read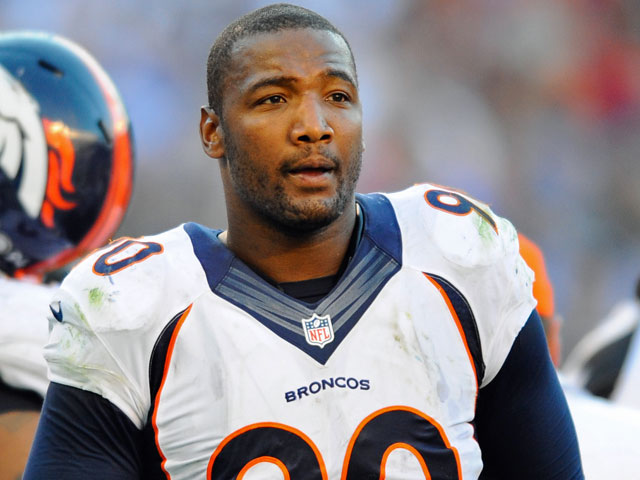 For more news and notes from Jason La Canfora, tune into The NFL Today Sunday at noon ET on CBS.
Broncos linebacker Shaun Phillips has been one of the best free-agent signings in the NFL this season, especially after Denver lost pass rusher Elvis Dumervil due to a fax machine snafu and given the suspension and lack of production from Von Miller this year. Phillips, signed a one-year, $1 million deal to join the Broncos from San Diego, and his 10 sacks have been vital for the team and already earned him $800,000 in bonus money.
But for Phillips, per his contract, the best may be still to come. Should he reach 12 sacks, Phillips would trigger another $400,000 in bonus money, and should he reach 14 sacks, he would earn another $800,000 on top of that. So it stands to reason the veteran could still nearly double the cumulative $1.8M he has earned thus far in base salary and bonus money.
It's hard to imagine where the Broncos would be without Phillips. He has roughly a third of their 36 total sacks and no one else on the roster has more than five.
The Eagles cemented their status as the best team in the NFC

Wentz is a magician who pulled his greatest trick so far on Monday night against the Redsk...

Wentz is carving up the Redskins on Monday night
Peters was quickly ruled out by the Eagles with a knee injury

Wentz rebounded from an awful interception with a 64-yard touchdown pass against the Redsk...

Cousins did not want to miss a meeting or his wife delivering their child, so he found a way...