Tackle swaps, LB switches among key position changes to watch
Pat Kirwan examines the key position changes entering the 2013 season around the NFL that should have front-office executives, coaches and fans crossing their fingers that things go well.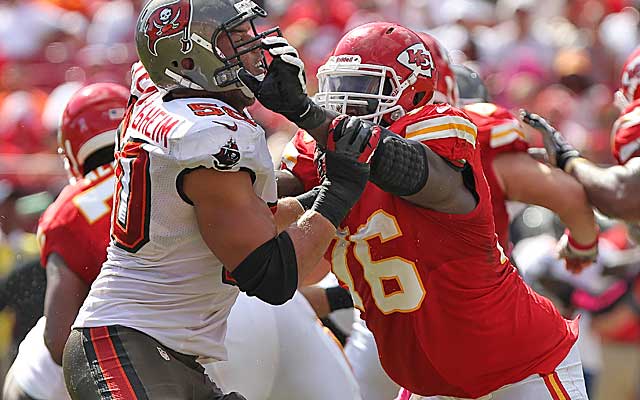 Trying to get a roster to work well in the NFL can mean switching positions for some players.
When a new defensive coordinator comes to a team and a 4-3 defense is being converted to a 3-4 package it means position changes for some starters.
When a very high draft pick is selected it can mean a position change for the former starter at the position, or even a position change for the draft pick.
At the end of the day it can mean trying to fit a square peg into a round hole, and there is risk when position changes are part of the new equation for a team. Not every player has the skill set required to make the change, not every player has the mindset for a change, and not every club has the patience to let the change run its course.
For many teams, you aren't really going to find out in a few spring practice sessions in shorts if the position change is going to work. It will take the heat of battle in full pads and a solid opponent in front of the players trying to make the switch to have all the warts surface.
I've got my eye on a number of position change experiments around the league this year and I'm hoping for the sake of each club that the switches work.
Here are the key position changes entering the 2013 season around the NFL that should have front-office executives, coaches and fans crossing their fingers that things go well -- otherwise there will be a hole in the starting lineup with little time to make an adjustment to the roster.
Offensive tackle
Switching a tackle from left to right or vice versa is common in football, but it's not an easy adjustment if a tackle has spent his entire college and pro career on one side of the ball and he has always come out of his stance one way with the same kick step, punch and pass set.
Switching sides means everything is done with the opposite feet and hands and even the stance can seem strange. Pass rushers will quickly pick up on any weakness in the mechanics of the position change.
The Kansas City Chiefs drafted their future left tackle in April and, sooner or later, Branden Albert is headed to the right side if he isn't traded.
In Green Bay it looks like RT Bryan Bulaga is headed to the left side, while down in Miami Jonathan Martin is moving to the left side for good after a few games there at the end of last year with mixed reviews.
The Jaguars claim they will not move LT Eugene Monroe to the right side but rather put top draft pick Luke Joeckel on the right side for the time being.
If Joeckel struggles in his new position I expect a change during camp or the season. The Jags will not let Joeckel struggle when Monroe has one year left on his contract.
Up in Detroit, Riley Reiff isn't really moving to the left side with the retirement of Jeff Backus, but he does have a big assignment ahead of him because the Lions throw the ball more than any team in the NFL.
Offensive guard
When offensive tackles struggle many coaches simply say move the player to guard. It worked for Robert Gallery and the Oakland Raiders, but it fails more times than not. Guards are in a confined area and deal with a lot more power from massive defensive tackles. They also have to get up on linebackers or, even worse for some, pull and block on the opposite side.
Late last year the Bears moved former first-round tackle Gabe Carimi from right tackle to right guard. Carimi was a left tackle in college but has struggled at both tackle spots in the NFL. The question is, can he play with the leverage and power to succeed at guard? The Bears have options on the offensive line right now and it is looking like it's make-or-break time for Carimi.
OLBs in the 3-4 moving to a 4-3 DE
It sounds like an easy transition for standing outside pass rushers in a 3-4 defense to move to a down defensive end in a 4-3. As some would suggest, it's just a matter of putting your hand on the ground.
But it's never that easy.
Once an outside linebacker puts his hand on the ground he will be engaged by the offensive tackle and/or the tight end. Coming out of his new down stance means playing the blocker with different leverage and less ability to see the play in front of him until the defensive end separates from the blocker.
The run down situations can be more problematic than the passing downs when the coaches may let the player revert back to his old stance. Keep an eye on DeMarcus Ware as he transitions to the new Dallas 4-3 defense.
Monte Kiffin will view him the same way he viewed Simeon Rice back in the glory days of the Tampa defense.
DEs in a 4-3 moving to a 3-4 OLB
The reverse move that Ware will be going through is happening to Trent Cole (Eagles), Jabaal Sheard (Browns), Junior Galette (Saints) and Martez Wilson (Saints),and to a lesser degree Elvis Dumervil (Ravens). Dumervil already went through this once before, but a guy like Sheard could struggle. Dwight Freeney had to do it last year and his sacks dropped to five and his QB hurries dropped to four.
Linebackers moving positions
Some believe playing linebacker is playing linebacker. That's not true for all players. Some play much better as a strongside linebacker (SAM) slotted over a tight end on the strong side of the offensive formation. Others play better at the weakside linebacker (WILL) stacked behind a defensive lineman where they can run and hit.
Switch sides and some guys are lost. Sometimes when a defense switches schemes, linebackers really struggle when they have to play over a guard in a 3-4 when they were so used to playing a gap or a shade and not letting a big lineman get a clean shot at them.
Here are some of the projected linebacker changes this season to keep an eye on:
Mychal Kendricks (Philadelphia) goes from a 4-3 SAM to a 3-4 left inside linebacker (LILB) and will regularly line up over a right guard. His teammate DeMeco Ryans was traded by the Texans a year ago because they didn't like him as a fit in their 3-4 defense, but now the Eagles are back in that front.
Kaluka Maiava worked his way up the Browns depth chart in 2012 to the starting WILL, but now he is penciled in as the starting middle linebacker (MIKE) in Oakland calling the defense for the first time.
Jonathan Vilma moves from a 4-3 MIKE to a 3-4 OLB in the Saints new defense. Vilma was traded by the Jets to New Orleans years ago because New York didn't see him as a fit in the 3-4. The Bengals are going to take James Harrison, a lifelong 3-4 OLB who rushed the passer, and try to teach him to be a 4-3 WILL. That is a big transition with many more pass coverage responsibilities and angles of pursuit in the run game.
Another change to watch
Finally, pay close attention to Jay Ratliff (Dallas) moving from a 3-4 nose tackle to a 4-3 '3 technique.'
Jerry Jones says the 32-year-old Ratliff will flourish in his new spot. I remember a few experiments in the NFL to find a '3 technique' for this defensive scheme. The Jets tried Shaun Ellis and that failed as an example.
I would say that there's a 70-30 chance that these position changes will work but it's certainly not a lock that penciling in a player at a new position means all is well with the depth chart. Rest assured, many teams are watching these position change experiments and will be ready to make a trade if the switch looks like a failure.
The former NFL quarterback sounds like he's ready to move to the front office

Mike Tierney has owned NFL over-unders and just locked in a strong pick for 'Monday Night...

Davante Adams was forced from the game with a concussion after Davis' headshot
The Steelers' wideout was suspended for his hit on the Bengals' linebacker

Plus everything you need to know about the game

The Steelers' tight end was convinced he scored the game-winning touchdown