Taking an early look at the NFL coaching carousel
We're only five weeks in, but some coaches are already on the hot seat (Greg Schiano) and some assistants are making a name (Adam Gase). Jason La Canfora takes an early spin around the coaching carousel.
• 7 min read
It is never too soon, it seems, to weigh in on the inevitable coaching carousel that comes as soon as the regular season ends. On average, at least six coaches leave their positions (most are fired, obviously, though some retire or quit), and this year will likely bring more of the same.
There is usually at least one move that no one would have ever seen coming at the start of the season, and usually at least one move that comes a few weeks into the offseason, and not right away when most occur (on Black Monday, or close to it). Such is the business.
 As far as general trends to watch, despite the so-so start for Chip Kelly in Philadelphia and the disastrous tenure for Greg Schiano in Tampa Bay, many executives I have asked about this topic still believe some of the hottest candidates will come from the college ranks.
David Shaw at Stanford, Kevin Sumlin at Texas A&M, Brian Kelly at Notre Dame and Charlie Strong at Louisville were being flirted with and courted a year ago. Expect the pursuit of them to only be more intense this time around, especially in a year with a much stronger quarterback crop and perhaps upward of six passers going in the first round. Jim Mora at UCLA was also receiving feelers a year ago, and given his combination of college and pro head coaching experience, that's the kind of stuff you can sell to an ownership group.
The re-treads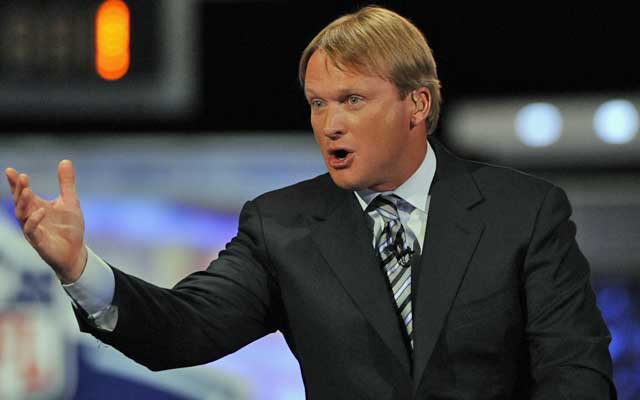 We're also at a time when many of the former head coaches who have been out for a few years now -- guys like Brian Billick, Jim Fassel -- or just one year, like Norv Turner, Chan Gailey, and Romeo Crennel are probably out for good.
The one exception to the former head coach who's no longer in coaching is Jon Gruden, and I continue to get the very strong sense that this is the year he leaves the broadcast booth to return to the NFL. If so, he will be highly, highly coveted, again. The Oakland Raiders were trying to woo him last year, for one, and I'd be very surprised if that process did not resume.
Ken Whisenhunt is a big part of the staff in San Diego that has Philip Rivers playing better than any quarterback not named Peyton Manning . He interviewed for several head coaching jobs a year ago and I see him having no shortage of options this winter. Also, Eric Mangini, who left broadcasting to be a consultant for the San Francisco 49ers is a darkhorse to maybe get a few sniffs as well depending on how many jobs open up. Former Chicago Bears head coach Lovie Smith got some interviews last year but never really seemed to be at the top of people's lists. I figure teams talk to him again but that could be a case where success at the coordinator level for a year or so might catapult Smith.
Otherwise, I don't think we'll see too many former head coaches getting another shot at the top. Jags coordinator Jack Del Rio, a former head coach at Jacksonville, could well end up as USC's next head coach, for instance. And, with so many younger coordinators already promoted in recent years to the head-coaching ranks, the supply of them has become a little short.
The coordinators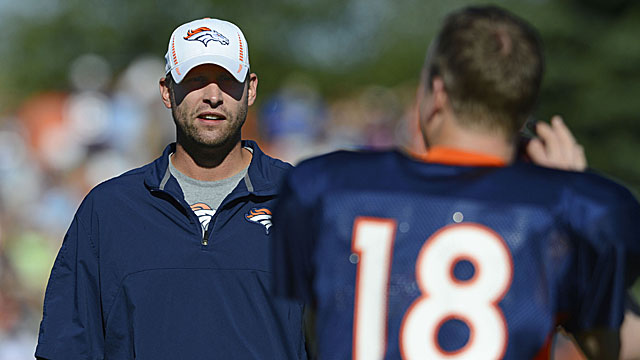 Ray Horton: He is doing a tremendous job running the Cleveland Browns defense. He has interviewed for head coaching jobs before and the Browns are bracing for the possibility they lose him. Expect them to try and do everything possible to convince him to stay. San Francisco's staff will eventually get raided, and several league sources believe offensive coordinator Greg Roman will get strong consideration for the jets job.
Mel Tucker: He has the Bears defense playing very well again and that defensive coordinator has served as an interim head coach before and I expect him to be hot this offseason as well if Chicago keeps it going on that side of the ball.
Jay Gruden:  Cincinnati Bengals offensive coordinator Jay Gruden has a strong resume too, although that offense's inability to burst and get more vertical, and the uncertainness of how Andy Dalton develops, could end up holding him back some.
Pete Carmichael, Jr.: He will be helped by the New Orleans Saints offense soaring again -- though the reason for that is the return of Sean Payton above all else -- and Payton's strong endorsement of him will help, too (though the fact that Payton calls the plays works against him). Green Bay Packers offensive coordinator Tom Clements is in a similar spot, getting consideration in recent years but the fact his head coach calls plays will likely work against him, too.
Adam Gase: The Denver Broncos offensive coordinator, might be better situated to land a top job in 2015, but as the Denver offense continues to set records, he will get some interview requests for head coaching jobs, I believe.
Darrell Bevell: He was getting interest last year and if the Seattle Seahawks have a dream season -- and if that offense finds another gear when Percy Harvin arrives -- then Seattle might lose another coordinator to the head coaching ranks.
Josh McDaniels: He quickly pulled out of contention for jobs a year ago, but Tom Brady isn't going to play forever and McDaniels remains a young man with former head coaching experience who will get another shot to run an NFL team at some point and show he has learned from his past mistakes.
The jobs
As for where the openings will occur, it's hard not to start in New York with the New York Jets and Carolina, where new general managers were hired a year ago but the existing head coaches were kept in place. That rarely bodes well for job security the following year and with the Jets and Carolina Panthers off to less than inspiring starts, many in the football world are assuming Rex Ryan and Ron Rivera will have a hard time keeping their job.
Raiders owner Mark Davis was looking for possible replacements for Dennis Allen last year, after just one year on the job, and the Raiders pretty much go on a coaching search at least every two to three years. They are due, sadly, by their standards.
Schiano may well find that the college game is more his speed (Connecticut needs a coach, you know), and regardless that situation is getting so toxic there that he might not last the season at this point. More changes are expected in Tampa in 2014. If the Minnesota Vikings cannot rally on both sides of the ball coming out of their bye and put some wins together, Leslie Frazier could be in trouble. I believe this will be Tom Coughlin's last year in coaching as well, with this 0-5 start weighing him down and the New York Giants looking like a team that needs to rebuild and get younger, and Coughlin perhaps ready to move on to the next stage of his life and career.
The Jacksonville Jaguars might not win a game this season. It really is that bad there. I can't see them letting Gus Bradley go after just one season, I just can't, though 0-16 -- with the kind of weekly lopsided losses they have suffered -- will lead to him showing up on "coach on the hot seat" lists, I presume. And the Houston Texans are pretty much in Super Bowl or bust mode, and the franchise has shown great patience with Gary Kubiak, but his loyalty to a struggling Matt Schaub could well lead to both being elsewhere come 2014.
I don't know too many people who would opine about Mike Smith's job security a few months back, but Atlanta is very much like Houston in that Super-Bowl-or-bust zone, and if they cannot get out of their swoon and fall well below expectations you can't rule out some sort of a shakeup there.
Some are wondering if Mike Shanahan might be doing the same, but with a young franchise quarterback and $14 million still on his deal after this year, I don't see him going anywhere. The goal there is to build up the team to the point when his son, Kyle, takes over as head coach, and given the way the first quarter of the season went for Washington, I don't see there being enough leverage built up yet to make the case for keeping the head coaching reins in the family.
If the Detroit Lions collapse, perhaps something happens there, though that team looks much improved from a year ago.
And Jerry Jones clearly does not want to fire Jason Garrett, and if the Dallas Cowboys win that sorry division they are in -- which I think they will -- and maybe even win a playoff game, then it will obviously be a moot point.
A backlog of worthy receivers and lack of dominance may keep Boldin out, at least for a wh...

The commissioner's current deal runs through 2019

The Panthers star says his concussion issues are behind him and that he knows only one way...
One of the Steelers best players continues to hold out

Dave Richard helps us determine Fantasy football's biggest August draft decision

The Steelers beat the Falcons while the Saints topped the Chargers